Fans Are Divided after Ice-T Fires Back at Critics of Wife Coco Breastfeeding Their 5-Year-Old Daughter
Ice-T and his wife of many years, Coco Austin, are couple goals as the two look out for each other. See how the rapper stirs different reactions from fans after he defended his wife over her decision to breastfeed their 5-year-old daughter.
Ice-T, a rapper turned actor, is a no-nonsense man always looking out for his pack and never fails to address the trolls when need be. In addition, he enjoys a sweet and controversial-free relationship with his glamor model wife, Coco Austin.
The duo has been married for nearly two decades, and despite their busy careers, they have managed to maintain the sparks in their relationship, making it a desirable affair.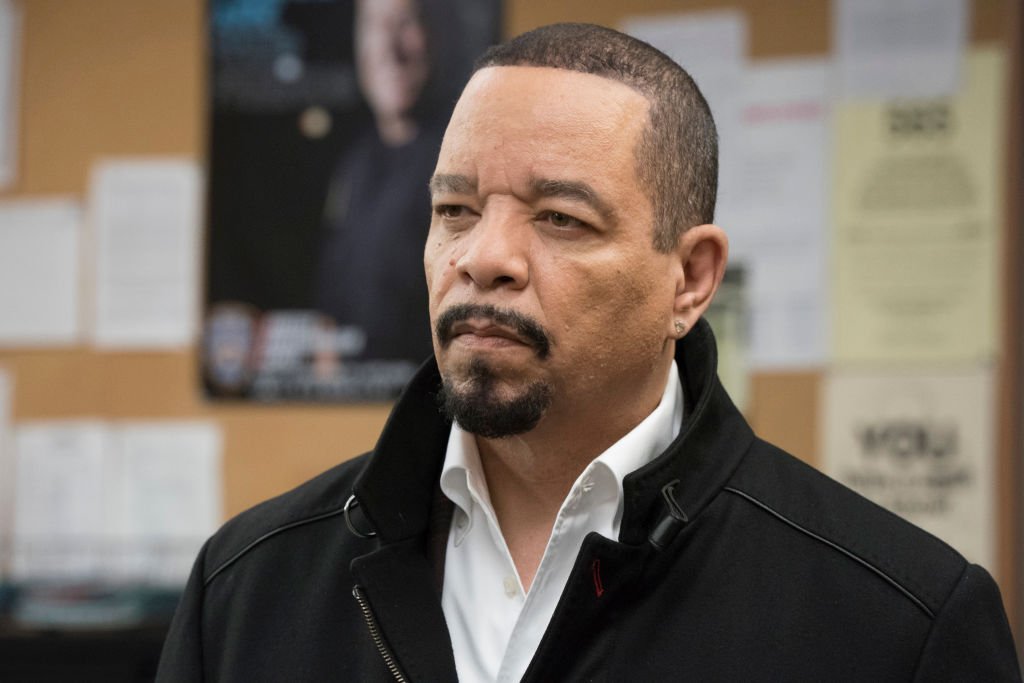 Five years ago, these two became parents, and they welcomed their first and only daughter, Chanel. Although Ice-T already has two kids from a former relationship, Chanel is Coco's only child. 
Ever since the model's motherhood journey began, she has been vocal about her decisions and has had the support of her husband, who is not new to the game.
Recently, the father of three went online to shun critics who were bent on trolling his leading woman over her decision to leave their 5-year-old on breastmilk even though she is no longer a toddler.
ICE-T SLAMS THE NAYSAYERS
More than once, Coco has been slammed for still feeding her young daughter with breast milk. On the other hand, many have supported her actions, and others had a different view. 
However, one of her biggest fans, her husband, has been unchanging in his stand. He goes as far as protecting her from trolls and responding to the critics. In one of his tweets, he said:
"Why…are you worried about MY child??? That's what's weird...NOW go back to the basement."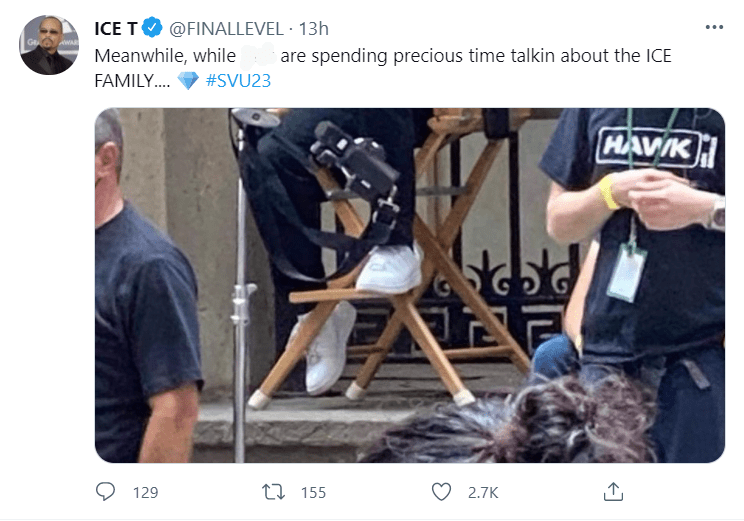 In another post, he taunted fans with a throwback snap of his daughter in a pink dress, decked in sunglasses, and holding some dollar notes. The comment stated: "Ok @BabyChanelworld says. Don't hate me case I'm Ballin!'"
The mother of one has been dishing out her motherhood experiences via blog posts and has been getting healthy responses.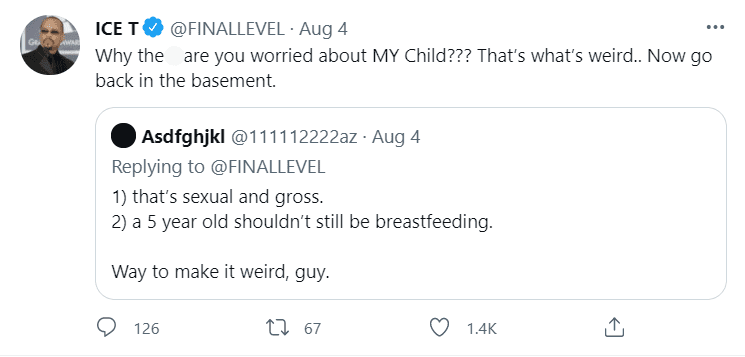 FANS REACTIONS
After the defense, the fans' camp was divided, with some spilling negative comments and others choosing to maintain decorum and throw in the towel of support. One person quipped:
"Sorry Ice but that's weird…"
Ok.. @BabyChanelworld says. 'Don't hate me case I'm Ballin!' pic.twitter.com/gztfMCcVSf

— ICE T (@FINALLEVEL) August 4, 2021
Another wrote: "I do think breastfeeding a 5-year-old on the verge of going to kindergarten is a bit weird. I feel bad for your child...She will be teased." On the other side, one loving fan's comment read:
"Ignore the trolls! I breastfeed both my kids...Totally normal!! Go Coco!!!"
Many other comments supporting the mother of one surfaced on the internet, and the commenters established that breastfeeding is a unique bonding experience between mother and child.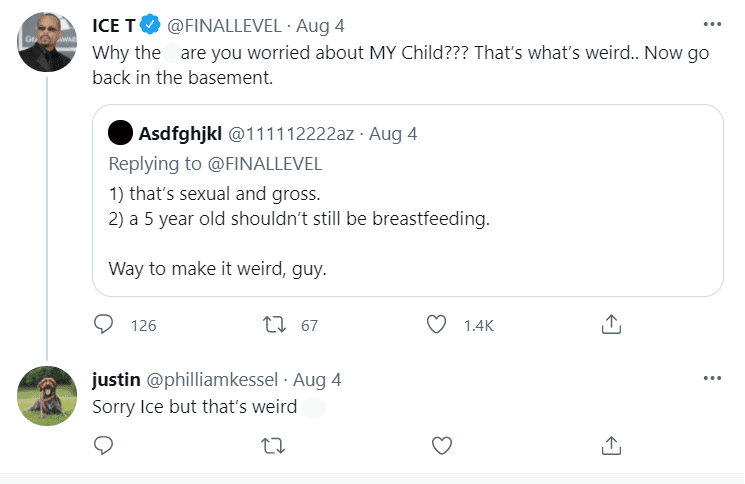 COCO AUSTIN'S REASONS FOR BREASTFEEDING
Before the internet blew up with comments, Coco proudly explained that her child loves being in mom's bosom and that it helps her to sleep. The 5-year-old also gets a lot of healthy meals alongside breast milk to support her diet.
This mother and daughter bonding exercise makes the model happy. In 2019, she mentioned that it is an enjoyable experience, which will continue until Chanel says she is tired.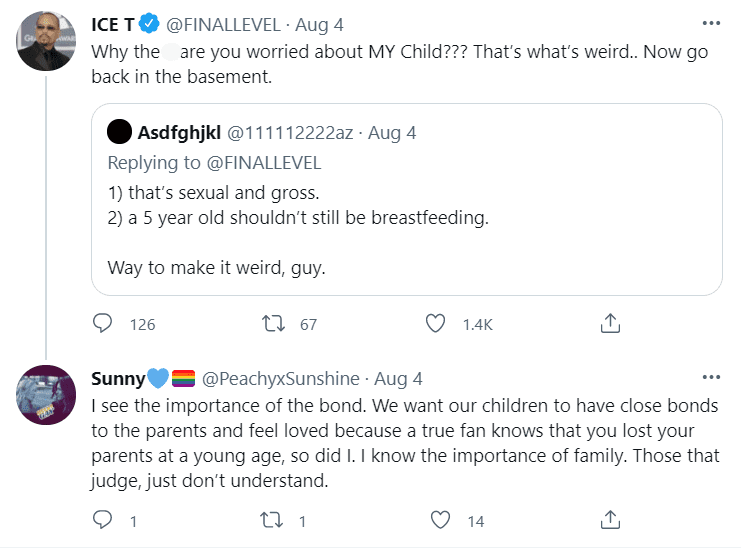 For Ice-T, he feels that it is a super time for his girls to bond. He revealed that Chanel eats hamburgers and steaks like any other kid and that the decision to continue feeding off her mother's milk is not a big deal.
The mother of one has been dishing out her motherhood experiences via blog posts and has been getting healthy responses and support from other moms.