Kentavious Caldwell-Pope Left His Wife and Newborn Son for a Game but She Was OK with That
Basketball star Kentavious Caldwell-Pope did the unthinkable after the birth of his second child. However, he is a doting dad who once gushed about missing his brood while away for work.
Kentavious Caldwell-Pope left his wife McKenzie Caldwell-Pope and newborn son for a game, but she was okay with that. In early April 2017, the sports star left for the match to join the Detroit Pistons in time for the second half of that evening's loss to the Toronto Raptors. He told reporters:
"Yeah, we talked. We have a conversation, that's that communication between us, and McKenzie felt it was OK. She had her mom there, and my mom was there to help out."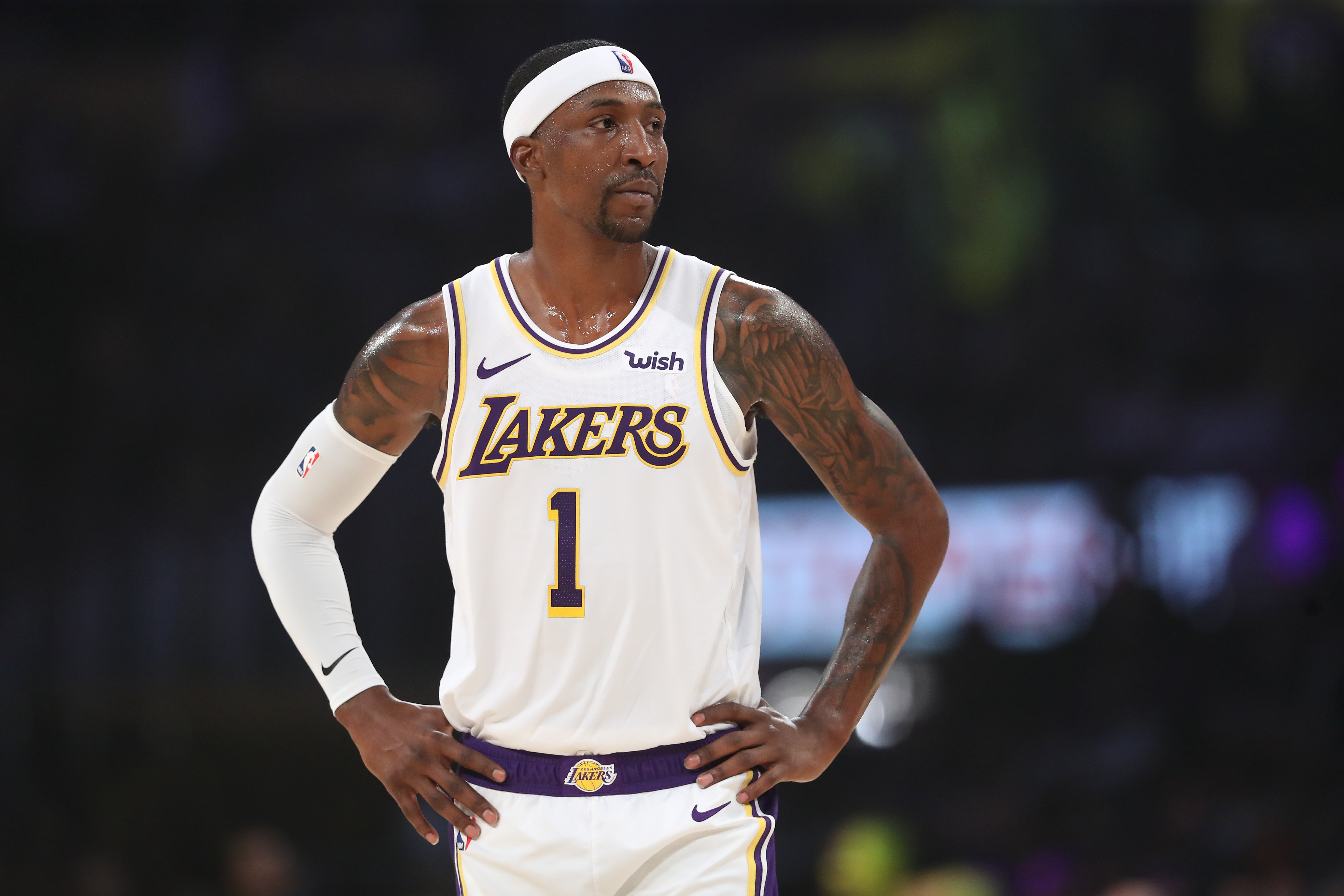 THE GAME
According to Freep, doctors induced labor the day before at noon, and McKenzie gave birth the day after on the game night.
Once Kentavious ensured that his newborn child and mother were doing fine, he left to join the Pistons bench shortly before halftime and warmed up on an exercise bike behind the bench.
The father of three started the second half in the eventual 105-102 loss but managed to score two points on 1-for-5 shooting.
Of his presence at the match, Kentavious later shared he wanted to be there, adding, "I had the best thing happen to me by having my son, and I just felt so much energy. I wanted to be there and give some of my energy and to help win the game."
He explained that he watched the first half from the hospital and saw how his team gave all their energy by playing great together. Kentavious wanted to be part of that atmosphere and bring along the energy he had.
Despite leaving the hospital in a hurry for the game, Kentavious had permission from coach Stan Van Gundy to be there for his son's birth.
Gundy revealed when Kentavious arrived at the match and went on the bench; he did not notice him. When he eventually did, he decided not to put him in and gave him a chance to warm up instead.
However, he was not impressed with the Georgia native being there and stated, "some things are more important than any game."
MEET MCKENZIE
While Kentavious' love for basketball is strongly evident, his beautiful wife is more passionate about fashion. McKenzie spoke about herself in an exclusive interview with Voyage LA back in 2020.
"I have always loved fashion. I was the freshman in high school trotting through campus in heels! HA! Buy one get one for $10 at Charolette Russe was my jam! McKenzie enthused.
She added she always had a passion for making her outfits look expensive even on a tight budget. Apart from clothes and being a fashionista, McKenzie is a college graduate.
She graduated from Louisiana Tech University with a degree in Business Marketing and did a short course abroad in Paris. Upon graduation, she moved back home to Dallas and began working for a local designer.
"I loved that job! I did that for three years before moving to Detroit with my husband," she said. McKenzie decided to explore more and started a YouTube channel about fashion and lifestyle.
She also managed to start an Instagram Live TV show called "Sip N Style," that she now hosts every Monday, and has few other passion projects that she is pursuing.
BEING PARENTS
Even though she has a lot going on as a busy woman, McKenzie has her hands full as a mother to her three children, Kenzo, KJ, and Kendrix.
However, she admitted to struggling with mom guilt and said, "I always feel guilty for taking time away from my family." She explained that her spouse has a demanding career, and so she does the best she can by giving her family her all.
On the other hand, the Lakers guard always misses the little ones when he is away from home because of work. In August 2020, he admitted to terribly missing all they do in the house, whether they are screaming at each other or crying.
"I miss the noise. It was good to get away from the noise, but then I'm missing it. I didn't think I would say I miss my kids making all hype of noise," the 28-year-old admitted at the time.
Apart from the babies, when he and McKenzie first met, they were living in different states. She was still working for a clothing designer who made hostess dresses.
While she went to check up on a client in town one time, Kentavious noticed her. She shared that after interacting for a while, he invited her to come and see him play.
"I had no idea what he meant, but he explained that he played for the Pistons and was in town for a game. I went, and we've been together ever since," said McKenzie.
THE WEDDING
Their long-distance romance turned into an engagement as Kentavious proposed to her most unconventionally in October 2015.
"One day, I was getting into a car to fly back to Dallas when Kentavious stopped me, put a ring on my finger, and said he couldn't let me leave again without the promise that my home would be with him from then on," she explained.
The couple then planned their Gatsby-inspired ballroom wedding in five months. The sophisticated 200-guest ceremony took place on June 11, 2016.
McKenzie wore a plunging lace and pearl-accented bridal gown from Galia Lahav. She accessorized the look with a long, simple dress, pear-shaped diamond studs, and Christian Louboutin pumps.
Under those shoes, Kentavious left her a handwritten love note. The wedding ring features five rows of black diamonds, which is the number 5 Kentavious wears.
McKenzie walked down the aisle to John Legend's "All of Me," sung live, and the newlyweds had their first dance to Beyonce's 1+1 and wrote their own personal vows. McKenzie shared she would not change anything about their magical day.