Olympian Shawn Johnson Melts Fans' Hearts – See Sweet 1st Family Pic with Her 2 Kids under 2
Olympian Shawn Johnson East's athletic career is worthy of praise and admiration, as she is famous and loved for her impressive trophies. She is also a doting mom who captivates hearts with family photos like the one she recently shared.
Undoubtedly, Shawn Johnson East was a skilled gymnast. The American amazon won about three medals as an olympian. Now, she is retired and spending time handling her private business, which is none other than being a mother and wife.
The 29-year-old is a mother to two beautiful kids, both under two; she shares the tiny minions with her husband, Andrew East. Recently, the former athlete showcased her bunch in a never-before-seen photo on Instagram.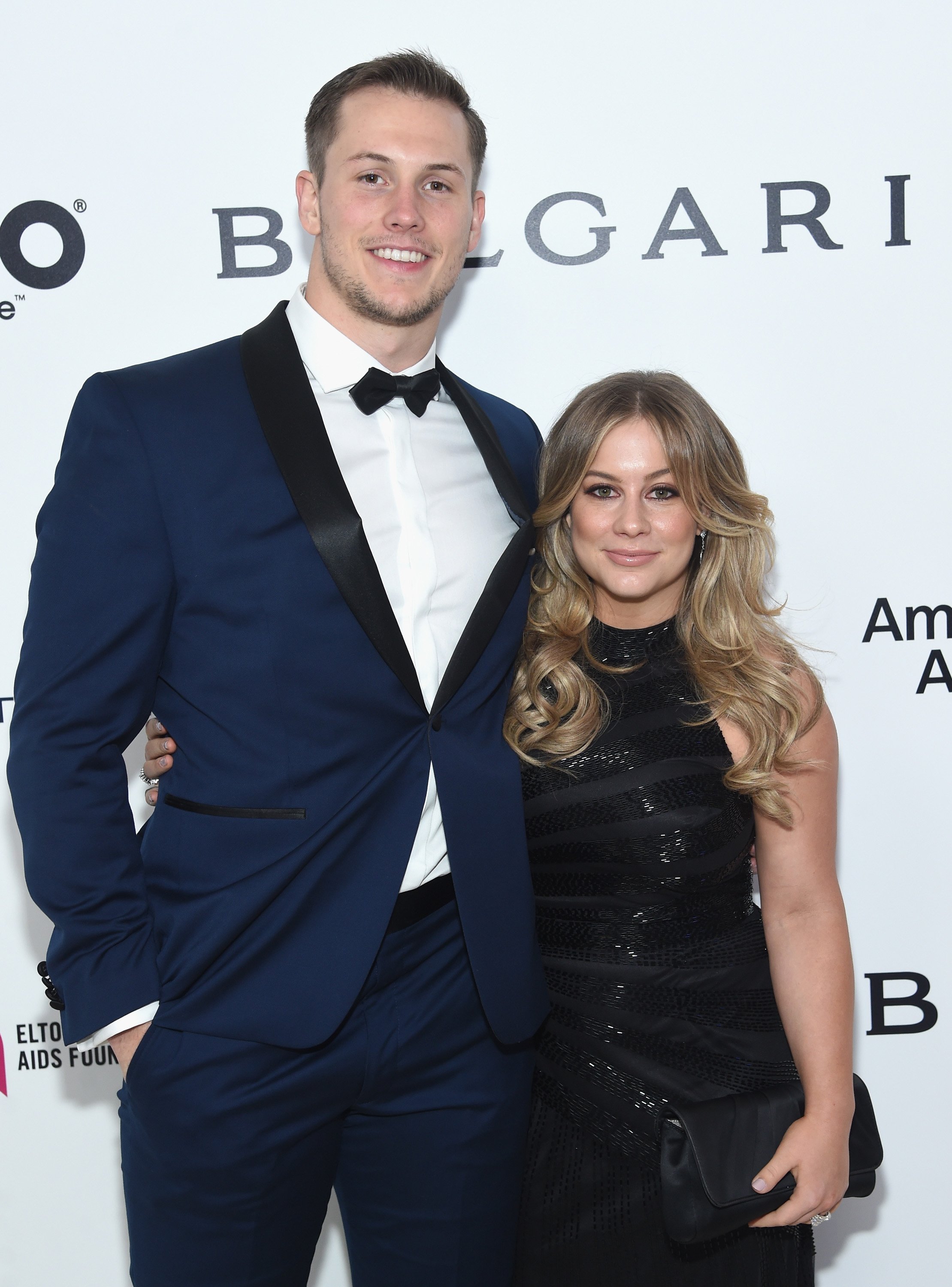 SHAWN JOHNSON'S RECENT POST
On a bright Thursday summer day, the typical day for throwback snaps, Shawn blessed her legion of followers with a current image captured by the lens of a notable photographer, Gabrielle Hopkins.
The post showed the entire East family wearing an extraordinary and fascinating stare as they gazed at the family's youngest member. The mother of two cradled her baby, Jett, wrapped in gray swaddling clothes.
Her husband, a former NFL player, who stunned in a round-neck, plain white T-shirt, gently knocked heads with the former athlete as he leaned forward.
Their oldest child, daughter, Drew, rocked a girly pink outfit and hair bow. The soon-to-be 2-year-old touched the infant lightly. The message that accompanied this captivating family shot read:
"how do we have TWO kids (I mean technically three with our fur child) hahaha so surreal but so magical."
More than three hundred thousand fans hit the heart emoji on the image, and hundreds added lovely comments gushing on the seemingly perfect family of four.
Still, Shawn went on to share more heart-melting moments of her sleeping baby and their family dog on her Instagram story.
THE EAST KIDS
The youngest East kid and only son, Baby Jett James East, was born into the family on July 20. The second time parents waited until a week before they plastered a montage of first baby photos photographed by Hopkins online. 
There were black and white images of the pack posing in a warm embrace of the additional member. Since Jett's birth, Drew has been hands-on in displaying her big sister's love for the young man, concerning her attention to him in the recently shared snap.
At first, her parents were unsure of her reaction; Andrew explained that he was nervous about introducing the new baby to his daughter.
Drew was absent for some time because she developed an ear infection and was sent to live with her grandma. But it looks like even though the attention would now be divided between the kids, she will be able to handle it.
SHAWN JOHNSON EXPLAINS HER BABY'S NAME
Shortly after her second child was born, Shawn revealed what her son's name Jett James East meant. She mentioned that it was a combination of her great great great grandmother's name and Andrew's brother's name.
During that same period, the new mom launched a new Instagram account for the newborn, it bore his full name, but nothing has been shared on the social media platform yet.
SHAWN JOHNSON'S ADMIRABLE ROMANCE
Shawn first heard about Andrew in 2012 through his brother, Guy, who acted as a hype man during the former athlete's attendance at the Olympics 2012. She had gone with an ex-boyfriend.
They texted for a while and had dinner at The Grove; the rest became history. The lovebirds walked down the aisle in 2016; they intended to start a family the following year. But, sadly, Shawn suffered a miscarriage.  
This did not deter the couple, who succeeded two years later and welcomed their firstborn, Drew. Since day one, and their time as first-time parents, Andrew has been very supportive of his wife.
They often take fans through their journey via their Youtube videos, and it is evident that the former NFL player loves to shower his big baby with all the love she needs.
Moments before Shawn underwent a C-section for her second child, he sat closely and consoled her. Shawn is indeed blessed with the best family anyone can ask for, a loving husband, and kids that effortlessly melt hearts!