Simone Biles Hugs Parents in Touching Reunion Snaps after Remarkable Tokyo Olympics Stint
Artistic gymnast Simone Biles has finally returned home to her family. They had a heartwarming reunion after being away to represent her country at the Olympics.
Simone Biles is widely recognized as one of the highest-ranked and most accomplished gymnasts in history. The star has been the recipient of countless awards and accolades throughout her career.
On August 5, Biles took to her Instagram page to share pictures of the day she touched down in Houston, Texas. Both her parents and a crowd of people greeted her with a hero's welcome when she arrived.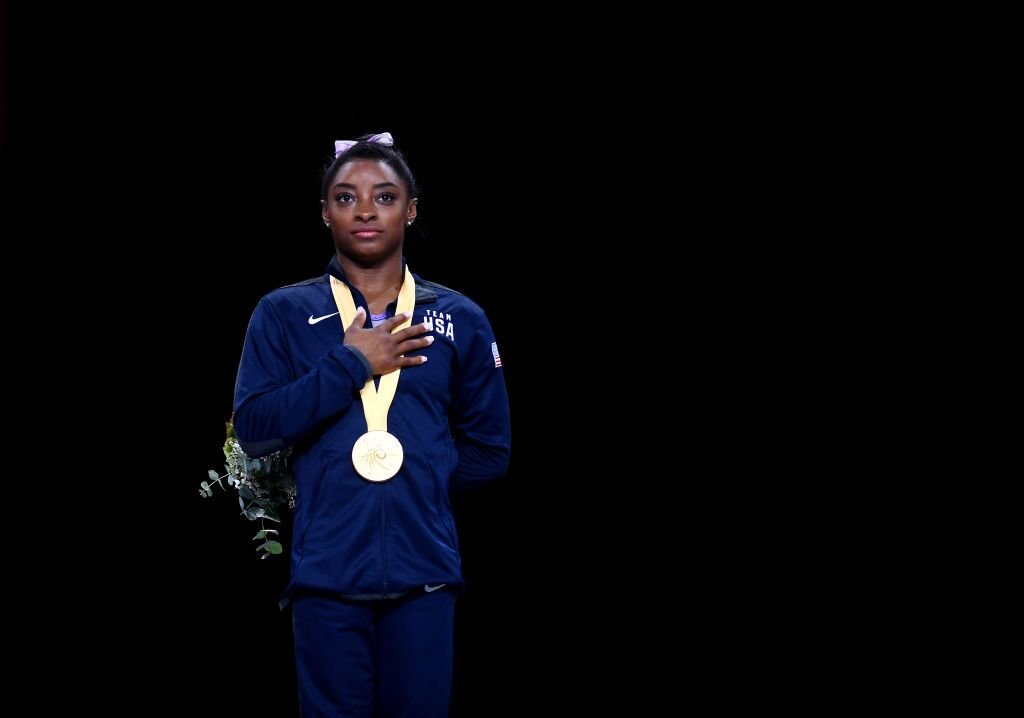 EMOTIONAL REUNION
"Houston, I'm home. Thanks for making sure I didn't have to wait one more minute to see my family @united," Biles captioned the touching post that features images of her hugging her parents, Nellie and Ronald Biles.
In the snaps, Biles is seen wearing a hooded jacket similar to her mother's. Meanwhile, the Olympian's father opted for a simple T-shirt. They also wore face masks to adhere to COVID-19 protocols.
Biles broke through her fear and returned to competitive sports. Nevertheless, her goal of winning the Olympic gold on the balance beam was not fulfilled. Instead, the star returned with a bronze medal.
Biles, the sixth woman in history to win both a World Championships and Olympic all-around title, placed behind China's Guan Chenchen and Tang Xijing. A score of 14.633 won gold for Guan, ahead of 14.233 for Tang. 
Biles performed with ease and precision, almost without a flinch. Her smile was wide when she landed on the mat after finishing her routine. She then blew a kiss to photographers and hugged her teammates.
It's no secret that she was adopted by her grandparents.
EXPECTED NOTHING
Following the event, Biles said that it had been a fairly long week and five years. "I didn't expect a medal today. I just wanted to go out there and do this for me, and that's exactly what I did," she noted.
Last week, Biles shocked the world when she pulled out of the team gymnastics final. Her withdrawal was due to the emotional strain of competing in the Tokyo Olympics and not a physical injury.
Medical professionals have continuously monitored her health, Biles said. During her time in Tokyo, the athlete also met with a sports psychologist twice, which she credited for helping to ease her anxiety.
After that, she focused on the beam since she does not twist, which helped greatly. As Biles continued, she mentioned that her aunt had recently died without warning, something she found hard to deal.
NOT RULING ANYTHING OUT
Biles chatted with "TODAY" host Hoda Kotb before she left for Japan. Kotb supported Team USA during their competition. At the interview, Biles talked about her time in Tokyo and her future plans.
The 24-year-old indicated that she might return for more Olympic Games, saying she was keeping her options open. Biles also expressed her appreciation for the opportunity to compete on Tuesday.
Biles admitted that she initially considered withdrawing from the beam event but eventually felt confident enough in her ability to compete. Her Bronze Medal was significant to her; she told Kotb.
FACTS ABOUT HER PARENTS
Meanwhile, Biles' parents, Nellie and Ronald, are not really her biological parents. Ronald is her maternal grandfather, while Nellie is his wife. It's no secret that she was adopted by her grandparents.
Back in 2017, Biles shared on "Dancing with the Stars" that they saved her life. She claimed her biological mother was a drug and alcohol addict who was frequently in and out of jail during her childhood.
Biles had memories of needing food and being scared, but she never had a mother who she could turn to. At the age of three, she entered foster care, and the star said she was able to visit her grandparents then.
As Biles recalled, her grandfather eventually told her that she could call them "Mom" and "Dad." Afterward, they adopted her, and Biles now proudly calls them "Mom" and "Dad."
Aside from her parents and legion of fanatics, Biles has always had the support of her boyfriend, Jonathan Owens. During a heartwarming post on social media, Owens explained how much she inspires him.