Daily Joke: Two Men with Black Eyes Met on a Plane and Had a Conversation
Two men boarded the same plane and also had their seat numbers next to each other. After they settled down for the flight, they discovered they both sported a black eye. 
The men were so surprised that they started a conversation to find out how each of them ended up with a black eye.  The first guy explained that when he got to the airport in the morning, he went to the ticket counter where he met the woman who handed tickets to customers.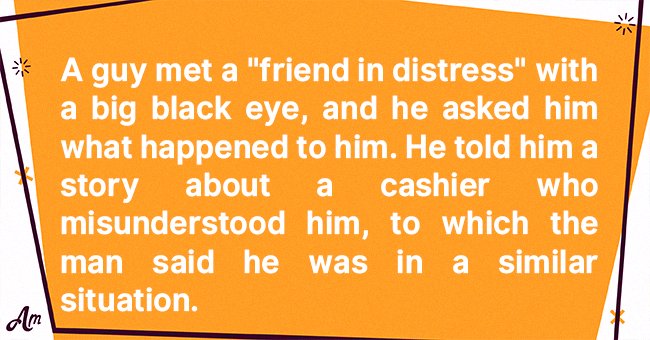 He said he observed the woman for a few minutes and concluded she had a "great rack." When the woman asked him about where he was headed, he had a slip of the tongue and said "titsburg" instead of Pittsburg. The ticket lady found it inappropriate and gave him a colossal punch in the eye. 
The ticket buyer then asked the other man how he got his black eye. The man replied that it was a coincidence because he also got it because of a slip of the tongue. 
The man explained that before driving to the airport, he had an exchange with his wife. His wife had served him breakfast and instead of asking her to pass the pancakes and syrup, he blurted, "[expletive], you ruined my life!" The next thing he heard was the resounding blow to his left eye.
THE BOY WITH THE DOUBLE BLACK EYES
A boy had the weirdest day at church, and on his way home, he called his parents to tell them how his day went. The boy explained that a woman gave him two black eyes. 
The parents were shocked by this and asked him how it happened. He explained that when it was time for praise, everyone stood up, and he saw that the woman in front of him had a wedgie.
He observed her for a few seconds and saw that the wedgie was uncomfortable for her, so he reached over and pulled it out. This bothered the woman, and she turned around and punched him in the eye.
The boy's parents felt for him and tried comforting him. They were, however, still curious about the second eye. When they asked him about it, the boy replied, "Well, I figured she probably liked it like that, so I shoved it back in!"
If you enjoyed these jokes, you might find this one even more hilarious. It's about two men who lived on opposite sides of a river and have always wanted to fight. When a bridge was finally built across the river, the next thing that happened will crack you up!
Sources: Reddit.com, Upjoke.com