Nicole Ari Parker & Boris Kodjoe Get Lovey-Dovey Snuggling up to Each Other in Romantic Photo
Celebrity couple Boris Kodjoe and Nicole Ari Parker's love and attraction for each other hasn't wavered over the years. They often flaunt it on social media, leaving their fans gushing. Check out their fans' reactions below.
Nicole Ari Parker and Boris Kodjoe are among the most influential celebrity couples in Hollywood. The lovely pair have been married for sixteen years.
They are blessed with two beautiful children - son Nicolas Neruda and daughter Sophie Kodjoe. Just as they show affection to their kids, the couple never fails to express their feelings for each other online.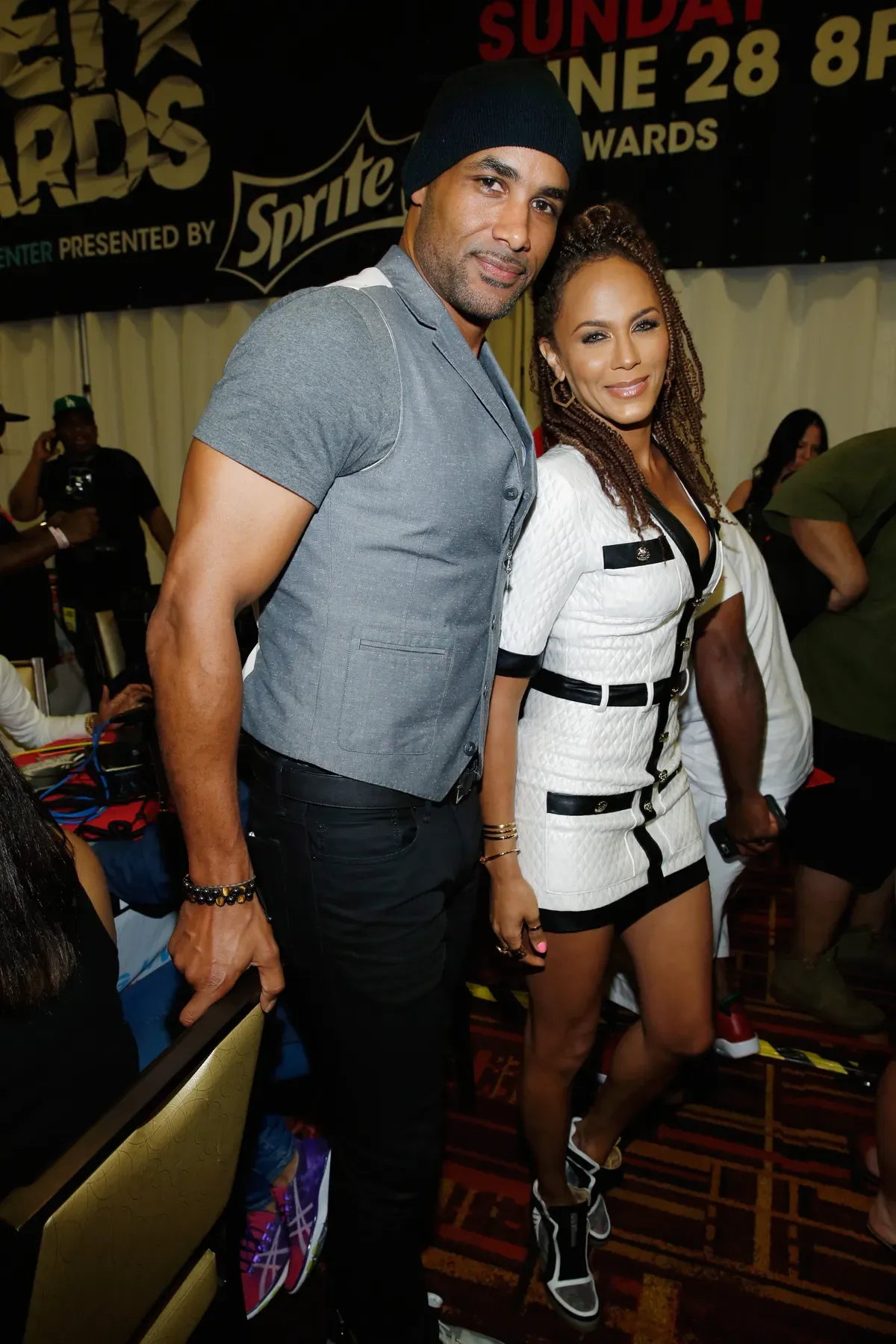 Parker and Kodjoe are not afraid to show and express how much they appreciate each other. On Instagram, Parker recently shared a loved-up snap of herself with her 48-year-old handsome husband. She wrote in the caption:
"Thanks for the #sweetsurpise visit  this weekend. "
The photo showed Parker and Kodjoe smiling as they lay down on something comfortable. The doting mom still looked gorgeous with her loose dark brown locks and bare face. 
The "Soul Food" actress wore a brown, sleeveless top with white patterns and floral prints. Her plunging outfit highlighted her flawless skin and emphasized her ample bosom.
As for her husband, Kodjoe seemed shirtless, only flaunting his striking tattoo on his left shoulder. A cute, knitted teddy bear wearing a blue jumper lay on top of the dashing actor.
An animated heart emoji was featured in between the couple. The photo amassed more than 120,000 likes, with several fans gushing and commenting with heart and flame emojis.

Since Parker bared her look in the photo, an awestruck fan commented in jest that Kodjoe should move the knitted toy away from them, adding, "We wanna see his cleavage too!"
The couple is making sure their family is free from the virus and has prioritized cleanliness at home.
Some followers could not help but remark about the admirable pair's relationship as "goals." Another admirer gushed, "My favorite gorgeous celebrity couple [sic]."

Parker's sweet snap comes after she and the "Station 19" actor went on a European vacation amid the pandemic. One of the countries they visited was France, where they strolled around Paris.
Kodjoe shared a series of romantic snaps and videos that summed up their vacation. They visited the famous Eiffel Tower and strolled along the sidewalk by the river.
Meanwhile, Parker posted a clip of herself with her husband. Both smiled as they walked side by side on a narrow Parisian street that featured small coffee shops on the side.
As evidenced in their social media feed, Kodjoe and Parker's relationship has never been more solid. Since the pandemic started, they have constantly looked out for each other and their two kids.
Amid the health crisis, the couple found a silver lining while quarantined at home. "It's been interesting because we're having these conversations every day about what's going on in the world," Kodjoe said.
The couple is making sure their family is free from the virus and has prioritized cleanliness at home. They ask people who come over to wear masks and wash their hands.
While the couple keeps themselves away from pandemic-related sickness, Kodjoe and his longtime wife were not spared from controversies. A fan earlier alleged that they experienced marital problems.
The unconfirmed assumptions started when Parker stated in a previous Instagram Live session that she missed having a boyfriend and how flirting keeps her feeling excited.
Kodjoe quickly dismissed that he and Parker had marital troubles and that they were still together. In a recent Instagram post, he shared that Parker's post was some kind of a click-bait tactic.
Like their successful relationship, the pair continues to thrive in their respective careers. Kodjoe and Parker will star together in an upcoming movie, "Safe Space," which is expected to premiere in 2022.