Daily Joke: Husband's Mistress Walks up to Him at Dinner with His Wife
A couple was having dinner at a fantastic eatery when a beautiful young woman walked up to the table, gave the man a peck, and called the man "sweetie," noting that she would see him later. 
Filled with rage, the wife began an interrogation session. She asked her husband about what had happened and requested to know what the pretty woman meant by "see you later."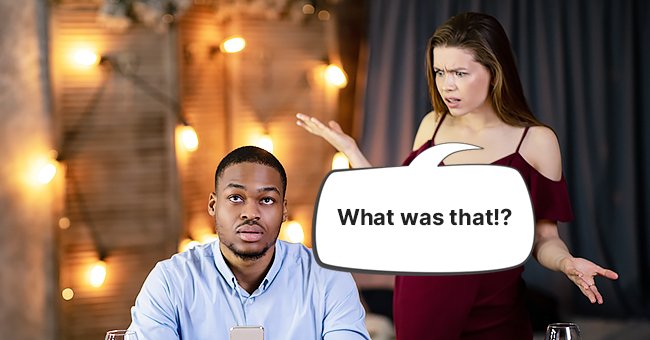 Replying to his wife, the man said that the young woman was his mistress. Shocked, the wife replied, "You have a mistress, and she has the nerve to walk up to us in public? This is unforgivable. I want a divorce."
The husband tried to explain to his wife that the young lady meant nothing to him and that their relationship was nothing but a bit of harmless fun. Furthermore, he said he loved his wife and wanted them to live a long life together.
Despite the man's claims, his wife was not interested. According to her, the husband's explanations meant nothing after the humiliation she had faced.
Trying to convince his wife, the husband assured her he would not let his mistress cause such embarrassment again. But when the wife asked her husband if he would see the young lady again, he replied in the affirmative.
So she insisted on a divorce, which the man advised her to think through. He pointed out that they had a prenup, and if they divorced, the wife would be comfortable, but at a different level.
She could no longer go shopping in Paris with the jet, no more beach houses, no more yacht rides, and no more luxury dinners. For a few minutes, the woman was calm, then she said, "Isn't that Ted from the club? Who's he with? It isn't Stella."
Immediately, the man revealed that the woman was Ted's mistress, and her name was either Kristy, Krissy, or something related to that. Then the wife said:
"Hmm. Ours is prettier."
TWO CHEATING PARTNERS 
A man and his mistress were lying in bed when the former asked the lady if her husband was coming home soon. According to him, he did not want to meet the husband because they were best friends.
The mistress replied that her husband was not coming home for another hour. Suddenly, the phone rang and the woman answered.  She said, "Hi honey. OK honey. Yes honey. Bye honey." When she hung up, she looked at her lover and said:
"It was my husband, he'll be an hour late. He's playing pool with you."
If you found this joke funny, you might like this one about a man who received a postcard from his mistress with whom he had an affair for several years.