Daily Joke: Man Helps Pick Out Dentures for an Acquaintance
Two men were regular commuters on the same train that takes them to work in the city. The pair had been getting on and off the train at the same time for years and occasionally exchanged greetings. 
One day, the situation became different, and this forced them to have a conversation. One of the commuters looked over to the side where the other person regularly sat and noticed that he had a forlorn look.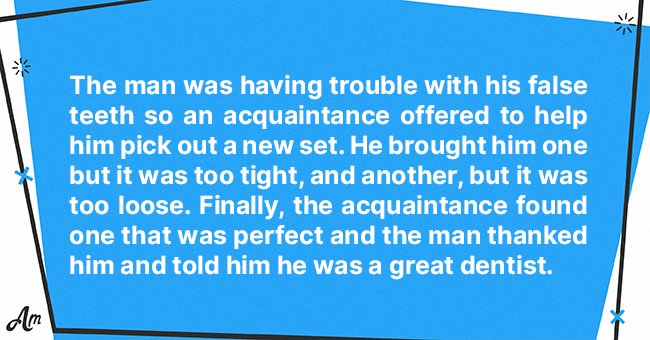 The concerned commuter was puzzled about what could be wrong, and he wasted no time moving closer. He tapped the other commuter on the shoulder and spoke gently that he was concerned about him.
The sad-looking man explained that his mouth was aching so much because his dentures were old and falling apart. The man added that this was causing too much pain when he moves his jaw.
The first man felt for him and asked him to take out the dentures and offered to find him a new set. So the man in pain pulled out his false teeth and handed them over to the concerned commuter.
The next day, the concerned commuter was back, and he handed new dentures to the man. The man put it in his mouth, making sure it was properly hinged to his gums. He felt around his mouth, testing the dentures.
He explained to the other commuter that the dentures were as good as new, but they were sort of tight at one end, causing discomfort. So the concerned commuter told him not to worry because he had another solution.
A few days later, they were again on the tube, and the commuter had with him another set. He asked the man to try them on, and again, he complained, but this time, they were loose. 
The concerned commuter did not give up. He again reassured the man that he would solve the problem. So the following day, he showed up with another set of dentures. 
After the man propped the set into his mouth, he smiled and was finally happy with it and he commended his acquaintance for being a good dentist. But the concerned commuter laughed humbly and replied:
"Oh! I'm not a dentist! I'm a funeral director!"
If you enjoyed these jokes, you might find this one even more hilarious. It's about two married couples who made a bet on who can save the most on train tickets, but the game took a different turn.
Source: Upjoke.com