Travis Barker Bravely Catches Flight with Girlfriend Kourtney Kardashian after Surviving a Plane Crash in 2008
Blink 182 band drummer Travis Barker recently caught a flight with his girlfriend, Kourtney Kardashian, for the first time since surviving a deadly plane crash more than a decade ago. Scroll down for details.
Travis Barker finally faced his fear of flying on a plane. If not for his girlfriend, reality star, and "Poosh" founder Kourtney Kardashian, he would not have had the courage to ride a plane again.
As TMZ reported, 45-year-old Travis and the "Keeping Up With The Kardashians" star were spotted boarding a private jet owned by the latter's youngest sister, makeup mogul Kylie Jenner.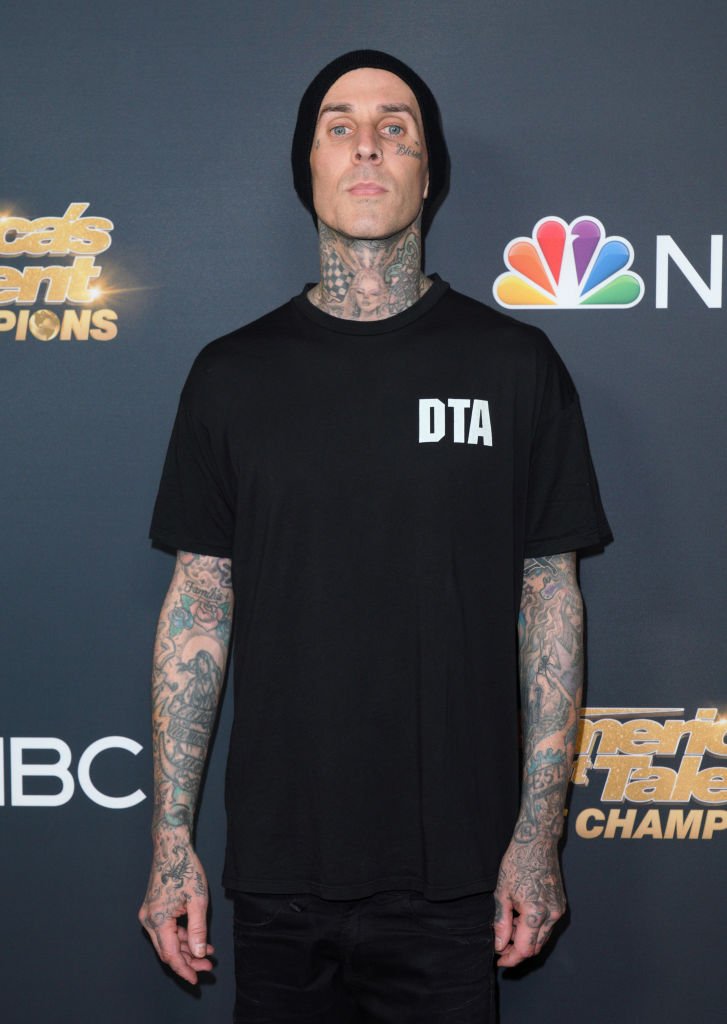 Kourtney and Travis were seen at an airfield in Camarillo, California. The 42-year-old TV star held her boyfriend's hand as they walked up the stairs leading to the plane. 
The lovebirds had to board Kylie's private plane as Travis was an hour late for their flight to Cabo, San Lucas in Mexico. They flew together with Kourtney's mom, Kris Jenner, and her mom's boyfriend, Corey Gamble.
Ahead of his flight with Kourtney, Travis tweeted two months ago that he might fly again. He seemed perplexed by this idea, but Twitter users encouraged him to overcome his fear.
While it was unknown why it took Travis a long time to board a plane again, TMZ reportedly stated it might be due to a traumatic experience he had thirteen years ago. Travis was quoted in a past interview saying:
"That was my wake-up call."
The incident saw him and celebrity DJ AM, also known as Adam Goldstein, miraculously survive a plane crash in 2008. The crash killed four people, including Travis' assistant Chris Baker and security guard Charles Still.
I might fly again ✈️

— Travis Barker (@travisbarker) June 25, 2021
A year after the incident, DJ AM died from a drug overdose. Travis said the crash, which left him with severe burns, motivated him to quit his abusive use of prescription drugs. 
Considering how much trust Travis has given to Kourtney, the lovely couple's relationshio is stronger than ever.
The Barker Wellness founder stated that the tragic incident served as his means of rehabilitation. These days, it seemed that Kourtney has fully helped him move on from the trauma of being on a plane.
Kourtney, Kris, and Corey safely landed in Mexico with Travis. It was an unforgettable milestone for the musician. Kourtney was by his side as he disembarked from a private jet.
The rockstar wore a tank top showing off his striking tattoos during the trip. He covered his shaved head with a black ski cap, and he wore gray pants with a metal-studded black belt.
Kourtney sported a short haircut as she donned a sleeveless black silk dress and shades. She clutched a few items in her hand while her boyfriend carried a large black bag on his shoulders.
Travis and Kourtney's sweet relationship has earned them massive admiration from fans. They were romantically linked in January 2021, after being friends for many years.
Considering how much trust Travis has given to Kourtney, the lovely couple's relationship is stronger than ever. "This is the happiest Kourtney has been in a while…" a source reportedly told ET.
Kourtney's family is thrilled about her love life. The source added the pair are keeping their relationship as private as possible amid the hype about their relationship on social media.