Amazon Truck Breaks Driving Rules, Veers off Highway to Get Out of Traffic Jam
An Amazon truck chose to live on the wild side, boldly breaking the rules. However, some did not see a daredevil but rather a terrified employee, doing his best to survive another day. 
A TikTok user going by the name of Cami online shared a video of an Amazon van, not following road regulations. Instead, to get out of a traffic jam, it veered off the highway. 
The song "Bezos I" by Bo Burnham played in the background as the white truck was seen from a distance. It drove onto the grass on the roadside, assumably in a rush to get to its delivery destination.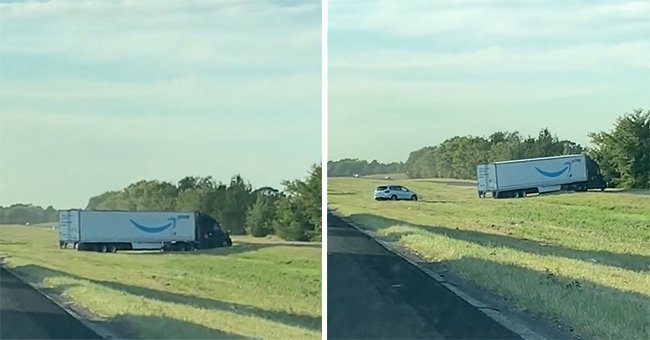 Another white and regular automobile appeared inspired by this truck's wise decision, following it onto the illegal grass verge. Referring to Amazon executive chairman Jeffrey Preston Bezos, the description read:
"When Jeff personally guarantees next day delivery #trafficjam #amazon #jeffbezos."
A significant number of individuals in the comment section agreed with the underlying allusion that the worker was likely worriedly pushing to get their job done on time. Many expressed sympathy. 

This appeared to be the overall consensus, numerous individuals criticizing Amazon for its allegedly harsh and unfair demands on its employees. One wrote: 
"This lowkey makes me sad cause that truck driver is probably legitimately stressed trying not to get fired." 
Another made a dark joke, stating that the billionaire was most likely sending electric shocks through the worker via the car behind them. This, they quipped, was because Bezos felt bored after his altogether infamous trip to space. 
A minority of individuals disagreed with the heartfelt sentiment, implying that others remarking on the post were over-reacting. However, Amazon employees have, in the past, been a focus of compassion from the general public. 
Another specific instance that had many criticizing Amazon worker conditions was uploaded to TikTok as well. An Amazon van was dangerously driving through a flooded road in Detroit while other cars remained safely on the side.
Additionally, a TikTok video was shared of an employee delivering a product in a recently tornado-torn neighborhood. These two videos both included the "Bezos I" song. 
In another Amazon spotting, employees were seen delivering a considerable amount of boxes to a house. This was posted on TikTok with the song "Myself" by Bazzi playing in the background.
Known as Big Redd on their account, the user showed workers walking back and forth from the van to the building, piling a skyscraping level of boxes that towered over the structure. This sparked many questions from commentators. 
Out of these many queries, some wondered what was in all the packages. Whatever the customers may have ordered, any Amazon employee would have ensured they received it on time and perfectly intact.