Viral Video Shows a Huge Amount of Amazon Boxes Delivered to One House
In absolute awe, a TikToker took a video of sky-scraping boxes piling up in front of one of their neighbors' houses. Curiosity and confusion filled up frustrated comment sections. 
A TikTok user in Florida who goes by Big Redd or username cassie5616 shared a now-viral video. In the clip, the TikToker showed a large number of Amazon boxes being delivered to a neighbor's house. 
While "Myself" by Bazzi played in the background, Big Redd filmed the almost unbelievable incident. She showed an Amazon truck and employees going back and forth to hand over the ridiculously huge amount of boxes.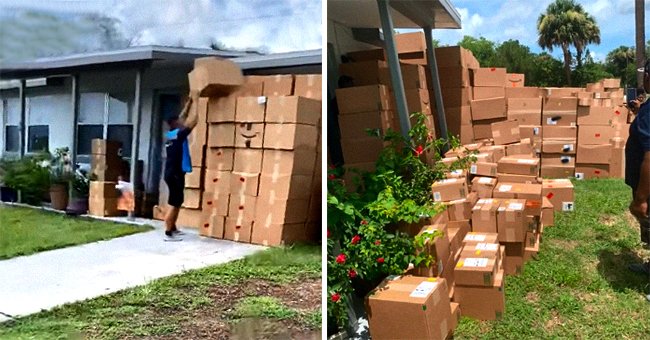 Following the clip section of the TikTok video, Big Redd then showed the number of boxes via shots from many angles. Taking to the description, the TikToker wrote: 
"When that PPP loan drops. #viral #fypシ #amazon #ppploan #daytonabeach."
The boxes were stacked so high that they overtowered the single-story house. The post has so far received just under 180,000 likes and 2000 comments. 
Out of these remarks, many found the TikTok share to be hilarious. One commented that a funny occurrence such as this could only happen in Florida. 
The clip showed an Amazon employee delivering products in the middle of a tornado's aftermath. 
Another viewer suggested that they may just be moving in, while some wondered where the homeowners got the money to purchase all these products. Other individuals simply pondered about what could be in all the boxes. 

Another TikToker, Tierra Lopez, with the username @teaaaaaa.x, also posted several clips of the same incident. She overlayed one of the videos with facetious words.
Tierra Lopez wrote that she was going outside to enjoy smelling roses when she suddenly came upon this box tower. Her viewers were determinedly curious about what was inside these boxes. 
The TikToker shared two more parts. The second part was taken the next day when once again, vans from Amazon were delivering products to the same residence. 

If delivering a skyscraper of Amazon products is not enough, many will be taken aback by what another TikToker shared. The clip showed an Amazon employee distributing products in the middle of a tornado's aftermath. 
The worker seemed completely unperturbed by the chaos around him as he walked along. "Bezos I" by Bo Burnham played in the background of the clip. 
A significant amount of viewers had empathy for the employee, with one stating that he should get paid more. Another wrote that he most likely had no choice and would probably be fired if he refused to deliver in such conditions. 
That Amazon employee was certainly not having the best day at work, and neither was a Starbucks barista going by the name Ria on TikTok. She shared a clip showing an overwhelming number of orders just 10 minutes after opening. 
The video showed the barista receiving a large number of stickers. She expanded on her shift in the comment section, stating that the sticker machine was broken on top of everything. 
Many shared their sympathy for Starbucks workers with other baristas from the same company speaking of similar experiences. Too many boxes or too many coffee orders, sometimes work can just become overwhelming.