Megan Thee Stallion Flaunts Makeup-Free Face and Jaw-Dropping Curves in Skimpy Blue Swimsuit
Rapper Megan Thee Stallion flaunted her natural beauty and sensational curves in a skimpy swimsuit. She left thousands of fans speechless with her breathtaking photos. Scroll down to see her incredible snaps.
Meghan Thee Stallion is a newcomer in the music industry, yet she's already proving she is a force to be reckoned with. At 26, she has already accomplished much, including winning multiple awards and collaborating with Beyonce.
Along with her widely popular tracks such as "Savage" and "Body," Stallion has become a fashion icon, setting mind-blowing trends that celebrate body positivity and authenticity.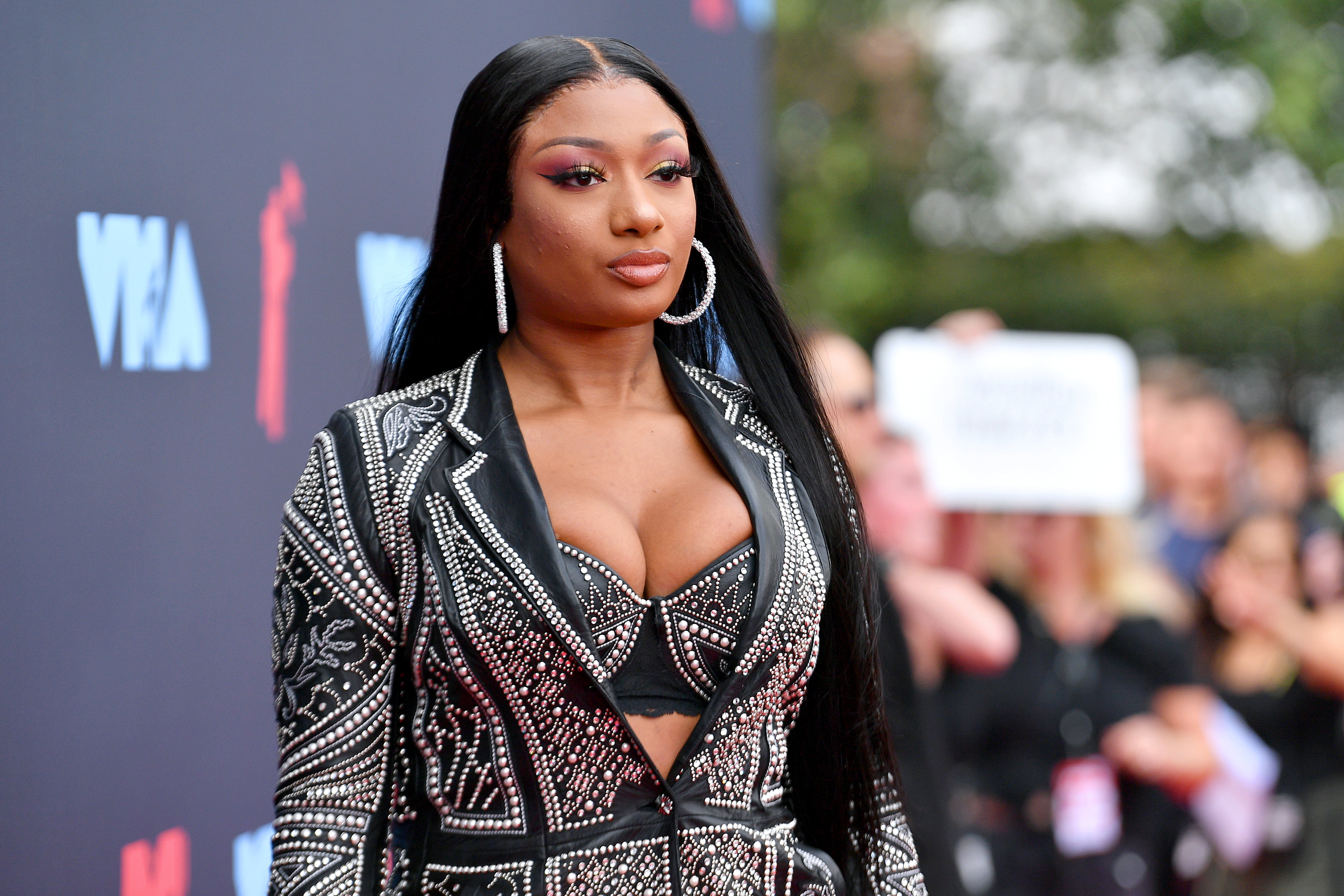 Stallion recently posted on Instagram three jaw-dropping photos of herself wearing a skimpy blue swimsuit at the beach under perfect weather. The post quickly amassed 2 million likes, with one fan exclaiming:
"This squeaky clean face is IT for me!😍😍😍😍😍"
The young hip-hop star knelt on the white sand in the first picture. Stallion pulled off a fierce pose with her left arm folded upwards, her hand on top of her cowboy hat.
The Texas native gave fans another view of her voluptuous physique in the second snap. Standing in the center of the photo, she leaned her head sideways and showed off her long, dreadlocked hair.
Stallion has six nominations for the 2021 MTV Video Music Awards, including Artist of the Year and Best Hip-Hop.
The third photo showed beautiful blue skies, with Stallion's raw beauty blending in perfectly. She had no makeup on but she compensated for it by wearing silver accessories, including a belly button ring.
Stallion posing in revealing swimsuits has become a part of her personal brand. In a recorded statement she shared during the 2020 American Music Awards, she declared she loves her body.
"Every curve. Every inch. Every mark. Every dimple. It's [a] decoration on my temple," she said. Music videos and songs that embrace body positivity have led the young star to reach the pinnacle of success.
Stallion's career breakthroughs include being a four-time Grammy-winning musician as well as being a makeup and designer clothes ambassador. She did all of this while being a college student.
After seven years in college, Stallion is thrilled to finally get bachelor's degree in Health Administration from Texas Southern University this year.
The award-winning rapper said she invested her time and effort in finishing her degree. She is grateful to her family for constantly reminding her about the importance of education.
Like most popular entertainers, Stallion has had to deal with controversies. Last year, she reportedly suffered a foot injury after rapper Tony Lanez shot her. The alleged incident happened shortly after she released her album.
Police charged Lanez with felony assault and issued a restraining order that required him to stay away from Stallion, who has since been protective of her personal space.
Meanwhile, Stallion's career continues to soar as she recently received six nominations for the 2021 MTV Video Music Awards, including Artist of the Year and Best Hip-Hop. She is one of the most nominated artists this year, second only to Justin Bieber.