Mother Wants to Change Her 4-Year-Old Daughter's Name Because It's Too Common
The internet viciously attacked a vulnerable and confused mother after she innocently asked a question regarding her daughter's name.
The World Wide Web can be a scary place; if someone puts one foot wrong, they can get blasted from all corners of the online community. This is what happened when one mother inquired whether she should change her 4-year-old daughter Esmée's name.
Taking to Mumsnet with the username @Chesternut, she asked fellow moms if this would be a moral course of action. The mother's rationale was that her young girl's name is too ordinary, in that too many other children have it as well.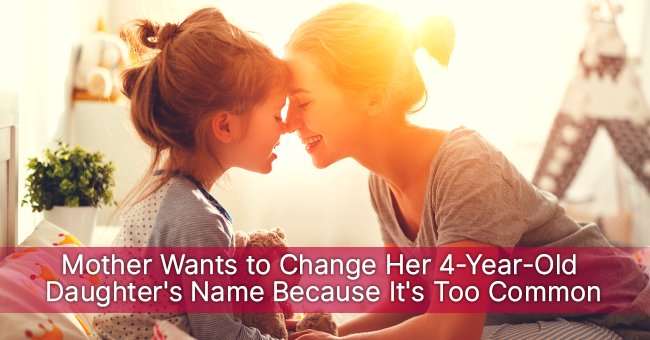 The mom opened up about why she wanted to do so, stating that she had negative experiences when younger because she had a common name. Chesternut stated: 
"[In] the 1970's I was one of 5 named the same in my class and vowed never to have my DC's [dear child] live with the same."
Esmée's mother also revealed she changed her own original name and couldn't stand anyone calling her by her birth name. The parent did admit that she may be overreacting. 

Chesternut explained that one of the sole reasons she named her daughter Esmée was because she thought it would be rare. However, when her little girl began school, the mom noticed many other children with the same name. 
This dad challenged the status quo by allowing his son to swear.
The responses to this mother's story and inquiry were scathing, with many asking why she would even consider doing such a thing in the first place. One commenter went as far as to question her sanity.

Another individual stated that  Esmée should ultimately be the one to make this decision. One person did not hold back, expressing: 
"Don't be ridiculous, you can't change a four year old's name! How on earth would you explain that to her?"
One remarked that it wasn't wise even if she were to change it as specific names' popularity fluctuates. They asserted that whatever new name she would choose could also become recurring in society at some point. 

If this mother's experience is anything to go by, it is evident that parenting is not always easy and can sometimes be controversial in the eyes of others. Father Connor Robertson also sparked a fire with his fathering decisions. 
This dad challenged the status quo by allowing his son to swear. Robertson argued that his child would eventually use this type of language as an adult in any case.
There was a minority that did not have an issue with this father's approach, but countless criticized him heavily. From changing names to what many may deem foul words, language appears to be a contentious topic among parents.