Daily Joke: Doctor Confides in Accountant at Party
It was the weekend, and a doctor who was off duty decided to go to a party. He planned on having some fun, but some people kept getting in the way of that. So he tried to find a solution.
Present at the party also was his friend, who was an accountant. He tapped his friend and explained his plight. The doctor said:
"I'm here to have fun but people keep asking me about their joint pains and heartburn and gas trouble.  Just because I am a doctor.... not fair! What should I do?"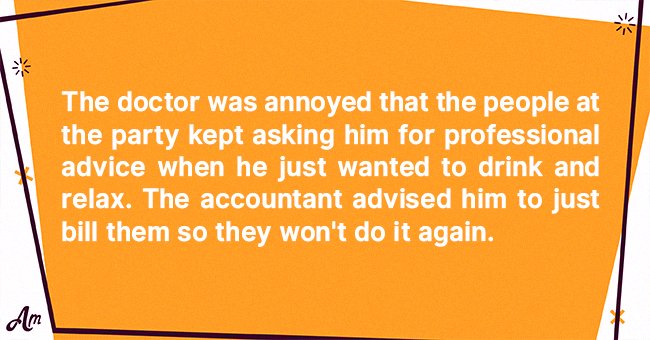 The accountant smiled at him and advised him to attend to anyone who had a health complaint, adding "But send them a bill from your clinic the next morning... only once! Word will soon get around, and it will stop immediately!"
The doctor was amazed by this solution, and he thanked the CA. Then he tried to enjoy the party as much as he could while attending to people who came with complaints. The next day, he got a call from the accountant who told him he sent him a bill. The doctor was perplexed by this and asked him why. The CA replied: 
"Consulting charges for Business Development."
THE TRICK FOR SURGERIES
A woman went to see a plastic surgeon and told him she would like to undergo breast enlargement procedures. The surgeon attended to her and listed all that was involved, including the cost. 
The woman expressed her worry because she did not have a large sum of money for the surgery. But the surgeon told her not to worry because he recently learned of a new method that wouldn't cost her much.  The woman was excited and asked him what it was, and the surgeon replied,
"Just take some toilet paper, rub it up and down your chest once or twice a day."
The woman did not utter a word as she was skeptical about this alternative solution. Finally, she asked the doctor if the toilet paper method was effective, and he said, "Well, it did work perfectly on your butt."
If you enjoyed these jokes, you might also like this one about a lawyer who wanted to call out a doctor for being a fraud by claiming to have the cure for all diseases.
Sources:
reddit.com
,
upjoke.com