Taylor Swift Makes TikTok Debut by Recreating Looks from 4 of Her Albums
Music star Taylor Swift has officially joined TikTok. Swift made her debut in grand style, bringing back nostalgic feelings of her past music milestones to delight her large fanbase. 
Taylor Swift has made her TikTok debut, as she took the video-sharing app by storm, showing off her creative side. The star's first video is part of her work to re-release four of her past albums.
So far, Swift has only one video on TikTok, and it was released on Monday. The clip had her morphing into different looks from her music and past artistic works.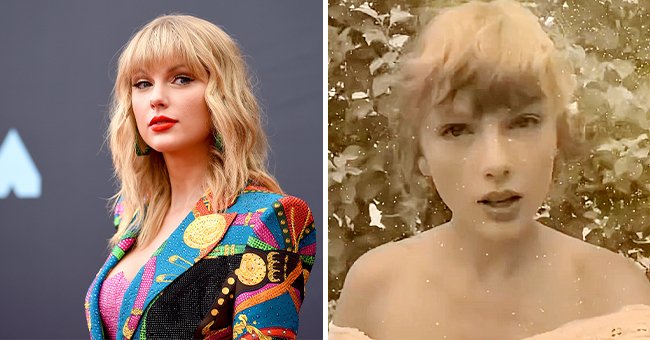 The "Shake It Off" crooner's video went off on Dave's "Screw Face," as she showed off her first look. The fashion choice channeled her July 2020 album cover for "Folk-Lore."
The image included a retro-style film filter and Swift in a white gypsy-style blouse that showed off her shoulders. The second look was from her "Evermore" album, where she rocked a plaid blazer jacket while she wore her curls in a bang.
Swift plans to re-work all of her albums, and this comes amid her rift with former record label Big Machine Records.
The next glam came from her "Fearless" album, re-released in April 2021. She rocked a yellow sundress while letting her hair down. The last look was from "Red," showing the singer in a black turtle neck top and bright red lipstick.
The 11-time Grammy winner had a message for her millions of fans. She wrote: "Lots going on at the moment: Red (my version) vinyl is up for presale on my site. And oh, I'm on TikTok now; let the games begin."
The star, who has garnered over 1.8 million likes so far, earlier teased the content of her new work on "Red." She made it known that the body of work will include 30 songs with a 10-minute extension of "All Too Well."
"Red" is not the only album the 31-year-old singer-songwriter is working on. Swift plans to re-work all of her albums, which comes amid her rift with former record label Big Machine Records.
She has been at loggerheads with the executives, Scott Brochetta and Scooter Braun. She accused the duo in June 2019 of having ownership control of her master recording from 2005 to 2018. 
Swift noted that since then, she has been trying to repurchase her recordings. With how things are going presently, the star looks forward to putting out her songs again. In her Tik Tok video, she shared that Red would be available by November 2021. 
The "Blank Space" crooner recently celebrated the second anniversary of her studio album, "Lover." Her celebration is part of her reason for joining TikTok and a way to connect with fans better. 
Swift's debut on TikTok came with a fashion milestone. Her glam show-off had fans running to stores to purchase the yellow sundress from Reformation called the "Joyce" dress.
The outfit, which retails at $218, sold out in a matter of hours after Swift displayed the look. The yellow sundress sold out, but it is still available in other colors like off-white and cherry.