The Little Mermaids of Music: JoJo & Megan Thee Stallion Aren't the Only Artists Silenced by Record Labels
It seems like our favorite stars only recently started speaking up against exploitative record label contracts. However, cases like Megan Thee Stallion and JoJo's are more common than one would think. 
Breakout rapper Megan Thee Stallion recently opened up about her label preventing her from releasing music. The "Hot Girl Summer" star claims the hostility began when she tried to renegotiate her contract. 
For context, Meg was only twenty when she signed her deal and revealed she did not understand the technical writing at the time. Megan's case has opened a can of worms regarding the music industry.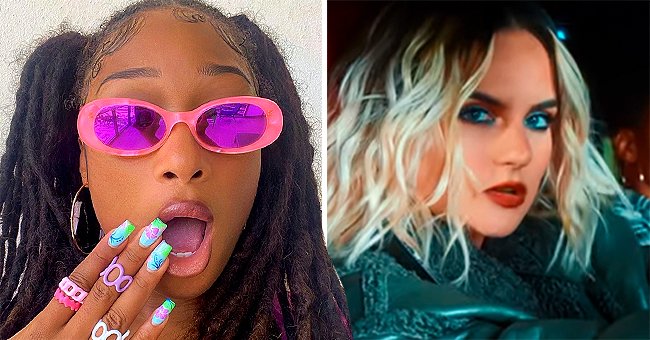 Stars like Nadia Rose and Juicy J came out with their stories due to Megan Thee Stallion's bravery. Rose revealed she had suicidal thoughts from the silencing, and Juicy J released a song about being treated like a slave. 
SZA also took matters into her own hands over the weekend by releasing three surprise tracks on Soundcloud. Many see the action as a rebuttal over label disputes surrounding the pop singer's sophomore album release. 
Although it seems stars have only recently felt the need to speak up, JoJo has been doing so for over a decade. The "Get Out" singer has been vocal about being silenced by her label, which used to own her likeness. 
JoJo was unable to use her name or her voice for years as per her record label agreement. Like Stallion, JoJo was young when she signed her contract and came from a background that made her and her mom desperate for the deal. 
Thankfully, JoJo was released from her contract in 2013, which granted her the opportunity to start over. She even re-recorded songs previously owned by her label to make a living from them on streaming sites. 
Unfortunately, the list of the music industry "little mermaids" goes way beyond the already mentioned stars. This record label contract debacle has affected even some of the most unlikely stars around the globe. 
For example, Prince had to strategize his way out of a $100 million six-album deal with Warner Bros. The label owned the star's entire body of work through the deal and tried to gag him from releasing music more often too. 
As a result, Prince announced that he officially changed his name to the "Love Symbol" on his 35th birthday. Along with the name change, he bashed Warner Bros. for using him as a pawn to make more money. 
Other artists who skillfully found ways out of voice-blocking record label deals include Joss Stone and Frank Ocean. Stone bought herself out of her contract with EMI years after claiming she had no working relationship with the label. 
Frank Ocean took a longer route which he describes as a seven-year chess game. After winning a Grammy, the crooner famously bought himself out of his Def Jam contract and recorded a secret album they couldn't profit from. 
Hopefully, more stars will be willing to speak out on this situation so others may learn from them. Nonetheless, these horror stories have resulted in many indie labels, which may be a solution for now.