Us Weekly: Harry & Meghan Reportedly 'Very Close' with William & Kate as They Mend Royal Rift
There might be the proverbial light at the end of the tunnel as Prince Harry and his wife Meghan Markle seem to mend their relationship with the Cambridges.
Prince Harry and his brother, Prince William, the Duke of Cambridge, seem to want to make peace after years of feuding, as new reports from royal expert Stewart Pearce say.
Pearce says the four have been getting closer, and despite being continents apart, they are communicating more on Facetime and Zoom.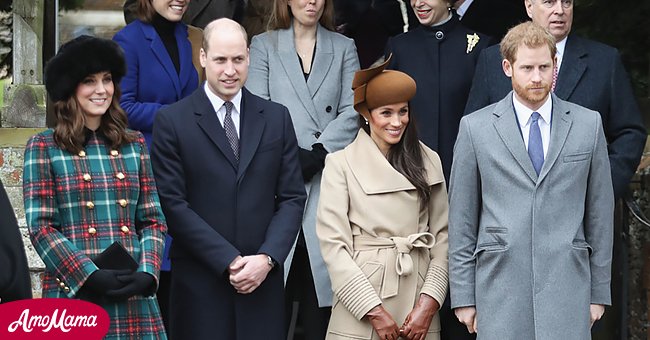 The feud between the brother is reported to have started long before the Sussex were married. During their courtship, William is said to have asked Harry to take it slow with Markle, something Harry did not take lightly.
It was, however, not until 2019 when Harry hinted that the two could be feuding on his ITV documentary, "Harry & Meghan: An African Journey."
Soon after, the Sussex announced they would be stepping down from their royal duties. A source spoke to Us on the developments at the time, saying:
"William was blindsided by Harry and Meghan's decision and statement. William is incredibly hurt, but at the same time, he has his own family to focus on and is trying to move forward with his life."
After their relocation to the US and with the pandemic, it became challenging to reconnect with family due to COVID 19 restrictions, and hence the relationship between brothers kept deteriorating.
After Prince Phillip passed on in April 2021, many awaited with bated breaths for the brothers to reconcile, but to many's disappointment, that did not happen. Even though the two brothers seemed friendly, it was also noted with certainty that they'd not resolved their differences.
It has also been reported that despite them not feuding over anything themselves, the duchesses have not spoken in over a year. Now, things seem to be looking up, with Middleton reaching out after the arrival of Lilibet.
A reconciliation is, however, imminent, and for now, all fans can do is wait as it all unfolds. 
Middleton has been reported to send notes and gifts after the birth of her niece in a bid to rebuild their relationship.
Sources from the firm also confirmed that staffers had been instructed to try and reach out to the Sussex more, if only to help soften up a little.
Their minor disagreement over bridesmaids dresses during Harry and Markle's wedding no longer holds water, and as the source candidly confirmed:
"The bridesmaids' dress incident took place so long ago and it feels pointless to hold on to the anger. It's wasted energy. They've called it a truce."
Harry's feud is, however, not limited to only his brother. During their highly publicized interview with Oprah, Harry opened up about his dad, saying that they'd not spoken in a while.
The father of two continued to say that since he stepped down from the royal duties, his dad had stopped picking up his calls. A reconciliation is, however, imminent, and for now, all fans can do is wait as it all unfolds.