'The Rolling Stones' Late Drummer Charlie Watts's Faithful Wife, Shirley Ann Shepherd, Saved His Life in the 80's
Having stayed married for 57 years, legendary drummer Charlie Watts owed his success to the woman behind his happiness, Shirley Ann Shepherd. Days after his demise, the world reminisces on their beautiful love story.
For over five decades, "Rolling Stones" bandmate Charlie Watts only had eyes for one woman, his beautiful wife, Shirley Ann Shepherd. Notably, the mother of one takes the credits for most of the biggest milestones that make up the late drummer's success story, including his longevity.
Despite shaping her husband's life, career, and family for decades, Shepherd managed to stay out of the limelight, all the while remaining by Charlie Watts' side. Meet the extraordinary woman.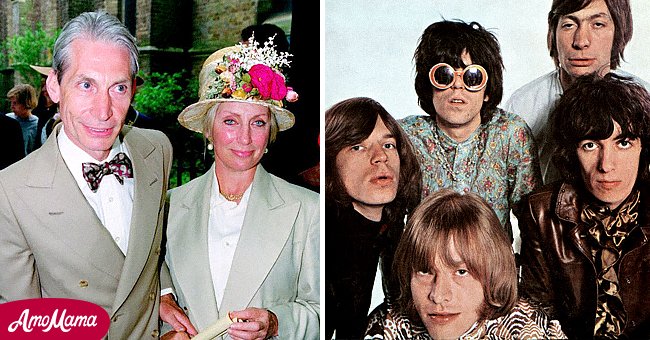 WHO IS SHIRLEY SHEPHERD?
Charlie Watts' devoted wife of 57 years, Shirley Shepherd, came into his life even before the legendary drummer rose to stardom as part of the Rolling Stones band.
Born on September 11, 1938, the 82-year-old embraced art at a young age, becoming a sculptor. She studied sculpting at the Royal College of Art and was still a student when she met Watts.
Shepherd remained faithful to her husband through the years, staying home in Devon to give the icon a warm welcome after each music tour. During one of his interviews, Watts admitted that his biggest regret since his marriage was not being home often enough.
I saw the Stones at MSG in NYC 1969. They blew my mind. R I P #CharlieWatts pic.twitter.com/4GvhxdE25p

— Jonathan Frakes (@jonathansfrakes) August 25, 2021
But Shepherd didn't seem to care, as the drummer later joked that she was always quick to send him off again on another tour each time he returned, saying he was a headache.
Notwithstanding, the couple, who opted to lead a life away from the spotlight earlier on in their relationship, managed to maintain an amazing work relationship in addition to their blissful romance.
Shepherd owns an Arabian horse stud farm in her Devon home, which she ran alongside her husband until his death in August.
THEIR LONG-LIVED MARRIAGE
Watts and Shepherd kicked off their romance a year after the English drummer joined his band. They met for the first time in 1961, during the musical legend's first rehearsal with Alexis Korner's Blues Incorporated.
Loved this image of Charlie Watts and his wife Shirley Ann Shepherd only a few months before he passed. pic.twitter.com/FjwmxEKYXr

— Dr. Phil Pearlman (@ppearlman) August 25, 2021
They legalized their union three years later, exchanging vows in October 1964. Four years into their marriage, the pair welcomed their only child, a daughter named Seraphina, born in 1968. Seraphina's daughter, Charlotte, remains the couple's only grandchild.
HOW SHEPHERD SAVED WATTS' LIFE
Charlie Watts credited his wife with saving his life in the seventies when he encountered a spiral that often befell rock stars and celebrities.
While the star managed to avoid the womanizing jinx common to rock and roll stars, staying away from drugs proved more difficult. Watts once opened up about his struggles with addiction and how his wife helped him overcome it, hence saving his life.
Today, Vogue remembers the Rolling Stones drummer Charlie Watts who died yesterday, August 24, at the age of 80.
© Getty pic.twitter.com/rezvW7bgom

— Vogue.fr (@VogueParis) August 25, 2021
He recalled falling deep into drug use, especially heroin, to the point of losing himself. At some point, he became so ill and unrecognizable. Yet, Shepherd stood by him.
The father of one admitted he almost lost his wife, family, and everything else that mattered to him during the spiral. His addiction drove him insane, leaving him on the verge of killing himself.
Notably, Watts' wake-up call came when he broke his ankle while playing at Ronnie Scott. The moment of reckoning made him think of his wife, deciding there on that drugs and alcohol need not define him.
Inside Rolling Stones' Charlie Watts' 57 year marriage to wife Shirley Ann Shepherd - snubbing fan sex offers for her https://t.co/CWJDxUdCv2

— The Sun Showbiz (@TheSunShowbiz) August 25, 2021
The icon's daughter, Seraphina, also helped save him, reminding him that he looked like a "Dracula" during his spiral. He also recalled passing out in the studio once and getting a pep talk from fellow bandmate Richard, who advised him to take it slow.
THE SECRET TO THEIR LONG-LIVED MARRIAGE
Staying together for 57 years was a feat only a few people have managed to pull off, which has made many curious about the secret to Watts and Shepherd's long-lived marriage.
When asked how they managed to maintain their marriage for so long in a 2018 interview, the icon attributed it to his ability to steer away from the rock and roll stereotype, saying: "Because I'm not really a Rockstar. I don't have all the trappings of that."
The reason why Charlie Watts didn't tell the Rolling Stone he was married https://t.co/2MhBWfE4q4

— The Irish Sun (@IrishSunOnline) August 25, 2021
Avoiding the typical Rockstar playboy lifestyle also has its downsides, as the legendary drummer admitted he could barely drive despite having four vintage cars. Not gracing interviews and maintaining a low profile also came with being "not really a Rockstar."
FACTS ABOUT CHARLIE WATTS' LIFE
Watts was born in London in 1941, developing an interest in jazz at a young age. Before becoming a Rolling Stones drummer, the icon was part of the band Blues Incorporated.
He also kept a job as a graphic designer in Denmark, worked for the British advertising agency Charles, Hobson and Grey before finally embracing his passion for music and making it into a career.
August 24, 2021
He remained a member of the Rolling Stones since joining the band in the early sixties, despite staying out of the spotlight.
After thrilling the world for five decades with his drumming skills, Charlie Watts passed away on August 20, 2021, at the age of 80, leaving behind his wife, daughter, and granddaughter.
ⓘ The information in this article is not intended or implied to be a substitute for professional medical advice, diagnosis or treatment. All content, including text, and images contained on, or available through this NEWS.AMOMAMA.COM is for general information purposes only. NEWS.AMOMAMA.COM does not take responsibility for any action taken as a result of reading this article. Before undertaking any course of treatment please consult with your healthcare provider.