Priest Shares an Interesting Story, Then the Politician Arrives - Daily Fail
A priest was being honored at his retirement dinner after 25 years of service in the parish. A wonderful spacious hall was chosen for the celebration, and everything was ready for the occasion.
The tables were filled with delicious dishes, the decorations and lighting were exquisite. All the guests except one had arrived and were waiting for the start of the event.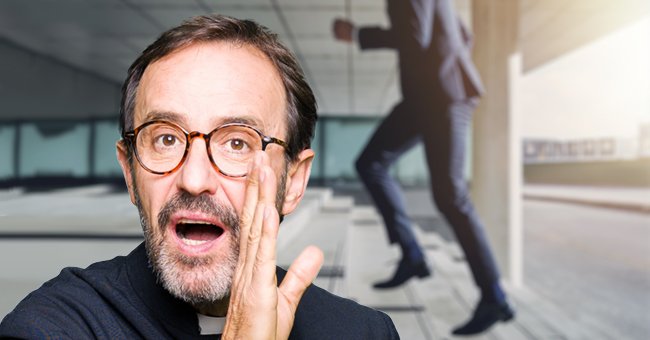 The guest who was running late was a politician and a member of the congregation. He was chosen to make a presentation about the priest and give a little speech at the dinner. 
The politician was a little younger than the priest, but he was his old acquaintance, so the priest did not want to start the celebration without him present. The clergyman, therefore, encouraged the crowd to wait a moment.
THE PRIEST TELLS A STORY
Time passed, but the politician still did not appear, so the guests began to worry about when the celebration would begin. So the priest decided to take matters into his own hands and distract the attention of those present.
In his usual manner, the priest chose to tell an interesting story that normally has an instructive end. "I got my first impression of the parish from the very first confession I heard here," he began.
"I thought I had been assigned to a terrible place. The very first person who entered my confessional told me he had stolen millions of dollars and, when questioned by the authorities, he was able to lie his way out of it."
Amazed by what he just shared, the entire hall became silent as everyone listened attentively. The priest then continued, "He had stolen money from his parents, embezzled from his employer, had an affair, taken illegal drugs, and gave VD to a lady."
One of the guests at the back of the hall echoed, "Say what now!?"
The priest replied, "Yes, that was my sentiment exactly." He then continued with the story, "I was appalled. But as the days went on, I learned that my people were not all like that."
A SUDDEN GUEST
Just as the priest was about to enter the next stage of his story, the door of the hall flew open, drawing everyone's attention. The politician finally arrived and immediately started flooding the air with apologies.
Feeling bad for keeping everyone waiting, he immediately began his presentation and said, "I'll never forget the first day our parish priest arrived, In fact, I had the honor of being the first person to go to him for confession."
What do you feel about this story and its main characters? Feel free to share your opinions in the comments below.
If you enjoyed this joke, you might find this one even more hilarious. It's about a boy named Johnny who went for confession, but it proved useful to his investigation in the end.