Vanessa Williams' Only Son Eats Ice Cream with His Rarely-Seen Dad Proving They Look like Twins in New Photos
Vanessa Williams' only son, Devin, spends time with his father. He proudly showed off their hangout, which included eating ice cream, proving that they not only have a good relationship but look like twins.
Former beauty queen Vanessa Williams lives quite an eventful life. She won Miss America but was stripped of the crown following a scandal.
However, it did not stop her from forging ahead, as Williams spread her feathers towards the entertainment industry, making big moves in music and movies.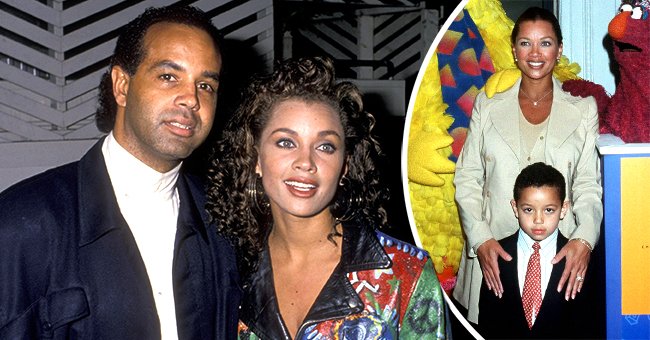 In her personal life, the actress enjoys the love and comfort of her four kids, whom she had with two men. Even though she is no longer with her ex-husbands, she shares a unique bond with them.
BONDING WITH DAD
Williams kids also have an admirable relationship with their parents. Recently, one of her kids and only son, Devin, from her first marriage to Ramon Hervey II, shared a sweet moment he shared with his dad via his Instagram page.
Even though he keeps a low profile, Devin was proud to show himself eating ice cream from cones with his rarely seen father, revealing the bond and likeness between the pair.
Apart from their striking resemblances, the boys' also twinned in style; they both rocked a face cap and causal shirts during their outing.
Other snaps presented details concerning Devin's lifestyle, which involved playing with his dog, exercising, snacking on good meals, and bike riding.
 WHO IS DEVIN'S DAD?
Ramon Hervey II was the first man to marry the former beauty queen. During their time as a couple, they had three kids, Devin and his sisters, Melanie and Jillian.
Ramon is the owner of Hervey & Company, a firm founded in 1985 with a unique reputation in entertainment management and brand consultancy. 
Over the years, he has worked with many icons in the industry, including Richard Pryor, James Caan, and George Benson. He has also produced and supervised productions such as documentaries, films, and music.
VANESSA WILLIAMS' MARRIAGES AND PARENTHOOD 
The first time Williams walked down the aisle, she was a 23-year-old lady in her prime. Her husband was ten years older, and he was her manager. Things began well, but as it proceeded, she had to choose between her career or marriage.
The pair divorced, and the then mother of three found another man named Rick Fox, an NBA star and actor. They were together for a while and had a daughter named Sasha Fox. But due to proximity and their busy schedule, things did fall apart.
While speaking on her marriages, Williams explained that the men had great personalities and continued to maintain a cordial relationship with them.
The actress, however, admitted that she was not fully prepared for marriage until her third time; she had established her career, had grown-up kids, and was sure of her decision by then.
Although marriage number three with Jim Skrip has been a successful journey so far, the entertainer admitted that their relationship was not planned.
These days, Williams is enjoying her time as a contented married woman, a proud mother to her talented and successful kids, and a genuine friend to her former husbands.