Restaurant Owner Responds to 2-Star Review in a Very Brutal Way
In a battle for the ages, an infuriated restaurant owner did not hesitate to fire back at a scathing critique left online by a bitter customer. This proprietor was not about to go down easily.
Everyone, especially in the service industry, has become accustomed to hearing the phrase "the customer always knows best." Nevertheless, the restaurant owner of Sticky Walnut in Chester, England, Gary Usher, broke this reverenced rule.
This occurred after a furious customer, referring to himself as Rob V, left a two-star review of Usher's upscale diner on TripAdvisor. The poster expressed admiration for the food but claimed he was severely unimpressed by management.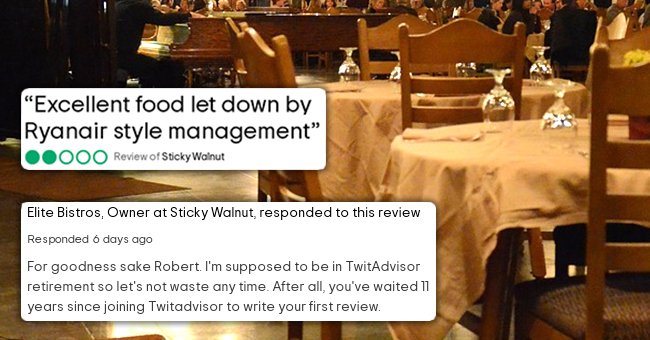 Rob V claimed that management does not care for the experience of the customers. The poster alleged that he expressed a grievance while at the high-end dining institution. 
This generosity left the total tip standing at $1,000.
Unfortunately, the reviewer claimed, this complaint was met with unacceptable customer service by the manager. So much so that Rob V proceeded to pen a message to the owner of the restaurant himself.

Responding, Usher, the owner, purported that Rob V did not respect the time constraint he was informed of when booking. He, the proprietor claimed, was told politely by the manager that the next customers needed the table, expressing:  
"You proceeded to tell the Manager that they didn't deserve to be a Manager and weren't qualified to be in the position."
Usher defended the manager, stating that they had been working there for nearly a decade. The proprietor wrote that Sticky Walnut had found itself in a top 100 position in the National Restaurant Awards in the United Kingdom within that timeframe.

The owner then informed the poster, who he referred to as Robert, that he would not be welcome at Sticky Walnut going forward. It appears that many previous customers would have taken Usher's side, with one review reading:
"Visited with my husband, excellent food beautifully cooked & presented. Knowledgeable staff who were attentive."
This reviewer gave the restaurant a 5 out of 5, with the general rating standing at 4.5. There is also a minority of poor critiques.

Rob V or Robert's behavior is one example of how difficult it can be to work in the restaurant service industry. However, sometimes, these workers are met with unspeakable acts of kindness. 
One customer left a massive tip at a Florida restaurant which stood at more than 3 times the actual price of the order. This generosity left the total tip standing at $1,000.
The establishment, Firefly, shared the news online, with the owner Dave Trepanier sharing his appreciation for individuals who care about staff. Unlike Robert, it is evident that this owner would welcome this customer back with open arms.