Erykah Badu Shares Rare Glimpse of Daughters Mars & Puma Together & Their Resemblance Is Undeniable
Soul Singer Erykah Badu is very proud to experience motherhood, and her Instagram page is a testament. Time and again, she shares pictures and clips of her kids, and a recent upload left her fans stunned.
Erykah Badu is an American singer and songwriter associated with the neo-soul subgenre in the 1990s and 2000s with famous artists like Maxwell and D'Angelo.
Aside from her music career, Badu is a doting mother to three beautiful children, and she loves sharing photos and videos of them on social media. Recently, she took to Instagram to post a video of her daughters, Mars and Puma.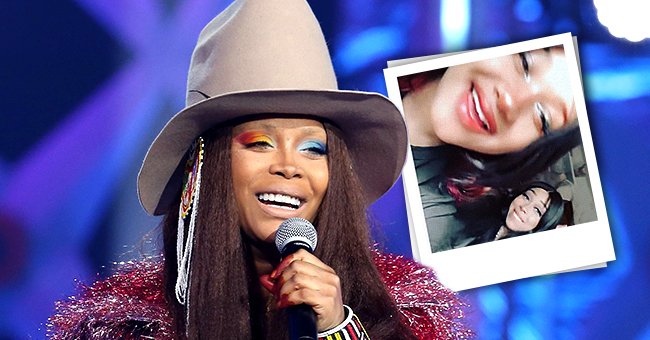 Mars donned a black T-shirt and a multi-colored wig for the short clip, while Puma rocked a sleeveless outfit with black hair. The sisters wore makeup, which accentuated their good looks and pronounced their resemblance, making them look like twins.
The video was done with the TikTok app and featured the girls making goofy faces, happily vibing and lip-syncing along to Steve Lacy's "Dark Red." Captioning the post, Badu wrote:
"My babes💋 Puma and Mars, what's up @steve.lacy."
The soul singer shares her three kids with different men; however, she has helped her children become a loving and inseparable trio with her excellent motherhood skills.
Badu once admitted to homeschooling her children and not knowing what life "on the road" without her kids looks like. 
Badu shares Mars with her previous partner and rapper Jay Electronica. The former lovebirds welcomed their daughter naturally on February 1, 2009, and Electronica was filled with excitement that he shared the news of Mars' birth with his fans. 
The Grammy award-winning singer co-parents Puma with American rapper, The D.O.C. Badu's daughters are growing up so fast, and with each passing day, the proud mom shows how much she loves her daughters.
Last year, Puma turned 16, and the teenager received lots of love from her parents. The duo took to Instagram to share a video, where they serenaded their daughter with sweet words. 
Badu also shared amazing pictures from Puma's sweet 16 birthday party. Puma has grown into a talented young woman with a special love for music, like her mother. 
Puma and Badu put their singing skills to work on an episode of "Good Morning Texas." The mother and child gave a soulful rendition of Badu's intriguing classic "Time's A Wastin" mixed with Moon Child's "All The Joy." 
Over the years, the songwriter has spoken candidly about motherhood. Badu once admitted to homeschooling her children and not knowing what life "on the road" without her kids looks like. 
The icon has learned to balance motherhood with her career. Also, Badu encourages her kids to learn multiple languages as she feels languages are very important in social evolution.