Daily Joke: Elderly Woman Walks Naked in Front of 2 Old Men
There was once a young woman named Linda, who was strikingly beautiful and charming. Because of her drop-dead gorgeous looks and attractive personality, she quickly found her way into the media industry. 
Over time, she became a highly successful actress whose work was praised everywhere she went. Her films and TV performances were widely seen and appreciated by the audience, and she had men of every age falling head over heels for her.
Whenever she went out for promotions or premiere events, people would flock around her, asking for autographs and confessing their relentless love. She knew the effect she had on men and loved all the praise and attention she received.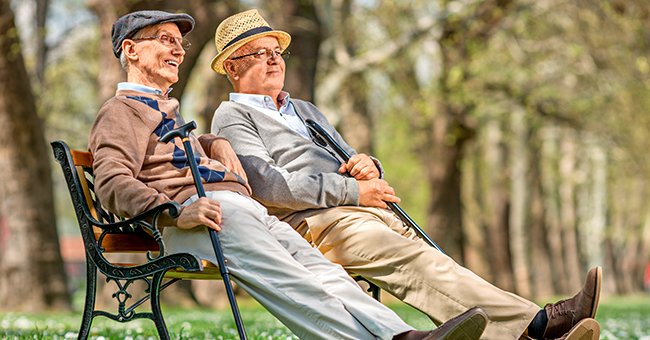 Linda was always confident in her skin, never doubting her beauty and personality aura for a moment. Even if her projects failed, she was always prepared for a massive comeback, never letting the audience stop loving her no matter what. 
Time flew by, and after enjoying endless fame and appreciation from the people, she gradually started to lose her tempting touch. She was beginning to age, and her days as the "beauty queen" were slowly coming to an end. 
Nonetheless, she stayed strong and made the most of whatever popularity was left for her to relish. Soon she came to a standstill in her career and realized that it was time for her to say goodbye. 
But she ensured her exit was grand and impactful. Linda said in her last interview to a local media channel:
"I'm so grateful to all of you beautiful people out there for loving me all these years. Thank you for your unwavering love and support."
Soon afterward, she retired, but she was determined to enjoy her retirement days in the best way possible. Linda restored her personal confidence by saying to herself:
"I will not sit around like an old, grumpy lady. I'm still as beautiful and attractive as I've always been, and I can still charm men."
One day, Linda was sitting all alone, reading a book and sipping coffee. Suddenly, she felt the need to break free from her monotonous daily routine, so she put the book away, donned an elegant dress, and stepped out. 
She was determined to find a man for the evening, and make the rest of her day eventful. So she stripped down naked, and with her brilliant makeup and flowing hair, walked out and about with some pep in her step. 
After a while, she noticed two elderly men sitting on a bench. She walked over to them and with her flamboyant personality on full display, she started shouting, "Super Sex, Super Sex, Super Sex."
The moment she disappeared out of sight, one of the older men said to the other, "I'd rather have the Soup." 
The response of the man is just hilarious.
Had fun reading this joke? You might like this one about an elderly lady named Paddy who went to the pharmacy and took out a whiskey bottle and spoon from her bag. She then poured the liquid from the bottle onto the spoon and asked the pharmacist to taste it. 
Source: Reddit