Rapper Eve & Her Millionaire Husband Look Fashionable Posing with Dog in Front of Their Lavish Black Car
Rapper Eve and her millionaire husband recently showed off their couple cuteness posing on their lavish black car. The pair decked out in fashionable pieces, with a dog in the middle.
Talk show co-host and rapper Eve is in a world of her own where everything is blissful. The American native has been married to an English millionaire and Gumball 3000 founder, Maximillion Cooper, for about six years.
Like any typical celebrity couple, these two are not exempted from being under scrutiny; despite their smooth sail, they have had to deal with critics who continue to shine the light on their racial differences.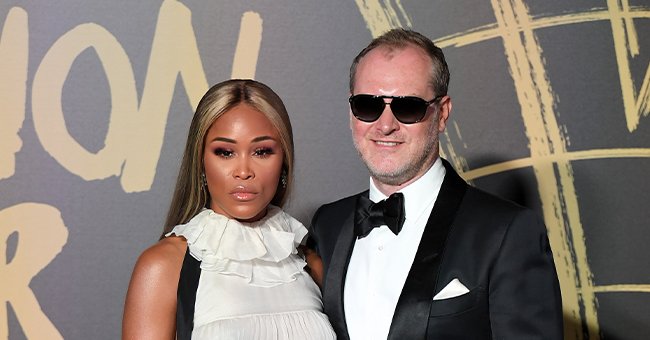 Still, they choose to remain steadfast in their love and have no problem flaunting it. Recently, Cooper stole fans' hearts with an adorable snap of himself, his wife, and dog Hendrix Cooper posing next to their expensive black automobile.
The rapper opted for a sporty look. She dressed in a charming gray hoodie shirt with eyelet designs paired with a stripped matching joggers, Nike kicks, and dark sunglasses.
Her husband preferred an all-black outfit. He wore a "Nowhere Fast" themed shirt, slim-fit jeans, white shoes, and sunshades. 
The family's dog, Hendrix, stood in the middle wearing a red-colored collar and staring at the sky, neglecting his owner's finger compass, which pointed him to the camera. Cooper's caption read:
"Trying to get @hendrix_cooper to look at the camera isn't easy!"
COUPLE THAT STAYS TOGETHER 
Most famous couples would agree that communication, respect, and being in close proximity are the recipes for a successful marriage. The millionaire's wife, Eve, is on the long list of celebrities who support this view. In fact, her relationship was improved by such principles.
Eve was a co-host of one of America's best talk shows, "The Talk," until a few months ago when the rapper revealed her decision to quit and focus on starting a family with Cooper.
Her job caused her to shuffle between the US and London, where her husband resides. Although she added that it was a difficult choice to make, it ultimately would improve her marriage and chances of conceiving.
Eve is already a stepmother to four of Cooper's kids from a former marriage. She has a cordial relationship with them; as far as expanding the family goes, the kids are in support, as they have also expressed their intentions of wanting another sibling.
EVE'S FERTILITY STRUGGLE
The rapper, and former talk-show host, may have lots of money, a supportive husband, and a beautiful family, but she admitted that there was a time when she felt shameful as a married woman.
Onscreen, without holding anything back, the iconic entertainer explained that she waited for things to happen naturally. When it did not, she began to feel terrible about herself and her story. Although she is yet to conceive, Eve revealed that her close ones and fans have been supportive.