Singer Camila Cabello Debuts New Look with Short Haircut and Neon Makeup
Camilla Cabello is not one to be afraid of trying something edgy and creative. She recently debuted a brand new haircut that perfectly showcases her beautiful face and neon makeup.
The "Señorita" singer took to Instagram to share a few photos in which fans can see that she has chosen to leave her long dark hair in the past and replaced it with a short and blunt shoulder-length bob.
The new hairdo perfectly frames her face and puts her neon eyeliner on display. The artist also exhibited her carefully manicured nails, which matched her make-up.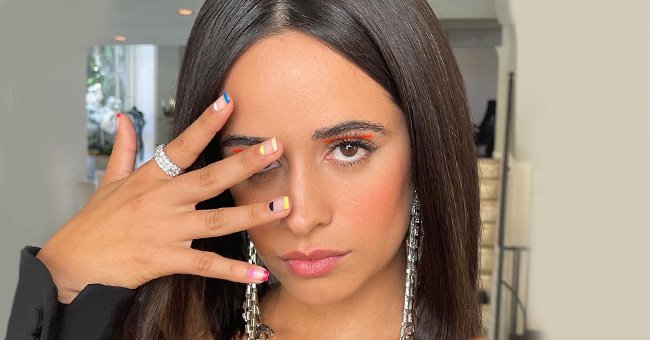 GLAMOROUS
Cabello combined the new look with an all-black outfit consisting of a gorgeous long-sleeved, off-the-shoulder top, matching pants, and open-toe heels.
The 24-year-old wore the glamorous ensemble during a guest appearance on "The Tonight Show Starring Jimmy Fallon" on Thursday night via Zoom.
COMFORTABLE IN HER OWN SKIN
Cabello, the main star of the upcoming film "Cinderella," set to hit theaters on September 3, is so much more confident about her looks than she used to be.
She felt the pressure of what she calls the "societal voice" in her head.
The star struggled with body image issues, much like her boyfriend, Shawn Mendes, but now she is comfortable enough to share her body with the world.
PLENTY OF SUPPORT
During an interview with Ross King, Cabello stated that she had received plenty of positive messages after posting a photo or a video showing that she also has imperfections like everyone else. She said:
"Being like, 'I have cellulite and stretch marks and gain weight sometimes and that's normal' - having messages like that feels really liberating."
Mendes, with whom Cabello has been dating for 2 years, praised the way she dealt with all the criticism that she received regarding her body, describing her as "strong, clear and confident."
The couple has been relying on each other for support from the very beginning and claims to have overcome their fears and insecurities since then.
According to Cabello, she felt the pressure of the "societal voice" in her head, telling her that she needed to go to the gym and lose weight quickly. Thankfully, that voice has gone mute.