Da Brat Left Speechless as Her Girlfriend Jesseca Dupart Presents Her with 3 Rings in Tear-Jerking Video
American rapper Da Brat and her partner, Jesseca Dupart, are engaged! The latter gave fans a glimpse of the memorable night via an Instagram post. Here's a look at the engagement night and Da Brat's reaction.
Rapper Da Brat has been in the spotlight since 1992, when she began her career and signed with So So Def records. Over the years, she has left fans amazed with her talent, which can be seen in songs like "Give It 2 You" and "What'Chu Like."
Despite being a known figure, she shocked the world when she came out as a lesbian by introducing her girlfriend, Jesseca Dupart. The pair have melted hearts with their show of love, and fans got to witness a deeper level of their romance last week.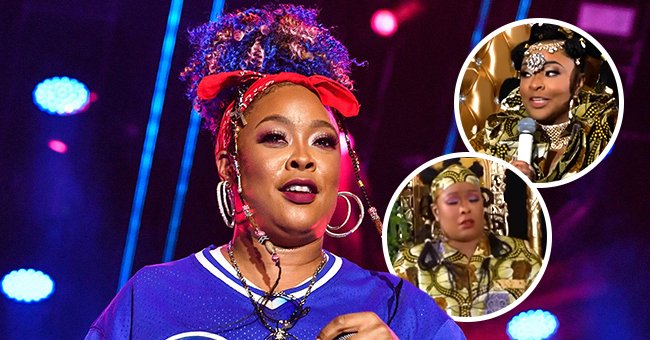 A "COMING TO AMERICA" THEMED ENGAGEMENT
On Friday, Dupart took to her Instagram page to share a video that showed her and Da Brat at an event. The short clip started with the former presenting three rings to her rapper girlfriend.
Next, Dupart explained what each ring signified and how it related to their relationship. The first ring was a five-carat total weight, and it signified their emotional bond and connection.
For the second, Dupart revealed a nine-carat total weight that says what Da Brat was to her— her past, present, and future. Lastly, Dupart said the third ring was twenty-carat total weight fit for a queen, and according to the raving beauty, that was what Da Brat is to her.
After explaining the significance of each ring, Dupart popped the question, leaving Da Brat surprised and speechless. A few hours later, Dupart posted pictures from the occasion, which had a "Coming To America'' theme.
The snapshots featured beautiful outfits, colorful scenery, emotional hugs, and smiling faces. In the caption, the entrepreneur made it known that the night was like a movie, and she was glad the event was documented.
Before launching her products, Dupart opened a beauty shop in August 2013, and four months later, she had lost everything.
She also mentioned that the event was the fourth episode of their reality TV show titled "Brady Loves Judy." Da Brat also shared her thoughts on the memorable event via an Instagram post.
She posted a picture that saw her and Dupart clad in matching outfits, with the rapper having a surprised look on her face, while Dupart gazed at her lover with love and a subtle smile.
In the caption, Da Brat relayed that Dupart had told her they were going for a photo shoot with a "Coming To America" theme, which ended up being their engagement event. She also added:
"The moment you realize it's NOT what you thought it was."
INSIDE DA BRAT AND DUPART'S ROMANCE
Da Brat and Dupart's relationship was made public in March. Even though they appear to love each other, the former once revealed how terrified she was about her imperfections during the early stages of their relationship.
Da Brat was always nervous and scared and did weird things due to her insecurities. The rapper said she either hid behind the furniture when Dupart would talk to her or cover up her face when she laughed.
Da Brat eventually learned to live with her insecurities and be herself around her partner. In an interview with BET Style, Dupart opened up about their beautiful relationship. She noted that they felt comfortable around each other and did everything together.
WHO IS DUPART?
Apart from having a successful relationship, Dupart is also a successful entrepreneur. She is an Instagram model and the CEO of a hair care company called "Kaleidoscope Hair Care."
Before launching her products, Dupart opened a beauty shop in August 2013, and four months later, she had lost everything. The Instagram maven eventually saved up money and got more equipment and products. 
After getting back into business, Dupart launched her hair care product, and with the help of social media marketing, her product line became very successful.