Rev Run Recently Became a Grandfather of Four - Meet His Adorable Grandkids
Joseph Simmons, AKA Rev Run, has joined the list of African-American entertainers who are aging gracefully and enjoying the warmth of loved ones. He is a father to six and granddad to four adorable tiny tots- meet them.
Rev Run was a member of one of the best rap groups, "Run DMC," in town during his prime. He was of exceptional talent, with an eye for the spotlight. After his fame in music fizzled, he turned to television and became a prominent reality TV star and producer.
The entertainer has received overwhelming support from fans and family who love the roller coasters of reality TV shows, all displaying the exciting details of being a member of the Simmons household.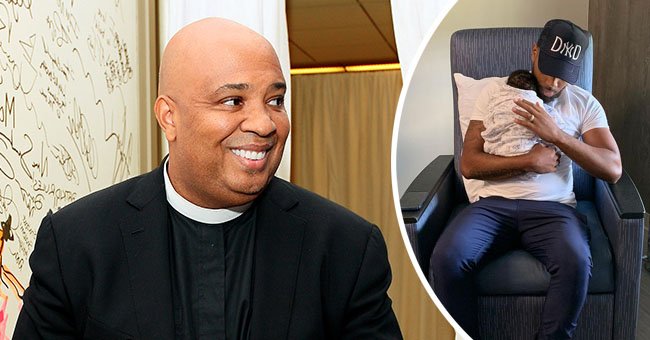 Rev Run is also a loving father, ever supportive and ready to listen to his six children. The Simmons patriarch has four grandbabies who get a non-quantifiable amount of affection.
His first time being introduced to the granddad sphere was in 2014, when his first daughter, fashion lover and TV personality, Vanessa, welcomed her first and only child, Ava Marie, with boyfriend, Michael Wayans.
A few years later, her sister, Angela, gave birth to a son, Sutton. Their brother, Jojo, added a girl, Mia, to the mix. Jojo decided to top the chart with another baby, a boy he welcomed with his beloved wife, Tanice Amira.
THE NEWEST ADDITION
Earlier in the month, it was confirmed Rev Run became a grandfather to four grandchildren after his oldest son, Jojo, announced that he welcomed a child online. 
The proud dad shared a photo where he cuddled with the young man on a chair and laced the post with some rap bars, flaunting his excitement to bond with his son.
HANDLING GRANDPA DUTIES
Even before setting eyes on his first grandchild, Ava, Rev Run had anticipated what it felt like to be a grandpa with an avid interest in the new title and duties.
When Vanessa became pregnant, she confessed that it was challenging to tell her parents because she was not married at the time.
But, surprisingly, the Simmons provided her with all the support needed to keep the then-pregnant mom happy and provide a warm atmosphere for the newborn.
It has been more than seven years since Rev Run became a grandpa for the first time, and he has not wavered in his display of love towards the grandkids.  
His daughter Vanessa jokingly complained about how obsessed her dad is with buying toys and gifts for the grandchildren. She added that the rapper loves them equally, but Ava gets many gifts as the first grandchild. 
MEET THE SIMMONS
This family tree begins from the "Run DMC" alum, the alpha of the pack. His compassion as a dad and love to please as a granddad, mixed with his ability to preserve and conduct his family, makes him one of the perfect African-American entertainers alive!
Although he had a failed marriage with the mother of his three oldest kids, Vaughn, the rap icon gave love another chance and has since enjoyed marital bliss with his second wife, Justine.
They have been through thick and thin together, like the death of their infant daughter, Victoria, in 2006, but managed to come out healed, making their relationship stronger.
The duo has three kids, two biological, Daniel and Russell, and one daughter, Miley, whom they adopted after losing Victoria.
Like their father, Rev Run, the entire crew has a progressive career in entertainment, modeling, and fashion. They also appear on the family's reality TV shows now and then, sharing the details that feel convenient to let out.