Man Tries Being 'Pregnant' for a Day, Fails to Even Get Out of Bed
A man simulated what it would feel like to be a pregnant woman. In a string of TikTok videos, viewers could see how much he struggled to perform even the most basic daily tasks. 
An Australian TikToker attempted to find out what life would be like if he were expecting a baby. In June, he documented the prenatal journey and gained millions of views online. 
Maitland Hanley's series, which was named: "Man Tries To Be Pregnant for a Day," showed him with melons wrapped to his body. He did this to re-create the various stages of a baby's growth.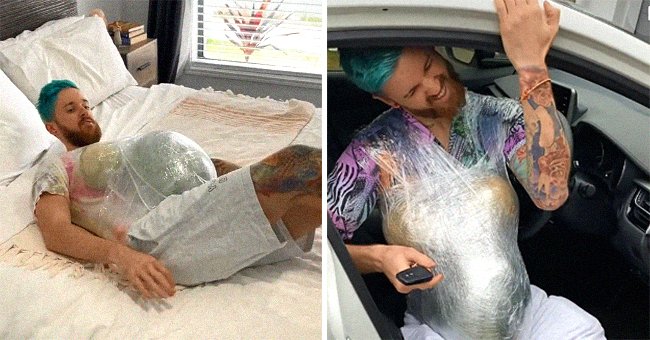 STRAPPED MELONS TO HIS BODY 
Aided by a few layers of plastic wrap, Hanley struggled to execute his normal routine with a watermelon strapped to his belly. The footage was comical and garnered reactions from people worldwide.
He took this a step further by strapping two smaller melons to his chest. These were to emulate the increase in breast size that women also face when expecting a baby. 
STRUGGLING TO MOVE
Hanley's clips showed how he struggled to remain mobile and could not get out of bed easily. Another clip featured Hanley lying on the ground as he attempted to roll over. 
An off-camera friend could be heard saying: "You can't lay on your baby like that!" The other videos on his TikTok page continue this theme and show Hanley as he tried to bathe himself and put his shoes on.
ONLINE REACTION
There is even a clip wherein the TikToker seemed to be giving in to his mock pregnancy cravings. Hanley, still wrapped in plastic and wearing his melon belly and breasts, orders some McDonald's. 
The videos struck a chord with many mothers. Women took to the comment section to share their own experiences with pregnancy. One person said: "38 weeks, and I have to roll out of bed every time." 
RESPECT WOMEN
Another commenter expressed that the video was the funniest thing they had seen all day. Many pointed out that women deserve more respect for the amazing things their bodies can do. 
Hanley has also taken his faux male pregnancy to another level by attempting to simulate what it would be like to have twins. The results are even more calamitous.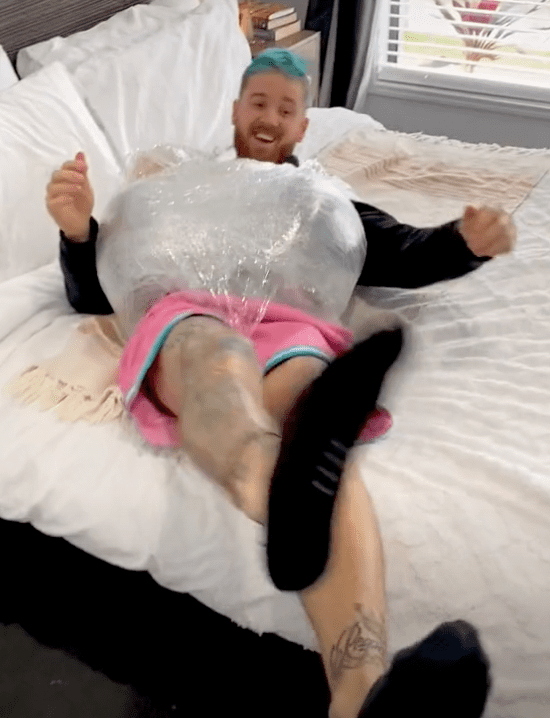 SIMULATING TWINS 
In the clip, which is captioned: "Man finds out what it's like having twins," the TikToker states that it's impossible to sit up as he tries to get out of bed. This time, he has two watermelons strapped to his belly. 
In all of the commotion, one of the cantaloupes "breasts" fell out of the plastic wrap. A commenter suggested that he try triplets next, but Hanley replied: "I don't know if my stomach can handle that."