Diddy Is a Proud Father Sharing Photos of His 3 Daughters Walking the Runway at Dolce & Gabbana Fashion Show
Words were not enough to explain how proud American music mogul Sean Diddy Combs felt after his three teenage daughters walked the runway at the Dolce & Gabbana Fashion Show. 
American rapper and music producer Sean Diddy Combs is one of the most prominent artists in the music industry history. Besides making great hits, he has also been behind the success of some of the industry's biggest stars. 
Away from music, Diddy is a proud father of six children. He became a father for the first time when he welcomed his first son Justin in 1993. He shares Justin with designer Misa Hylton-Brim.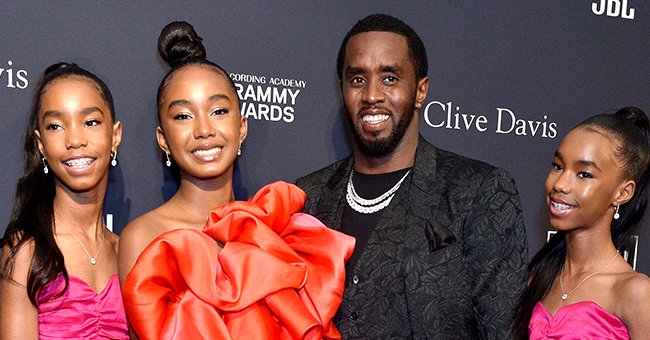 Diddy was in a long-term on-again and off-again relationship with Kimberly Porter, a recognized model. The pair dated from 1994 to 2007 and remained good friends until she died in 2018. 
Diddy adopted Quincy, Porter's son, from a previous relationship. With her, he welcomed a son Christian, and twin daughters, D'Lila Star and Jessie James.  
Five months before welcoming D'Lila and Jessie, Diddy fathered a daughter named Chance Combs, whom he shares with Sarah Chapman. Since Porter's death, Diddy has catered to his children's needs and is doing so excellently. 
The music mogul's teenage daughters are charting a course in modeling, and he has been so supportive of them and celebrates each of their milestones. 
Jessie, D'Lila, and Chance added to their growing reputation on Sunday when they walked the red carpet at the Dolce & Gabbana Fashion Show in Venice, Italy. 
Diddy looked like a king in the pictures, but his three daughters outshone him.
Their proud dad witnessed their remarkable achievement and documented the special moments in a post on his Instagram page. 
The first snapshot showed Diddy posing with his three daughters, who looked extraordinarily gorgeous in their stylish outfits. He wore a black sweatshirt, which he matched with blue pants and black shoes.
Chance wore a shiny black dress and tied a red ribbon belt around her waist. The dress stopped just above the knees, revealing her lovely legs. She also wore red floral headgear and completed her look with flat red shoes. 
The Comb twins wore similar outfits. One of them was clad in a sky blue gown, matching ribbon belt, headgear, and flat shoes, while the other wore a black dress with a white-and-pink ribbon belt, matching headgear, and flat black shoes. 
The rest of the photos in Diddy's post showed the moment all three of his daughters walked the runway. The girls did not look fazed by the occasion and were at ease during their walk. Proud dad Diddy captioned the post: 
"Words can't explain. LOVE. 🖤💫✨⚡️."
D'Lila, Jessie, and Chance's walk at the Dolce & Gabbana Fashion Show marked their runway debut and showed how the twins continue to follow in their late mom's footsteps. 
Diddy and his daughters looked like royalty earlier in the month while posing for snaps at his Vanity Fair photoshoot. Diddy looked like a king in the pictures, but his three daughters outshone him.
Diddy is ever so supportive of his daughters' success. In 2019, he showed this by learning how to dance to help Jessie and D'Lila prepare for their school's rendition of "Dreamgirls." 
The loving dad spent more time with his daughters amid the COVID-19 pandemic and said his life got better because he was not taking enough time for himself and his family before that. 
Diddy added that the pandemic had been a blessing as he used the time to become a better father and person. Already an established music legend, the title of great dad should be added to Diddy's portfolio. His daughters certainly agree.