Fans Claim Magic Johnson's Grandson Looks Just like Him as They Pose in Newly-Shared 3-Generational Photo
Magic Johnson delighted fans with a photo of himself posing with his son Andre and grandson Avery. Netizens instantly noticed the seeming resemblance between the former basketballer and his grandson.
Legendary basketball player Magic Johnson's grandson, Avery Johnson, turned ten today. The 62-year-old shared a picture posing with the youngster and his dad Andre Johnson to mark the big day.
The photo showed the trio dressed in black tracksuits posing in a stadium. Magic and his son stood side by side, pointing upward with their index fingers; Avery stood in front of them, striking the same pose.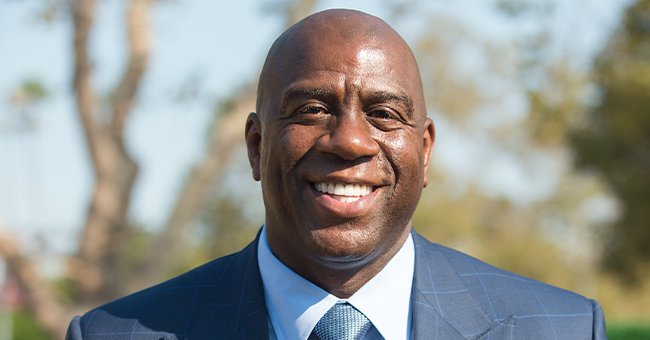 His outfit comprised an Adidas hoodie that fit his ten-year-old form perfectly, paired with matching sweatpants. Andre wore a blue baseball cap over his black hoodie, while Magic kept it simple in a black pullover worn-over matching pants.
Their charming smiles in the rare family shot were enough to melt hearts. Then, via caption, the NBA legend wished his grandson a happy birthday, making fans aware of the young lad's most recent milestone. He captioned:
"Happy 10th birthday to my grandson Avery from pop pop!!!"
The rare three-generational shot of the Johnsons left fans raving with excitement as they poured out heartfelt birthday wishes to Avery. However, what caught the attention of most was the resemblance between Magic and his grandson.
Many fans reflected on how much the youngster looked like his granddad, despite having decades between them. One fan noted: "He looks just like you!!"
Others insisted the trio looked alike, with one noting that they could see three Magics in the pic. One fan expressed surprise that the youngster was ten already while extending warm wishes and lots of love to him.
Andre also celebrated his son, sharing a string of photos of the 10-year-old enjoying several fun activities at various points of his life. He captioned:
"Happy birthday Aves. It's such a blessing to be your dad and watch how you bring love, light, and kindness to everyone around you. I love you, and welcome to double digits."
Cookie Johnson, Magic's wife, followed suit, wishing the young lad a happy birthday on social media, along with beautiful photos of him. Notably, Cookie has remained a constant presence in Andre's life since becoming Magic's wife. She also extends that love to Avery, embracing him as her grandson.
Magic and Cookie tied the knot in 1991. At the time, Andre, who the NBA star shares with his ex-girlfriend Melissa Mitchell, was only ten and resided with his mom. Magic went on to have two kids with his wife, including son EJ Johnson and adopted daughter Elisa Johnson.
EJ and Elisa grew up in the spotlight, starring on the reality show "Rich Kids of Beverly Hills" from an early age. However, Andre has maintained a private life. He once served as vice president of Magic Johnson Enterprises, his dad's company, but dropped the post to establish his own business.
The 31-year-old is currently married to Melissa Johnson, Avery's mom. Meanwhile, Magic and Cookie have also kept their lives interesting, delighting fans with enviable glimpses of their blossoming marriage of 30 years.
While celebrating their 28th anniversary in 2019, the NBA champion admitted that marrying Cookie was the best decision he ever made.
Months later, the pair proved themselves the most enviable couple, going all out as they marked their 60th birthdays together in style. The Johnsons sure know how to make a statement with birthdays.