LL Cool J's Wife of 26 Years Simone Looks Half Her Age Flaunting Waist in Yellow Dress & Matching Sneakers
LL Cool J has been married to Simone Smith for twenty-six years. The rapper's wife is skilled at whipping up nice stylish outfits, and she recently proved this by rocking a free yellow dress, appearing nearly unrecognizable.
The iconic rapper, LL Cool J, and his entrepreneurial wife, Simone, are one of the powerhouses in the long list of successful individuals in the entertainment industry.
Apart from their thriving businesses in the music, movie, and fashion industry, they have a marriage that is the cynosure of other celebrities, fans, and even the eagle-eyes of the media.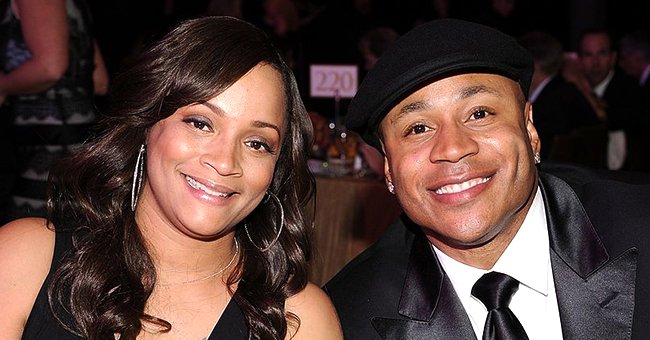 Simone, who owns a jewelry line, has also enjoyed a lot of attention like her famous husband, not only because of their relationship but due to her unique fashion sense.
The lady knows the right closet fit that accentuates her beauty and gives her a youthful radiance. She was stunned in a stylish ensemble looking half her age during the weekend while marketing her newest jewelry collection, large earring hoops, dubbed "Big Sis." 
In the post, Simone rocked an oversized yellow dress with flare hands and added a black pouch around her waistline.
The entrepreneur rocked a pair of neon Nike shoes and noticeable jewelry pieces, from the string of bracelets to her shining wristwatch, a huge rock, a "Blessed" themed necklace, and large earring hoops.
On Monday, she shared a selfie from the weekend, giving an up-close view of her perfectly glam-beat face, long braids, and artificial pink nails. This time, the caption was to inspire thousands of fans. It read:
"Mood: Blessed. Close your eyes and see yourself through God's lenses."
THE LOVEBIRDS
Simone and LL Cool J have been married for twenty-six years, nearly a hundred years in the Hollywood marriage calculator! They dated for eight years before deciding to tie the knot in 1995.
Like any typical marriage, the couple has had a few storms on the way, but their love, faith in God, and mutual respect have kept them going, waxing stronger and binding firmer as the years go by.
Simone was diagnosed with rare bone cancer in 2004, an illness that caused her to undergo microvascular reconstructive surgery. Throughout the process, her husband was by her side and even wanted to donate his bone.
The couple emerged victoriously and decided to help raise awareness through funding and enlightening people by teaming up with the American Cancer Society. 
Simone's previous health challenge also birth a campaign known as "Beat Cancer Like A Boss," where other famous faces lend their voices to the movement.
MEET THE SMITHS
LL Cool J and Simone have four kids, no baby mama drama, no extramarital controversies, just the two sweet couple enjoying marital bliss with their four mini-mes; a unique lifestyle not common among rappers or entertainers.
They have a son named Najee; he is a photographer. He has two sisters; Italia is a certified real estate agent and family woman, while Samaria, a fashion designer, and the last child, Nina, is an aspiring musician.