Dying Father-of-3 Shares Farewell Message after a Long Battle with Cancer
After battling cancer for years, a die-hard Liverpool fan has resigned himself to the harsh reality of his imminent death. However, before his passing, the brave dad has some final words to share.
Mark Anthony Quinn, a father-of-three resident in Wales, UK, spent years fighting for his life against a life-threatening disease. Now on the brink of death, he is leaving the world with an impactful message.
Taking to Twitter, Quinn shared a photo of himself bedridden at Ty Olwen Hospice in Wales. Despite his frail state, the brave dad managed to give the thumbs up as he posed for the shot.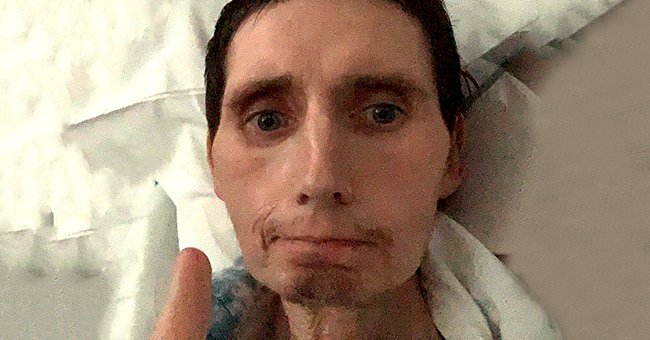 Further bolstering the uplifting picture, the man tweeted a few words of hope, encouragement, and advice to everyone who heard his story. The post read:
"So Twitter its 2 an end for me. In @TyOlwenHospice looking after me so kind. Had a gr8 life @LFC fanatic, gr8 family friends met some heroes, tried my best to help others, army & McDonald's careers, many more.[sic]"
Concluding the message, the Liverpool fan made one last wish, noting that all he wanted was for the world to quit hatred, discrimination, and other vices and understand everyone is human after all.
To everyone, sorry all my sight is getting worse so il try and say a massive thank you for all kind messages the support & the donations for my kids & Kelly just blown me away .Can u wish all of you the very best don't know how 2 thanks u, so many messages I ain't seen most ❤️ pic.twitter.com/QJC9aiF8xq

— Mark Quinn (@MarkQuinnyYNWA) August 27, 2021
Quinn's beautiful message soon went viral, attracting over 184 likes and tons of comments. Reacting to the post, which has been retweeted over ten thousand times, one Twitter user wrote:
"An adventure awaits you, Mark. I like to imagine the Peter Pan/Neverland theory of heaven, where there is a heaven designed just for you with everything you ever loved or dreamed of."
Another remained optimistic that the 39-year-old would beat his cancer condition as he did once back in 2012. The comment read: "Don't give up so easily. I don't hear no bell yet. I hear you're a fighter. Let's see you fight. No bell has rung yet."
So Twitter its 2 an end for me, In @TyOlwenHospice looking after me so kind, had a gr8 life @LFC fanatic,gr8 family friends,met some heros,tried my best 2 help others,army & McDonald's careers many more,just want the 🌎 2 stop hatred discrimination etc we al just humans, pic.twitter.com/wWDpyefuPV

— Mark Quinn (@MarkQuinnyYNWA) August 26, 2021
Going further, the netizen recognized the possibility of Quinn succumbing to his condition, urging him to leave the world with a proud smile, knowing he touched the world with his charitable efforts.
Many users turned to prayer, asking God for blessings upon Quinn and his family. Some prayed for healing upon the dad, who deserved another chance after leading such a remarkable life. A user commented:
"I don't know you, but after reading these brave words you've written, and reading all the good words people have to say about you, I wish I had got to meet you. Rest easy brother."
One of the finest people I've had the pleasure to meet (even though you're a LFC fan 😉). Wherever we move on to in this life I look forward to crossing paths with you and having a beer! Wind down in style mate and here's to that beer 🍺🍺

— Jamie Morris (@makogbr) August 26, 2021
Others bid Quin farewell as he prepared for his journey to the world beyond, leaving behind a never-to-be-forgotten legacy. Sharing a link to the crowdfunding campaign set up to raise funds for the legend's family, one person wrote:
"I'm so sorry. I don't know what to say. It's definitely not sand in my eyes. They say only the good die young, & you sir are a legend. Have a safe and pleasant journey."
Another commenter noted that Quinn's legacy was his family and the hundreds of people he helped during his lifetime who would never forget his contributions.
An incredibly brave message.
You're in the safest of hands at @TyOlwenHospice as angels who wear uniforms will tend to you. The safest of journeys.

— Alun Morgan (@thealunmorgan) August 26, 2021
In terms of contributions, Quinn did a lot during his lifetime. Following his diagnosis with squamous cell carcinoma of the nasopharynx, head, and neck, the star dedicated his life to a new cause.
He previously served in the army from 1999-2004 and worked in construction after that. He and his wife of 15 years share a daughter, Ruby, who was born before his diagnosis, and son Osian, born after he went into remission in 2012.
So sorry to hear this. Yes we all need to be grateful and happy for everything. I hope you have a peaceful painless end. I'm sure you will be missed dreadfully. Xxxx

— Christine Bissex- Foster 🏴󠁧󠁢󠁷󠁬󠁳󠁿#FBPE (@cbissex) August 26, 2021
Their third child, Iona, died at birth. Sadly, a year after welcoming Osian, Quinn's cancer returned and has since left his health in a deteriorating state despite several rounds of radiotherapy.
When the doctors informed him he had only a few years to live, the football fanatic opted to have a positive outlook on life. Hence, he decided to give back to society by organizing a charity match in 2017 to raise funds for the Velindre Cancer Center.
Go easy, brother. I have no doubt from the comments that this world will be a better place for having you in it. Much love ❤

— Caerffili Vanilli 🏴󠁧󠁢󠁷󠁬󠁳󠁿 (@Welshwhippet) August 26, 2021
The #1MOREMATCH went viral, attracting several sponsors and patrons. Quinn was forced to host two matches to accommodate everyone, rather than the initially planned single match between Liverpool FC fans and the rest of the world.
The fundraising scheme was successful, availing the legend of sufficient funds to donate to the cancer center to help save the lives of other cancer patients who still stood a chance of surviving.
ⓘ The information in this article is not intended or implied to be a substitute for professional medical advice, diagnosis or treatment. All content, including text, and images contained on, or available through this NEWS.AMOMAMA.COM is for general information purposes only. NEWS.AMOMAMA.COM does not take responsibility for any action taken as a result of reading this article. Before undertaking any course of treatment please consult with your healthcare provider.