Meet Doctor Peyo, the Therapy Horse Comforting Cancer Patients in Critical Condition
Animals have a way of surprising human beings with their talents and brains. Yet, Doctor Peyo is distinct from even the most gifted, with his capacity to detect cancer and help individuals pass on. 
A phenomenal horse named Doctor Peyo appears to possess an astounding ability, recognizing when individuals are inflicted with tumors or cancer. He spends his time consoling those with malignancy who are in critical condition. 
According to this horse's page, his services have been packaged into a non-profit organization called Les Sabots du Coeur. They are a therapy-focused establishment that is researching Peyo's gifts.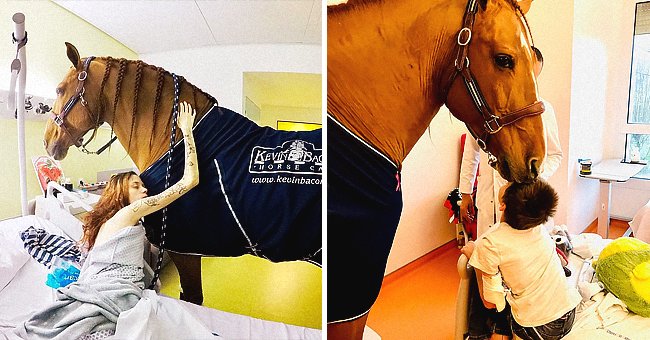 TIME TO WORK
There are numerous pictures on this page of Doctor Peyo fulfilling his altruistic duties. Some are of him with patients, others with doctors and nurses, and several are of this beauty enjoying his time off. 
Doctor Peyo has identified numerous cases of tumors and cancer. 
According to this account, the horse's focus is on helping those who are terminally ill. On top of this, it states that his vocation is also to specifically assist children who have cancer. 
A SPECIAL BOND
The page also lists the name of his trainer Hassen Bouchakour. The two have an extraordinary relationship, with Bouchakour expressing:
"Peyo is my other half, he is my life partner, he is everything to me."
Originally, they were participating in equestrian shows together. However, after he had completed his showmanship responsibilities, "the Doctor" would go up to certain people and remain stubbornly beside them.
DISCOVERING PEYO'S GIFTS
Bouchakour began to feel that his horse was approaching individuals suffering from either physical or mental pain. Extensive professional research followed this, and it was found that Peyo has distinctive brain functions.
This special animal and his trainer spend nearly every day at the Calais Hospital in France visiting patients and staff. Since they started doing so, Doctor Peyo has identified numerous cases of tumors and cancer. 
HONOURING THE END
Another beautiful ability that the horse has is to provide comfort and peace to those nearing their final moments. Speaking about the process, his trainer said:
"It is a unique experience to look after a person who is facing death, to stay with them and tell them: 'Don't worry, you can go in peace.'"
The handler admits that when his horse is doing his job, it's difficult to accept that he is no longer the authority between them. The animal simply follows his instincts without direction. 
MAN'S GIFTED FRIEND
Doctor Peyo is one of many ingenious and talented animals. Another example is Red fox Labrador Copper, who communicates with her owner, Tia Herrell, by pressing one of 40 sound buttons.
These buttons have pre-recorded words, and the dog uses them to let her owner know what she needs. Herrell is a speech-language pathologist and built Copper's first sound button.