Nicki Minaj and Rihanna's Recent Double Date Reignite Hope That a Collab May Come Soon
Nicki Minaj broke the internet after sharing two Instagram posts with Rihanna in the frame. The music superstars came together for a casual playdate that turned into fans begging for a collaboration. 
It is always exciting to see women supporting women, so fans always jump at the opportunity to claim certain collaborations. An example of this is how fans reacted when they saw Nicki Minaj and Rihanna in one space. 
The Grammy award-winning hip-hop queen may have innocently been sharing a moment between friends with her post. However, fans have taken the opportunity to request another collaboration between the music goddesses.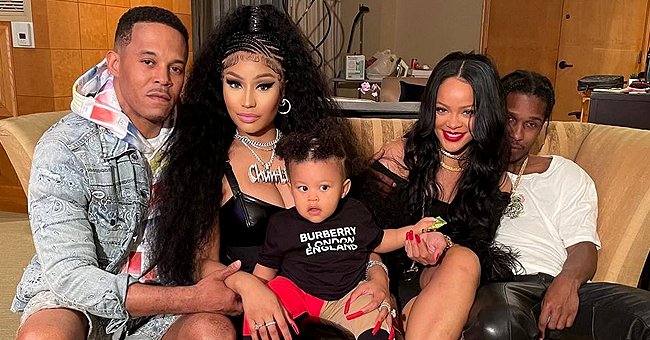 It all
started
with isolated Instagram posts a bit earlier this year. Both Rihanna and Minaj happened to be feeling great in their respective ensembles and posted their stunning looks on Instagram as per usual. 
However, this time was different, according to some eagle-eyed fans who noticed that the duo was wearing the same pair of shoes. In the images, both artists wear Bottega Veneta Stretch sandals. 
rihanna and nicki are wearing the same shoes👀 pic.twitter.com/gQS2qFHDe0

— -m (@rihfentyfr) May 11, 2021
Although assuming that the musicians are working together because of a coincidence is a reach, one other element supports their assumptions. The pair only recently followed each other on Instagram before their synced posts. 
Additionally, the queen of subliminal messaging, Beyoncé, also posted an image wearing the same designer as Minaj. Fans used that tidbit to riled themselves up for the possibility of the three women working together.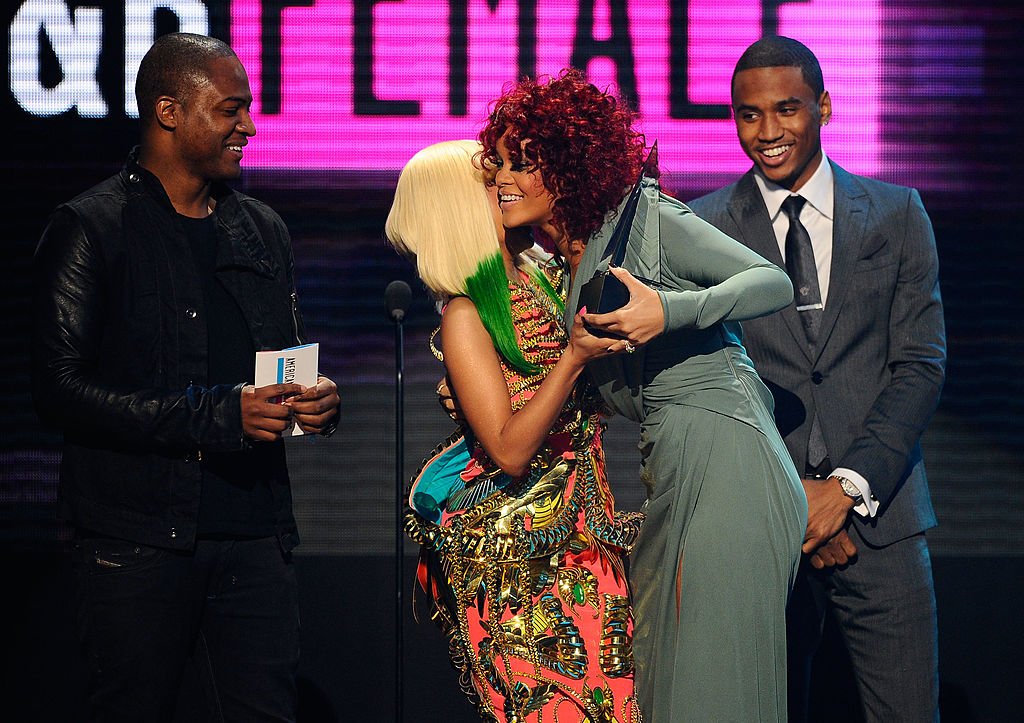 Unfortunately, the collaboration between the music queens is yet to become a reality, but fans are sticking to their guns. For example, Minaj's recent
post
showing off a double date with her husband, Rihanna, and A$ap Rocky. 
The adults were joined by Minaj's almost one-year-old son in one image and by Rihanna's niece, Majesty, in a video. Rihanna and Minaj also celebrated their Caribbean pride in the video despite the Fenty Beauty founder's revelation in the clip:
"You know Bajans don't like Trinis?"
Thankfully, these women have not inherited their cultural feuds and have been supportive of each other for a long time. Minaj even previously celebrated the beauty and fashion mogul's recent Billionaire status on Instagram. 
It seems that fans have been watching the pair's support for each other and interactions in anticipation. Consequently, Twitter blew up with fans expressing their hopes to see the pair collaborate again. 
#nickiminaj and #rihanna linked up! Do you think there's a collab on the way?! 👀 pic.twitter.com/dL2SgGfXm8

— No Jumper (@nojumper) September 6, 2021
The duo has worked together on two songs, "Raining Men" and "Fly," but that was a decade ago. It is no surprise that fans are freaking out at the possibility of another Minaj and Rihanna track after having to wait that long. 
Additionally, Rihanna has expressed that she is working on new music, so the possibility of collaboration isn't too far off. The Savage X Fenty founder recently celebrated five years of her most recent album, "ANTI."