Horse Can't Stop 'Kissing' Pregnant Owner's Baby Bump in a Heartwarming Video
This month a horse proved she would be a great big sister to her owner's new baby. In a heartwarming clip, the gentle animal could not stop kissing the owner's pregnant belly! 
In September, Megan Vaughan shared a video of her horse, who was clearly obsessed with her growing belly. The brown beauty would not turn her head away from the bump.
Known as Angel, the horse's connection with her owner's growing baby has touched many hearts. On her YouTube channel, Vaughan shared: "Every time I'm with my horse, she has to do a belly check."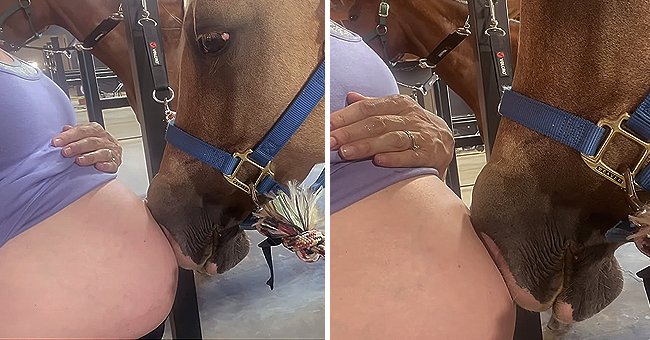 A HORSE DOULA 
In a Twitter post, the horse owner uploaded the same video, but she captioned it with a comical question this time. She said: "Is it weird to have a horse as a doula? Asking for a friend." 
Vaughan believes the horse will be a great companion for her little one. She said:  "She's going to be a great big sister!" In the comment section of her YouTube video, she also told a viewer that the horse was 12 years old.
ALL ABOUT THE BABY BELLY 
A user expressed that they could not wait to see how the horse reacted once the baby was born. They also said Angel was most likely mesmerized by the baby's heartbeat. 
Vaughan added:
"I can't wait for her to meet her new rider. She had been all about the baby belly even before I started to show. She knows something is up."
In Bloom 🌺 pic.twitter.com/PTqqcZlqJE

— Megan Vaughan (@ElectricMeg83) September 6, 2021
THE ONLINE REACTION 
Another netizen asked Vaughan if the horse also acts in this way when they are out in a pasture. The owner replied: "Yes! Pretty much every time I'm around her."
Users on Twitter shared their opinions about the clip as well. Many called the footage beautiful, and one person wrote: "How cute! 'Horse sense.'" 
How beautiful is this 😍😍💗💗💗😍🥰😍🥰🐴🐴🐴 adorable

— Loreo (@llhawaii) September 1, 2021
HER DOG REACTED DIFFERENTLY
Vaughan also shared footage of her husky's reaction to her baby bump. She indicated that he was not as thrilled as Angel. In the clip, she tells the dog to look at her belly. 
However, the dog does not seem overly interested. She asks, "no, you don't like it?" Vaughan eventually gives up trying to get the dog to acknowledge the baby and simply ends the video by saying, "Fine, some big brother you're gonna be." 
Cash isn't as impressed with the baby bump as my horse is. #dogsoftwitter pic.twitter.com/So52ZCP4VF

— Megan Vaughan (@ElectricMeg83) September 9, 2021
OTHER ANIMALS LOVE THE BABY BUMP
In 2015, a similar incident occurred when an orangutan named Rajang was seen kissing the baby bumps of four expectant women. Visitors at the Colchester Zoo loved watching Rajang show their bellies some love.
Maisie Knight was one of the women who got a kiss from the creature. She was 37 weeks into her pregnancy, and Rajang was completely mesmerized by her.