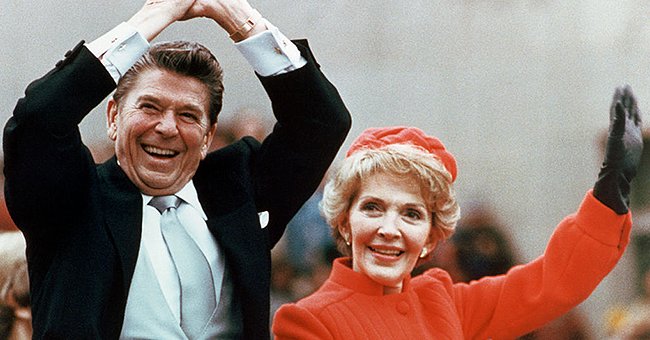 Getty Images
Ronald Reagan Known as Booster of 'Family Values' Did Not Always Include Kids in Family Life

Could you ever imagine that the real "family guy" wasn't all things family, after all? Being the president of the most powerful nation in the world takes a toll, and Reagan had a stormy relationship with his children.
Ronald Reagan wrote in his autobiography that if his former wife Nancy Reagan walked out of the room, he'd already miss her. Even though they divorced, Nancy and Ronald Reagan had a strong bond and relationship, even after the divorce.
The first divorced president of the United States and the former first lady kept "the strongest relationship the White House has ever seen," which granted Nancy a significant influence within the Reagan administration.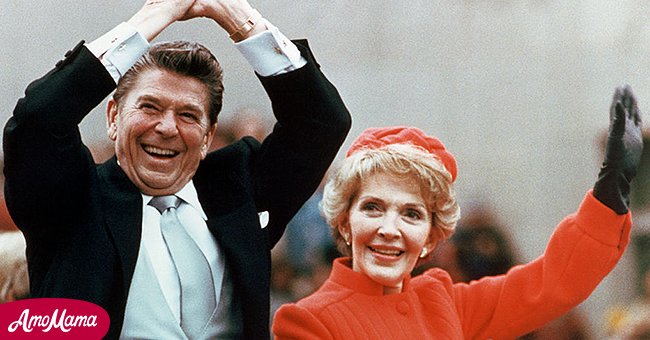 Ronald and Nancy Reagan waving and clasping hands in victory at Reagan's first inauguration, January 20, 1981. | Source: Getty Images
Nancy Reagan was the president's chief supporter, chief protector, and chief advisor in many ways. Her deep love and relationship came into the public domain when Nancy published her book, "I Love You, Ronnie: The Letters of Ronald Reagan to Nancy Reagan."
Lisa Kathleen Graddy, the curator of "The First Ladies at the Smithsonian" at the National Museum of American History, talked about their bond in the public eye:
"It took people awhile to understand the incredible depth of the Reagans' relationship with each other, and she was so much a part of his decision-making and daily life in the White House."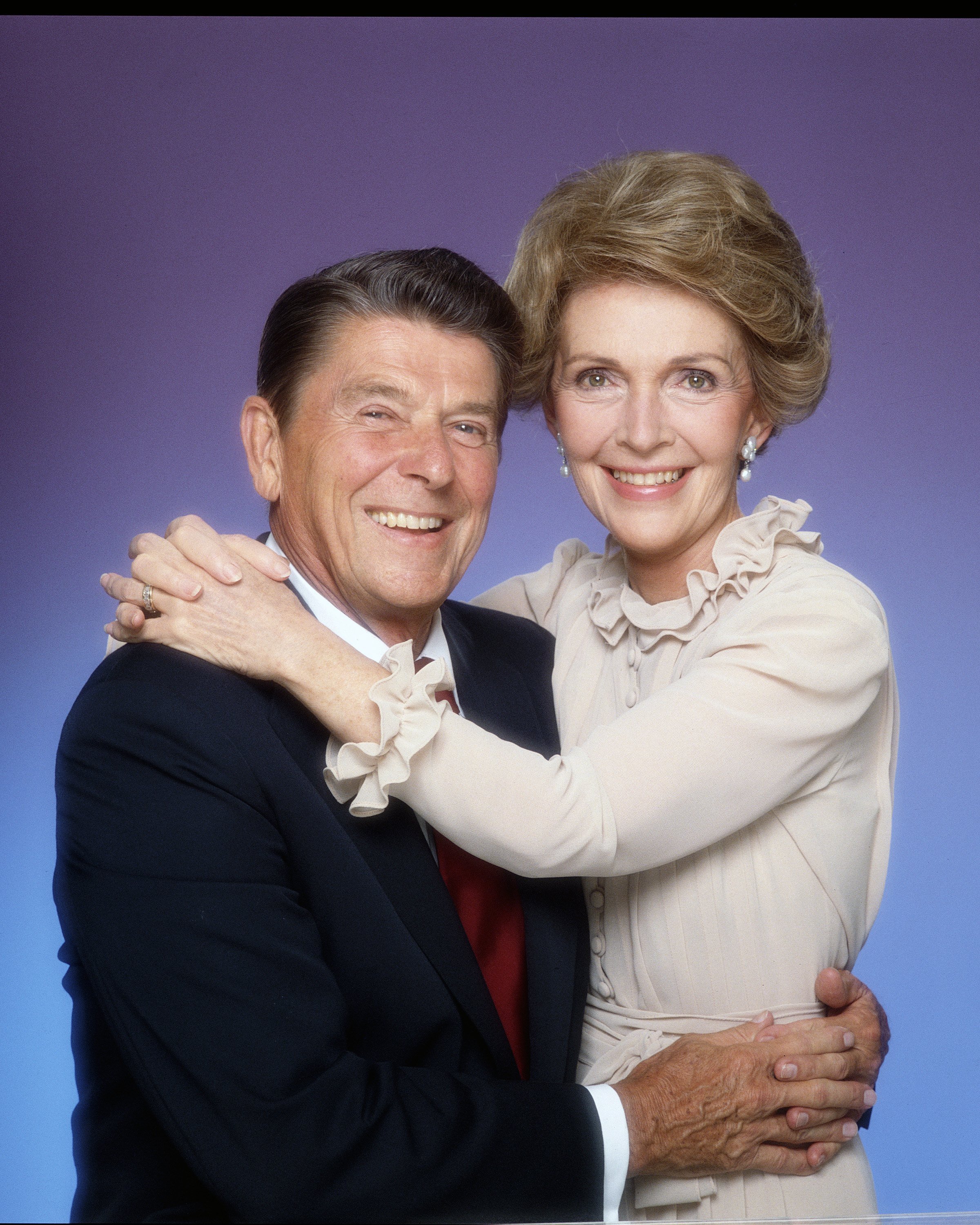 President Ronald Reagan and his wife Nancy pose for a portrait Session in January, 1981 in Los Angeles, California. | Source: Getty Images
Nancy was by his side from the beginning until the end -- she took care of Ronald even in his last years when he had Alzheimer's disease.
The former first lady is perhaps one of the most prominent names among powerful first ladies, alongside Eleanor Roosevelt, Jacqueline Kennedy, Sarah Polk, Rosalynn Carter, and Michelle Obama.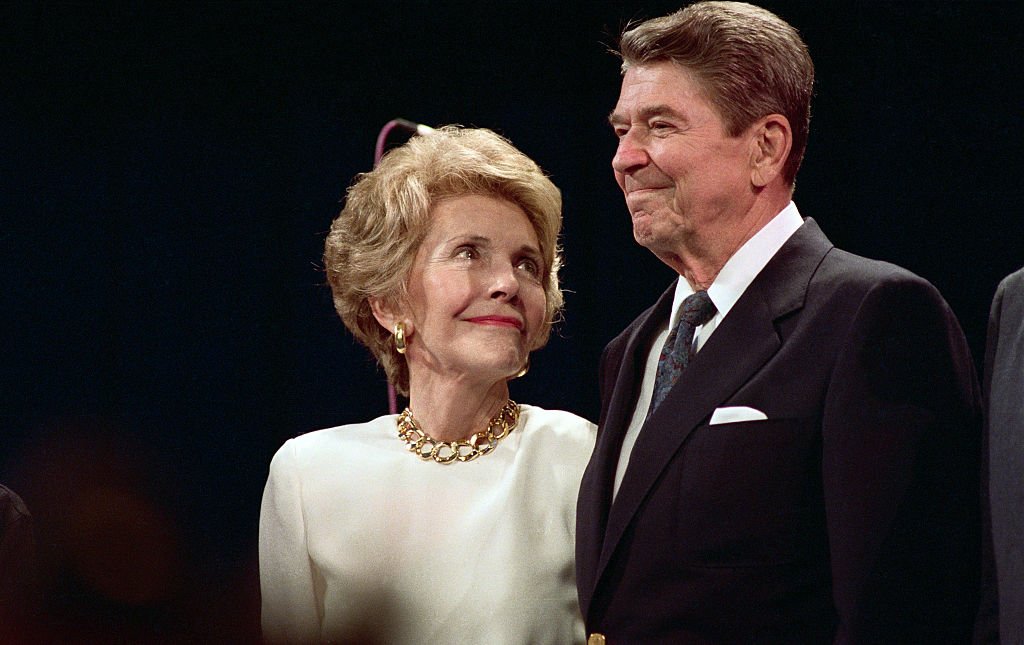 Nancy Reagan looks up at her husband, President Reagan, with loving eyes as he makes a surprise visit to a party in Nancy's honor here 8/15, in New Orleans, 1988. | Source: Getty Images
Reagan's relationship with their children, however, was far from ideal and quite tumultuous. As noted in the documentary on Reagan's life:
"He preached family values but presided over a dysfunctional family."
In another biography, authored by the Washing Post writer, "The Triumph of Nancy Reagan," Karen Tumulty pointed that Reagan's passionate bond has interfered in his relationship with his children.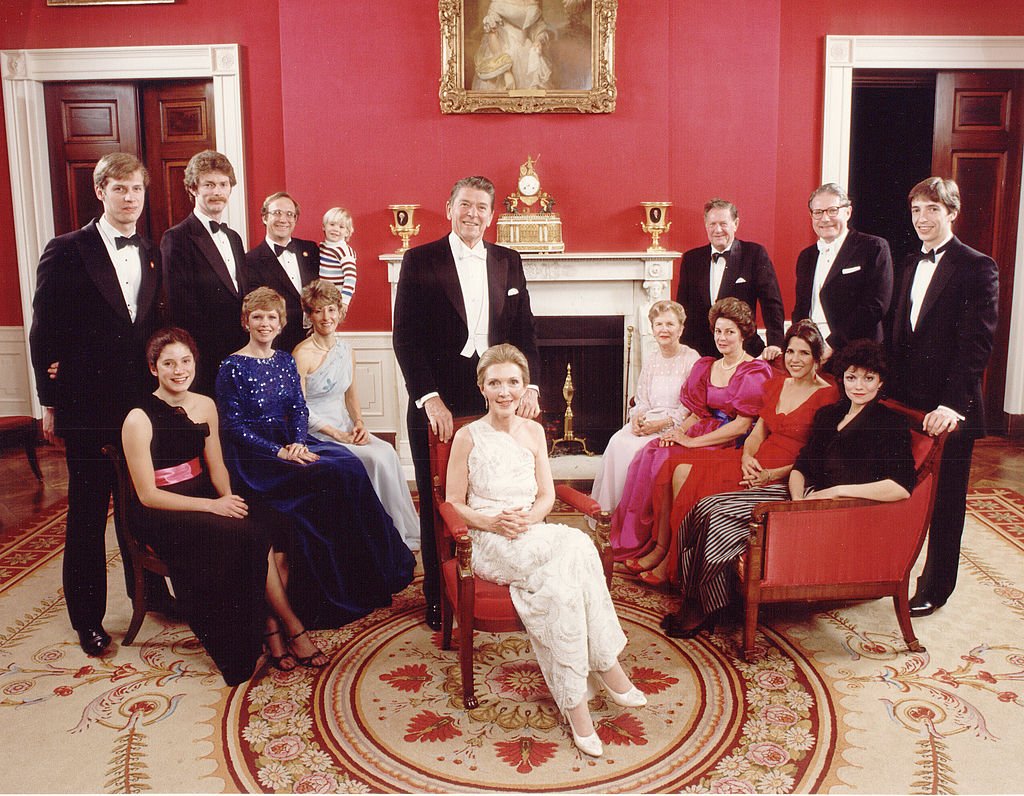 Family portrait taken in White House following President Ronald Reagan's inauguration incl. President Ronald Reagan (C, standing), his wife, First Lady Nancy Reagan (C, seated), and his daughters Maureen (2L, seated) and Patti (2R, seated) and son Ron (R, standing). Washington, 198. | Source: Getty Images
Daughter Patricia Davis, whose nickname is "Patti," shared in a seminar called "Recovering From Dysfunctional Families" how far from the norm her family was.
Patti claimed not only during her workshops -- and her brother Michael has agreed on -- that their mother wasn't an easy-going person, that she would often beat her and abused prescription drugs.
She admitted that most of the attitudes of both of her parents were for the sake of sustaining the image of a "perfect family."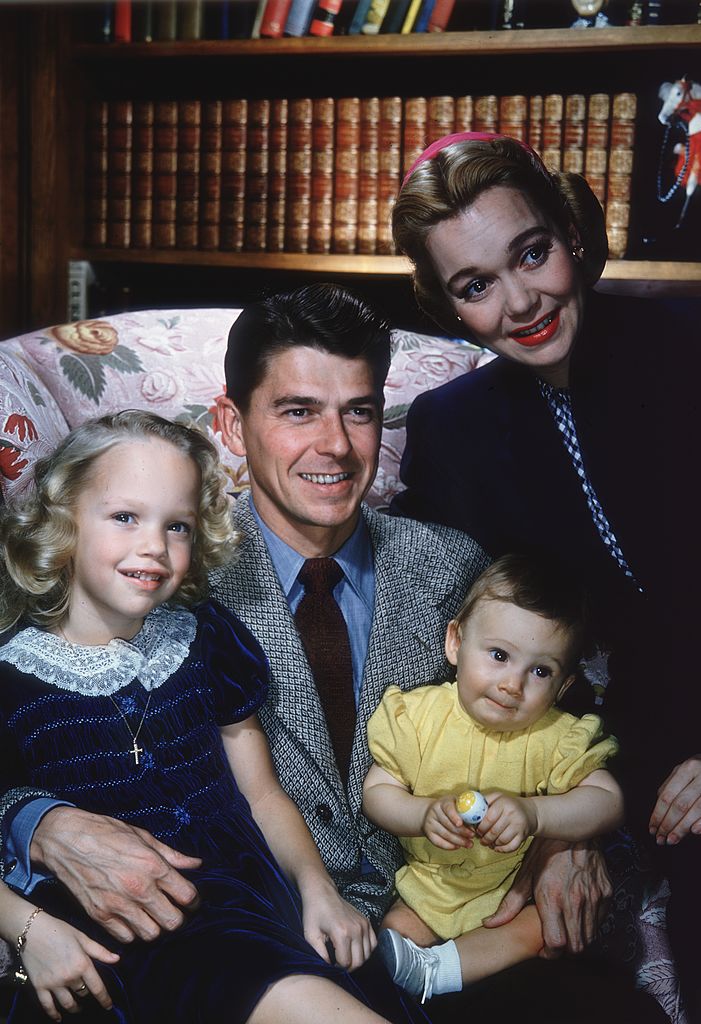 Portrait of married couple Ronald Reagan and Jane Wyman with their two children, Maureen (1941 - 2001) and Michael. | Source: Getty Images
A way to do so was turning the other cheek to the problems so that they didn't have to deal with them. Regarding her mother, the daughter pointed out that Mrs. Reagan approached her duties as a mother much like her duties as the First Lady.
Maureen and Michael were Reagan's children from his first marriage with Jane Wyman, who was married from 1942 to 1948; Patti and Ronnie were Nancy and Reagan's.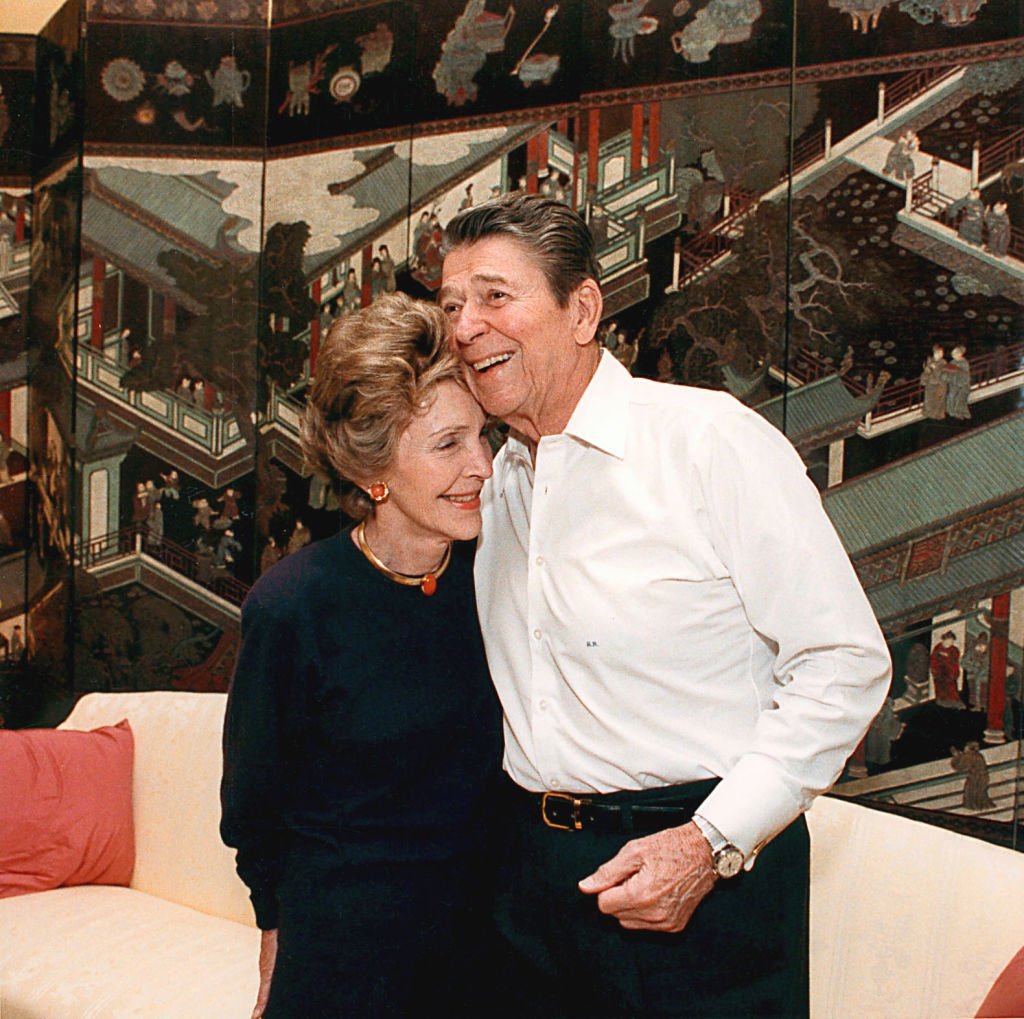 President Ronald Reagan and First Lady Nancy Reagan celebrate their 36th wedding anniversary March 4, 1988 at a surprise party at the White House. Former President Reagan turned 90 years-old February 6, 2001 at his home in California. | Source: Getty Images
Ronnie
told
Tumultry about his mother's volatile personality and how they'd often step on eggshells:
"She was an anxious personality, and her anxieties, particularly when my father was away, were visited upon her children."
The estranged family dynamics eased during Reagan's election for the presidency, at least for a while. Reagan did not attend Michael's wedding, going to Tricia Nixon's ceremony instead.
If Nancy and Ronald would portrait the "perfect family" picture and foster "family values" to the public, while their own family was dysfunctional, though, that hasn't gone unnoticed by some people close to them.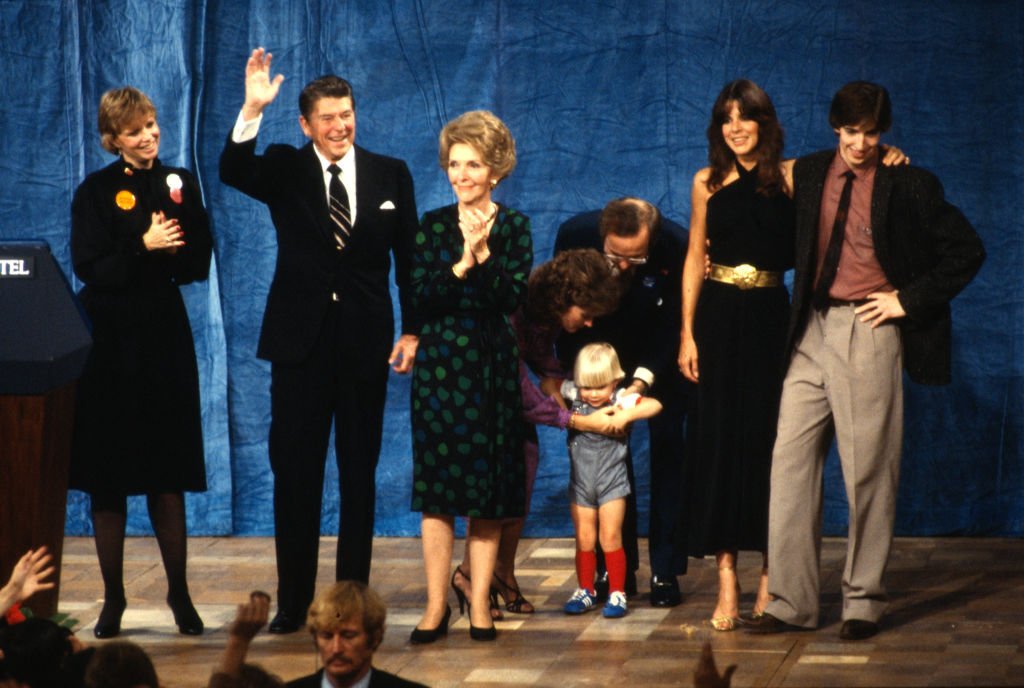 Ronald Reagan with his wife Nancy Reagan and members of their family, Maureen far left, Patti and Ron Reagan far right celebrate the victory making Ronald Reagan the 40th President of the United States November 4 1980 at the Century City Plaza Hotel,Los Angeles California. | Source: Getty Images
Larry King, a close friend to the Reagans, told People in 2016 their love affair was more important to them than their love for their children.
The tension between Nancy and Michael became so bitter that the Secret Service would place an agent whenever there was only Nancy and Michael alone, in the same place.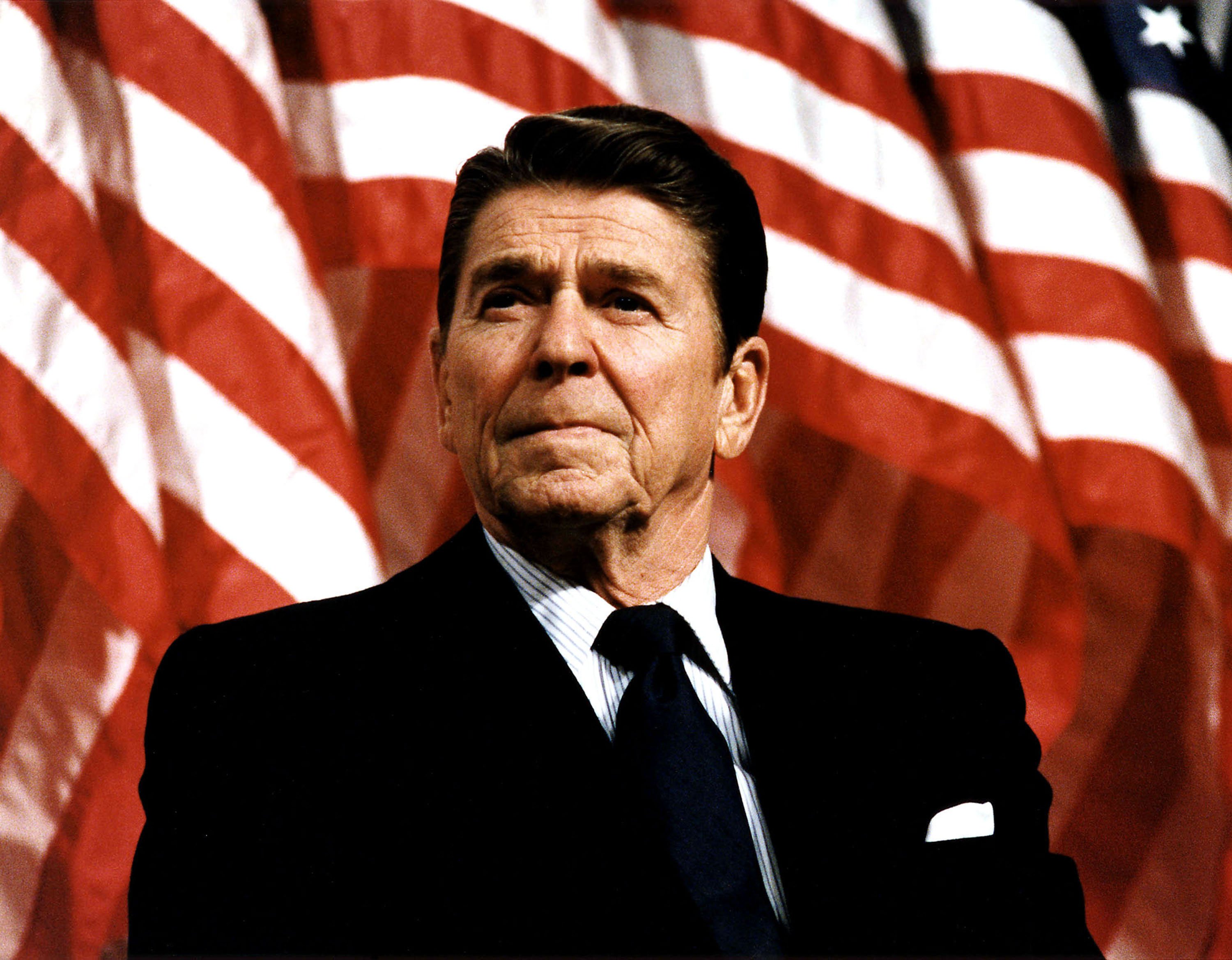 President Ronald Reagan at Durenberger Republican convention Rally, 1982. | Source: Getty Images
Michael's half-brother, Ronnie, confirmed the story to Tumulty, saying that the Secret Service got concerned after an episode that Ronnie loomed and shouted on Nancy.
The Reagans' marriage, while strong, suffered its challenges too. After the president suffered a murder attempt and a nearly fatal shot in March 1981, Nancy became obsessed over her husband's safety.
According to Tumulty, the murder attempt took its toll on Nancy. She would force Reagan to wear a bulletproof vest that he hated and advised his team that he wouldn't attend outdoor events.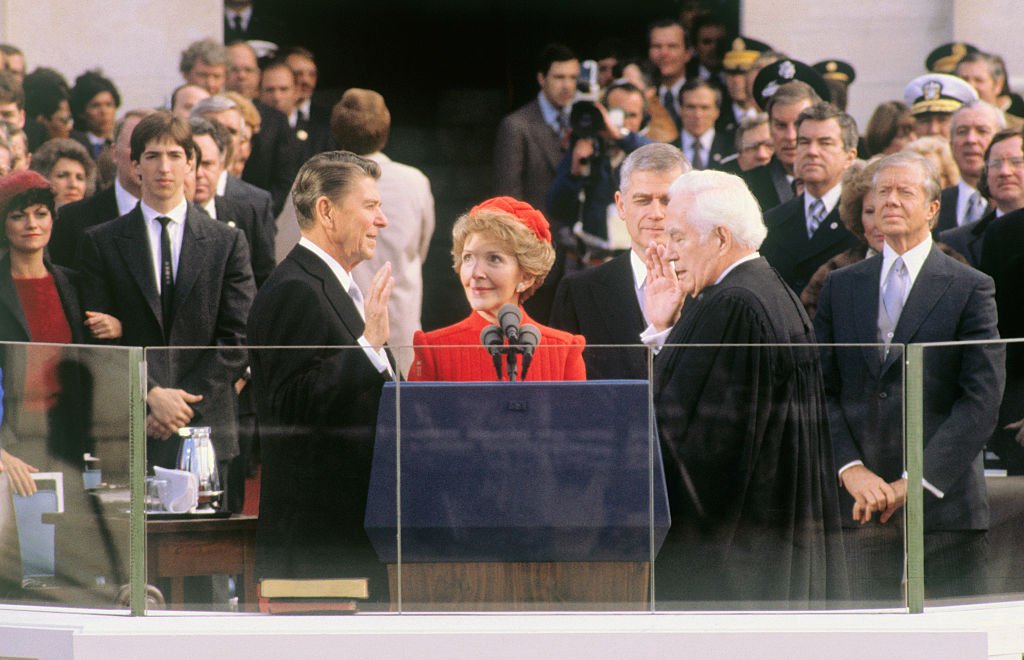 President-elect Ronald Reagan takes the oath of office during inauguration ceremonies in Washington, DC. His wife, Nancy, is holding the Bible and Chief Justice Warren Burger is administering the oath. | Source: Getty Images
Even months after the incident took place, Nancy was often seen crying when her husband was away. Their relationship deteriorated more when Reagan manifested the symptoms of Alzheimer's disease.
As described in the book, the physician who took care of the former president during these years had frequently witnessed a particular scene when he visited Reagan.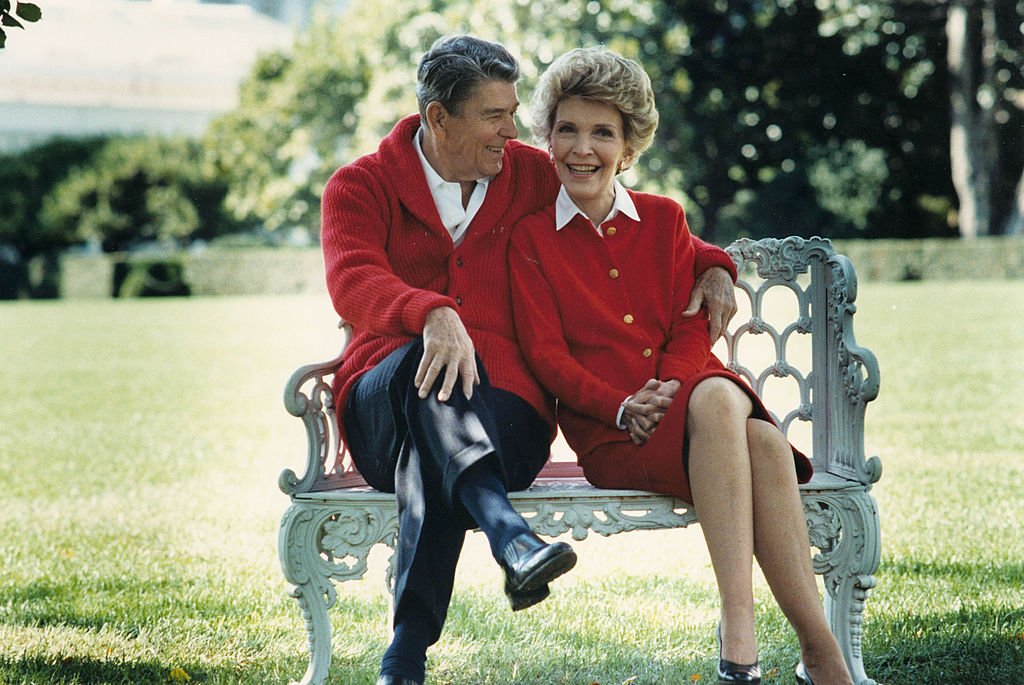 Former U.S. President Ronald Reagan and First Lady Nancy Reagan share a moment in this undated file photo. Reagan turns 93 on February 6, 2004. | Source: Getty Images
Dr. Hutton shared with Tumulty that Mrs. Reagan played the song "Unforgettable," and they would dance as one to the music. But as the disease advanced, Reagan brushed Nancy away.
The former first lady lived until 2016, 12 years longer than her husband. She always kept a photo of the two together on her nightstand, which she shared with Tumulty was her favorite photo.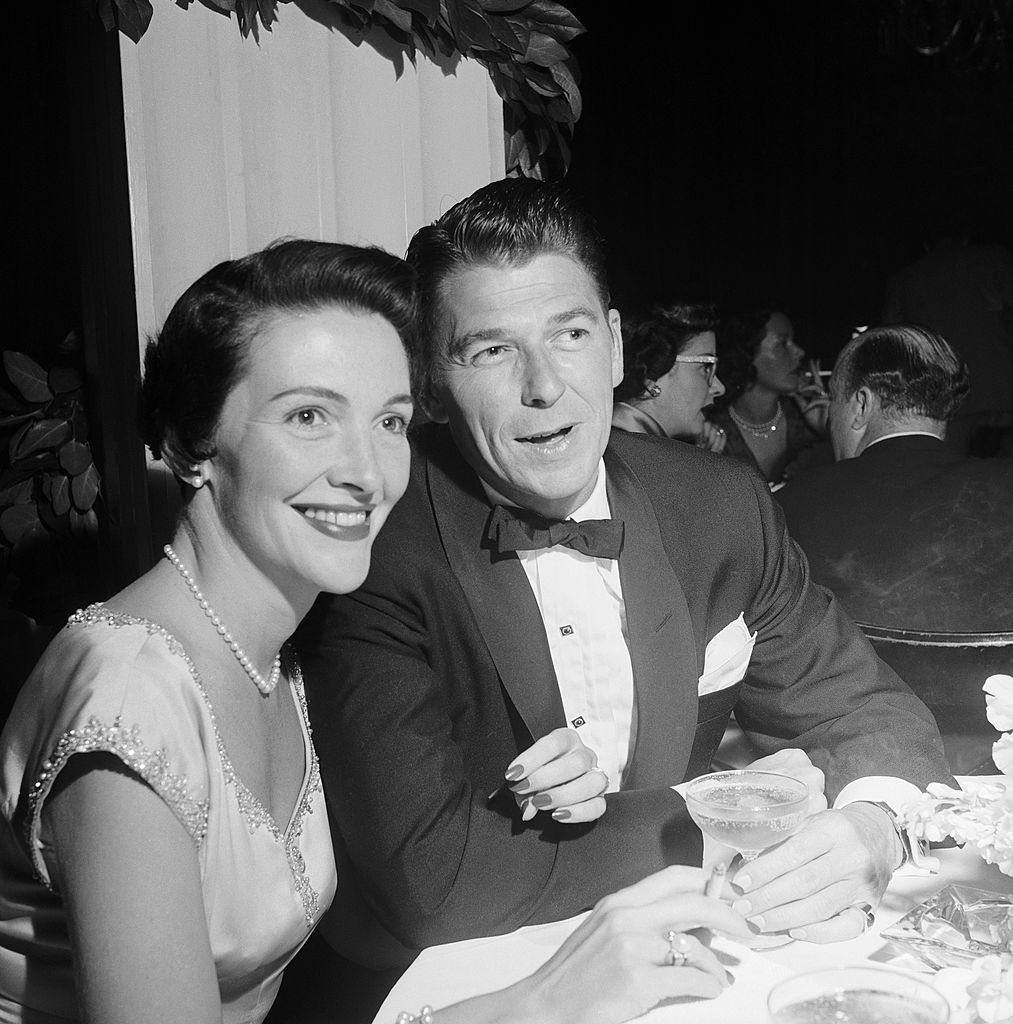 Ronald Reagan and Nancy (Davis) Reagan attending the wedding of Jack Bennys daughter Joan, March 9, 1954, California, Los Angeles.| Source: Getty Images
After her mother passed away, Patti said that she was happy that she would be with her father again. Despite all the traumas caused to her in childhood, she's clear and clean with it.
Patricia Davis gathered a new compassionate and loving perspective. Now, she can describe her father as "emotionally shy" instead of "selfish and distant." Regarding her mother, she sees her as "frightened" rather than "cold" or "abusive."
Patti was received with strong backlash and messages from haters when she published a short statement on her website a day after her mother's death.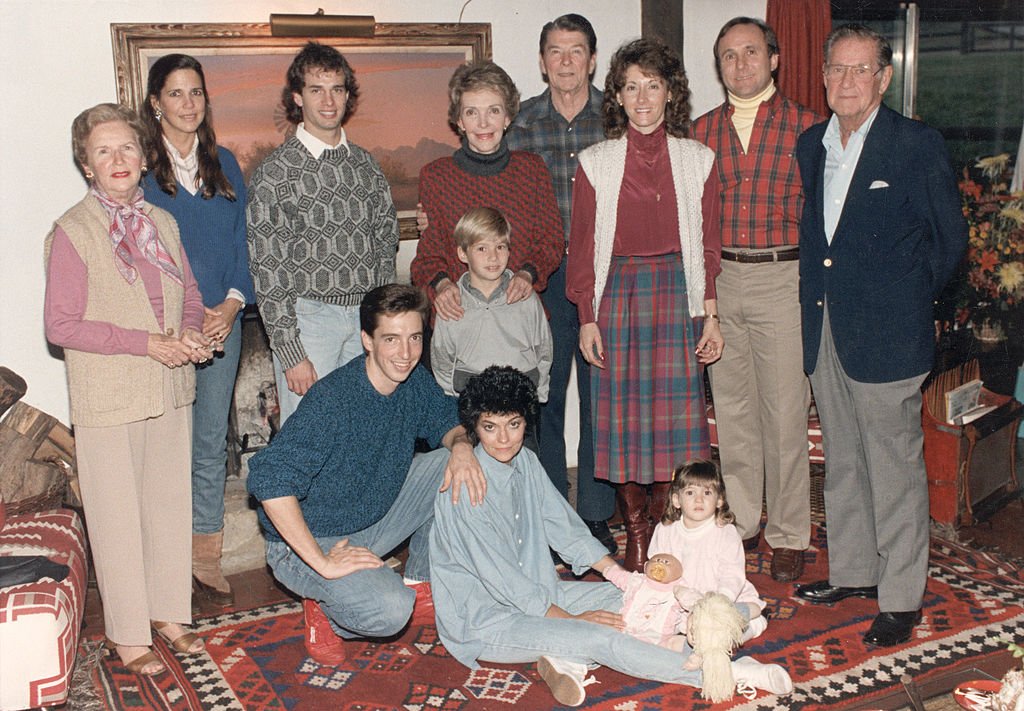 Portrait of President Ronald Reagan and First Lady Nancy Reagan with their family at Rancho del Cielo near Santa Barbara, California, November 28, 1985. Standing (L-R): Bess Reagan, Patti Davis, Paul Grilley, Cameron Reagan, Nancy Reagan, the President, Colleen and Michael Reagan, and Neil Reagan. Foreground, (L-R): Ron, Doria, and Ashley Marie Reagan. | Source: Getty Images
She replied to the messages that "haters are going to hate" and asked people to stifle their criticism during such a hard time because it's "very inappropriate." The Reagans, however, aren't the only dysfunctional political family. The Kennedy dynasty held a lot of dark secrets.
According to a 1992 article from Newsweek called "Dysfunctional First Family," the British biographer described the Kennedys as "one of the ugliest families in American history: a crooked, dissolute father, an emotionally bankrupt mother and a helpless pack of traumatized children."
Please fill in your e-mail so we can share with you our top stories!
news.AmoMama.com does not support or promote any kind of violence, self-harm, or abusive behavior. We raise awareness about these issues to help potential victims seek professional counseling and prevent anyone from getting hurt. news.AmoMama.com speaks out against the above mentioned and news.AmoMama.com advocates for a healthy discussion about the instances of violence, abuse, sexual misconduct, animal cruelty, abuse etc. that benefits the victims. We also encourage everyone to report any crime incident they witness as soon as possible.