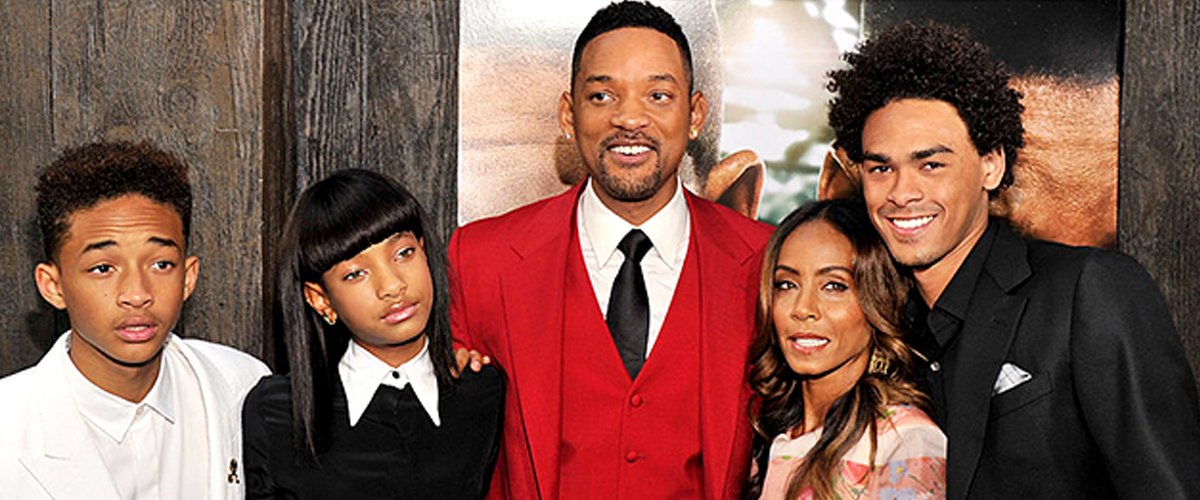 Getty Images
Will Smith & Jada Pinkett Smith's Controversial Parenting Resulted in 'Well-Balanced Adults'

From hosting their red table therapy talks to producing world celebrated hit music and movies, the Smith family has done it all, and in the process, earned themselves the titles "freak" and "weird."
Will Smith, 50, graced our screens in the '90s when he appeared in the rib-cracking comedy TV show "The Fresh Prince of Bel-Air," but that was only the beginning. He would later star in movies such as "Men In Black" and "Suicide Squad."
His wife, Jada Pinkett Smith, is also a veteran in the film industry. Besides starring in "The Matrix" franchise and "Girls Trip," she also hosts a chat show called "Red Table Talk," together with her daughter Willow Smith.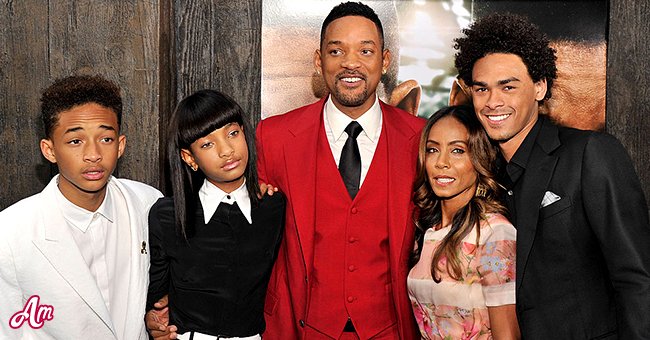 Will Smith, his wife Jada Pinkett Smith and their three kids, Trey, Jaden and Willow. | Source: Getty Images
BECOMING ONE OF HOLLYWOOD'S MOST INFLUENTIAL FAMILIES
With their parents making big names for themselves in the entertainment industry, it was no surprise that the Smith kids, Jaden, 20, and Willow, 18, would also be highly inclined towards acting or singing.
Together, the Smith family has succeeded in becoming one of the most influential families in Hollywood, with their unlimited talent stretching across making music, movies, as well as running a successful Youtube and Facebook web series channel.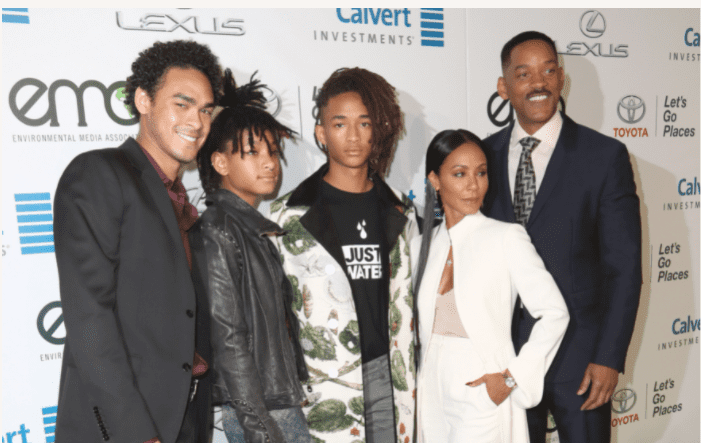 Actors Trey Smith and Jaden Smith and Jada Pinkett Smith, singer Willow Smith and actor Will Smith attend the Environmental Media Association 26th Annual EMA Awards at Warner Bros. Studios on October 22, 2016 in Burbank, California. | Source: Getty Images
Will's Youtube channel had amassed more than five million subscribers, while the "Red TableTalk" has garnered over 275 million views and an Emmy nomination.
RAISING THEIR KIDS DIFFERENTLY
From the beginning, Will and Jada taught their kids, Jaden, Willow, and Trey — whom Will shares with his first wife, Sheree Zampino — to be independent thinkers and not be tied down to heteronormative standards.
Giving their young kids this kind of freedom did not sit well with many online admirers, especially the Black community, who felt that this kind of freedom, with the kids young as they were, would not end well.
In an interview with BBC presenter A.Dot, Vanity Fair reports that Will expressed his thoughts on endowing his kids with the freedom of expression at such a young age. He said:
"Jaden is 100 percent fearless, he will do anything. So as a parent it's scary, it's really terrifying — but he is completely willing to live and die by his own artistic decisions."
NO PUNISHMENT FOR THE SMITH KIDS
But despite his faith in his kids, his followers felt that the Smiths were not raising their kids right. Will's admission that he and his wife did not punish their kids seemed like a line from a book.
Instead of reprimanding their kids for any wrongdoings, they held them responsible for their actions, making them explain why they felt it was important to do whatever they did. He was adamant that they prefer giving their kids control over their own lives.
When Jayden wore a skirt to the Louis Vuitton fashion advertorial back in 2016, it sparked controversies and backlash from people everywhere. Still, the criticism was only received with Will's support for his son's creative expression.
TEACHING THEM TO EXPRESS THEMSELVES
Even though Will jokes that he should not be held responsible for his kid's fashion choices, he says that his kids are free to dress however they want and express their true selves without conforming to societal and gender demands.
Sometimes, even Will himself was not too sure whether some of his ways were the right ones.
He expressed his admiration for Jaden for daring to wade the murky waters that many older artists before him had been unable to by not being afraid to put his raw self out there, despite the expected backlash.
When the kids were still young, Will and Jada created a "Circle of Safety," a concept that allowed them to have open conversations with their children, even though it was about wrong things they'd done without getting in trouble.
While many parents may disagree, Will and Jada raise their kids not as inferiors but as equals. And thus, they are expected to make decisions as adults. Eonline reports him to have spoken to Haute Living on the same saying:
"We respect our children the way we would respect any other person."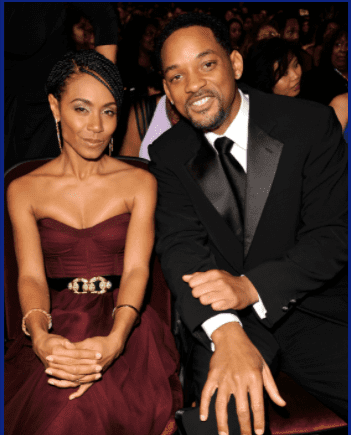 Jada Pinkett Smith & Will Smith at the 40th NAACP Image Awards on Feb. 12, 2009 in California | Source: Getty Images
THE END RESULT OF THEIR UNORTHODOX UPBRINGING
For years, the Smiths faced a lot of reprisal for choosing to bring up their kids differently. Sometimes, even Will himself was not too sure whether some of his ways were the right ones.
While all this backlash happened years back, it is now evident that the Smiths knew what they were doing, even though raising their kids with all that freedom would seem selfish and unconcerned to an average parent.
The different ways of bringing up their children and letting them make their mistakes and learn from them seem to have paid off as their kids have grown into themselves whilst learning to express their true selves.
The Smiths did not bar their kids from exploring their interests, be it in acting or music, and as Jada would often say, they wanted to educate their kids to be the best in whatever they chose to do.
[Jaden and Willow's] once highly criticized decisions are now fashion statements.
HOW THEY ALL TURNED OUT
Dr. Jenny Rankin, a child education expert, says that the freedom the Smiths allowed their kids helped them grow into well-balanced and better-prepared adults.
He adds that this is one of the reasons that the Smith children, unlike many celebrity kids who are always out partying and possibly wasting away, are almost always pursuing their passions and working hard at their dreams.
Willow, who was once frowned upon for shaving her head in protest, and Jayden, who was criticized for wearing a skirt, are now some of the most celebrated kids of this generation.
Their once highly criticized decisions are now fashion statements. Lexi Montgomery, a brand strategist, spoke to OprahMag.com, saying:
"The Smiths were ahead of their time Their past actions have become trend-worthy and admirable due to the cultural climate changing and becoming more accepting."
While you can never protect your kids from everything, it is evident from the Smith ways of bringing up their kids that you can support your children and give them the freedom to be who they want to be, and they would still turn out great.
Please fill in your e-mail so we can share with you our top stories!