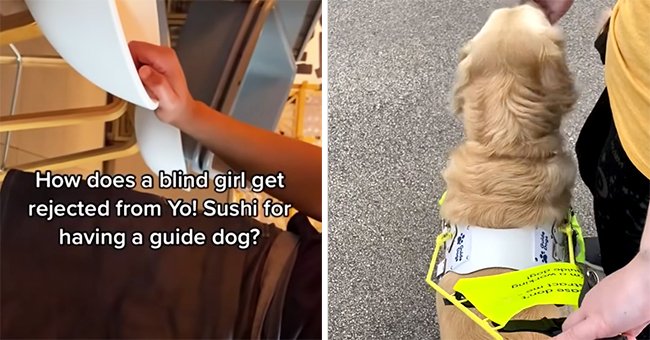 youtube.com/Lucy Edwards
'Blind' Woman Is Banned from Entering Restaurant Because of Her Guide Dog

A restaurant worker attempted to stop a blind woman from entering the premises because of her guide dog. The woman was within her legal rights to keep the guide animal with her, but the worker would not listen.
This month, 28-year-old journalist Lucy Edwards was stunned when a restaurant worker told her that her guide dog was not welcome. The central London Yo! Sushi store has received backlash after Edwards posted the footage online.
In her Youtube video, she argued with the waiter who did not want to grant her dog access. Edwards offered the worker facts from the 1995 Disability Discrimination Act to support her dog's presence in the establishment.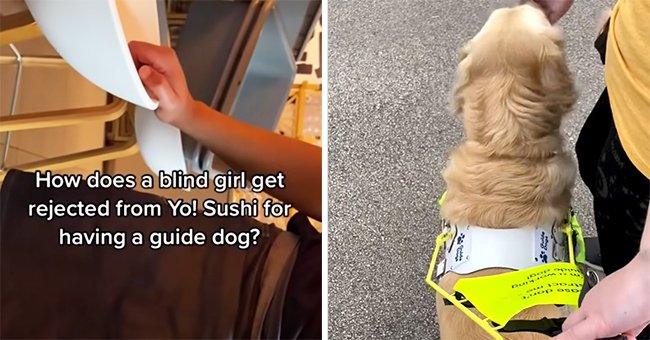 A blind woman records a restaurant worker as he tries to bar her guide dog from the premises | Photo: Youtube/Lucy Edwards
GUIDE DOGS LEGALLY ALLOWED
Edwards repeatedly told the worker that her dog was legally allowed to be inside the restaurant. She indicated that she was completely blind and told the man his actions were discriminatory. Eventually, she asked for his name so she could report him.
Edwards, who lost her sight at 17, also demanded to speak to the manager, and eventually, the waiter seemed to relent and offered her a table. However, the woman was distressed and no longer wanted to dine at the sushi restaurant by this time.
NEVER DO IT AGAIN
As she made her way out of the establishment, she told them to read up on the law and asked them "to never do this to a guide dog owner again." Since the incident, Yo! Sushi has apologized to Edwards and expressed it was a "mistake."
They put forward that guide dogs would be allowed in the future, and the restaurant reached Edwards personally to make amends. Edwards regularly advocates for people with disabilities and is a prominent social media presence.
THE ONLINE REACTION
Her encounter went viral and upset many netizens. One user said: "I sadly recognize this far too well. It's so hard, but well done standing up for yourself." Someone else simply called the discrimination "absolutely ridiculous."
Many others said they were sorry she had to go through the emotionally distressing experience. A user added: "I became teary-eyed whilst watching this. Lucy remained so calm in this it's admirable. I'm so sorry you had to go through this."
RAISING AWARENESS ABOUT THE ISSUE
Edwards, who has been relying on the assistance of a guide dog since she was 18, expressed that these moments of discrimination are common. She stated: "You just feel scared, you don't want the confrontation, you just want a nice night."
By sharing her videos, she hopes to raise awareness about the issues blind people face regularly. She stresses that discrimination against her dog is discrimination against her because the dog is "an extension of" her.
Please fill in your e-mail so we can share with you our top stories!