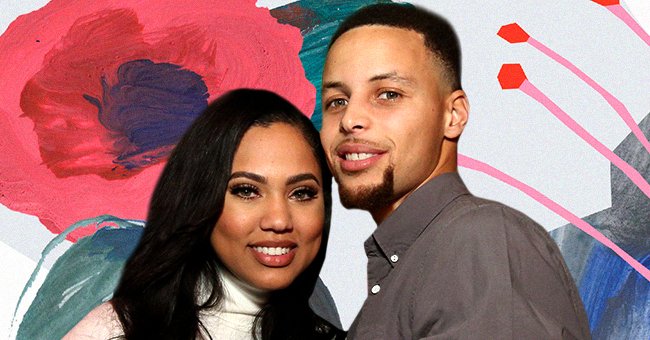 Getty Images
Ayesha Curry Dazzles in a Floral Wedding Gown for Surprise Vow Renewal with Steph & Their Officiant Is Adorable

Ten years after they tied the knot, NBA star Stephen Curry, and New York Times bestseller Ayesha Curry, renewed their wedding vows, and their vows renewal ceremony had an officiant you wouldn't have expected.
Steph and Ayesha Curry are what some would term the ultimate couple goal as they consistently have each other's backs while keeping their lives outside as stylish as they can.
The couple first met in their teens but didn't start dating until years later. They tied the knot in 2011 and celebrated ten years together with three children.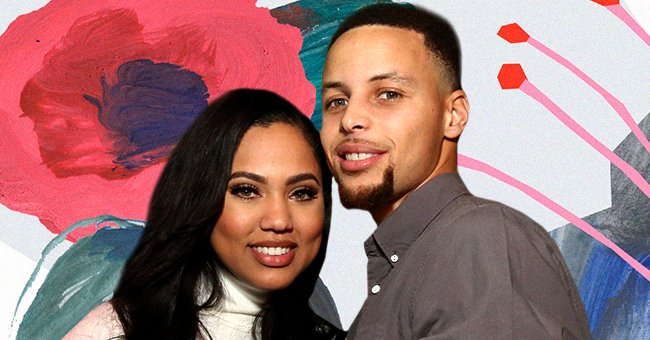 A photo of Ayesha and Steph Curry | Photo: Getty Images
ABOUT STEPH
Steph Curry is that player that, when taken out or put on a team, changes their performance. The Golden State Warriors point guard is one of the best players in the NBA and one of the best point guards in the world.
Wardell Stephen "Steph" Curry II was born in Akron, Ohio, on March 14, 1988, but grew up in Charlotte, North Carolina. He and watched his dad Dell play with the Charlotte Hornets.
With his dad in the NBA, Steph picked interest early and became the top scorer for his high school. Despite his incredible talent, his frail physique meant that no big colleges offered him a scholarship.
In 2006, however, he accepted the offer of Davison College, which offered him the keys to the Davison Wildcats. Steph has enviable stats that earned him second place among the NCAA scorers in two seasons with the Wildcats.
Being the seventh overall pick, the Golden State Warriors chose the award-winning Steph, who came out as one of the most talented NBA drafts and made his NBA debut on October 28, 2009.
ABOUT AYESHA
Born Ayesha Disa Alexander on March 23, 1989, she is a Canadian-American actress, New York Times bestselling author, cooking TV personality, and entrepreneur known for hosting a Food Channel program.
Most other celebrity wives garner fame and wealth due to their significant other. But Ayesha has amassed a fan base for herself thanks to her TV shows and YouTube channel.
At a younger age, she longed to be an actress and has appeared in a few shows and movies. However, after she got married, cooking became her new life.
It all started with her blog called "Little Lights of Mine," where she documented recipes for her readers even though she had no formal training as a chef. Her YouTube channel followed the blog, and now she hosts cooking shows.
In 2016 Ayesha released her debut family-centric cookbook for the home chef called "The Seasoned Life: Food, Family, Faith, and the Joy of Eating Well," which topped the New York Times bestseller list.
In the same year, Ayesha released her book, she and star chef Michael Mina teamed up and opened a restaurant called "The International Smoke" based on their shared love of global travels and international cooking techniques.
In 2020, she released another book titled "The Full Plate: Flavor-Filled, Easy Recipes for Families with No Time and a Lot to Do" to help you find a balance between work and family life.
STEPH AND AYESHA
The couple who recently attended the Met Gala together and brought sparkle to the red carpet, thereby making it to everyone's best-dressed couples list. They complimented each other's looks in a way that would make you swoon.
Ayesha, dressed by celebrity stylist Jason Bolden stole the show in an intricately diamond-embellished gold detailed Atelier Versace thigh-high slit dress. She accessorized her dress with matching jewelry pieces and a pair of silver pumps.
Steph, on the other hand, also dressed by Bolden, looked dashing in a navy blue blazer featuring an intricate jewel-adorned gold design on the shoulder, sleeves, and the back as inspired by Michael Jackson's "We Are The World" gold embellished jacket.
The couple first met in their teens in a church youth group, but theirs wasn't love at first sight. She saw him as the cute boy that all the girls were obsessed with.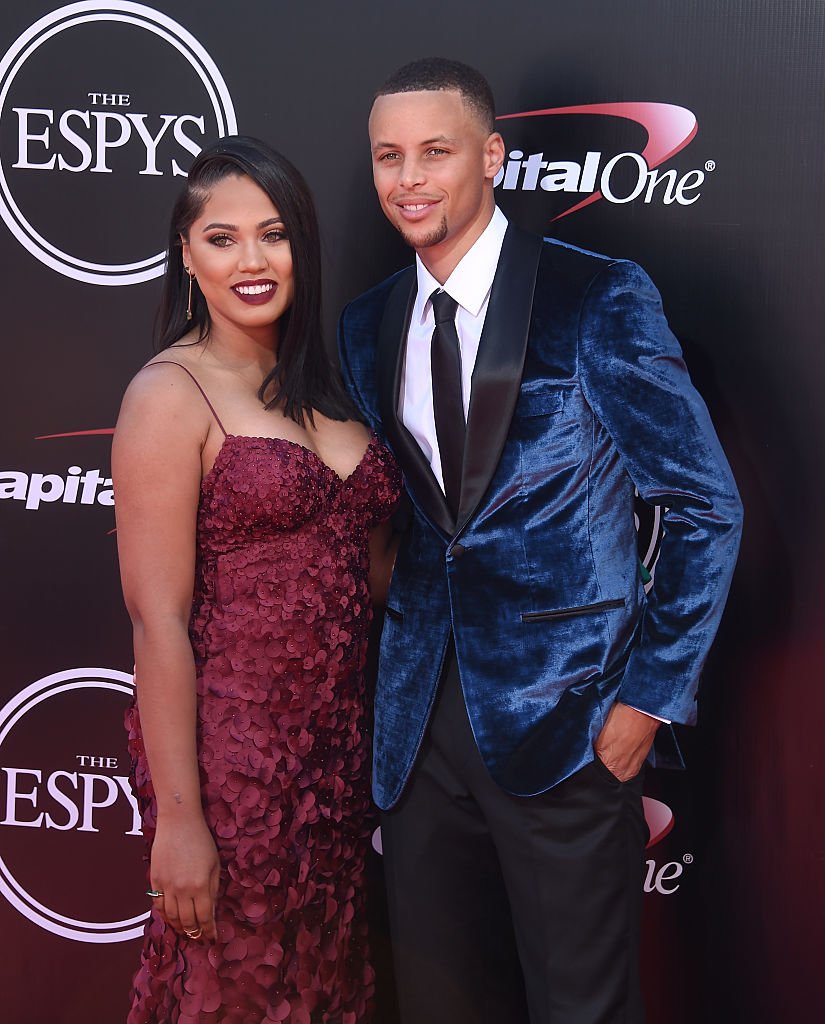 Stephen and Ayesha Curry arrive at The 2016 ESPYS at Microsoft Theater on July 13, 2016 in Los Angeles | Photo: Getty Images
They were to meet again years later, and even though Ayesha was not keen on dating athletes because she felt they were arrogant, she changed her mind after her cheesy first date with Steph because she said: "he was so funny and silly."
Steph proposed to Ayesha on his father's driveway, the spot where they shared their first kiss, and on July 30, 2011, the couple tied the knot at the church they first met, bringing their relationship full circle.
Ten years later, the couple is growing stronger by the day, and they have been blessed with three children: two daughters Riley and Ryan, and a son Canon.
THEIR WEDDING VOW RENEWAL
Ten years of being together in marriage is worth celebrating, and Steph made sure of that. For their tenth anniversary, Steph surprised Ayesha with the most beautiful vow renewal ceremony.
For a second time, Ayesha wore a wedding gown which Steph picked out for her. She looked stunning in the Maison Valentino long-sleeve lacy floral gown featuring hand-beaded and embroidered details and was paired with sandals from the same brand.
She styled her hair in a sleek all back, low bun while Steph looked dapper in a grey Brunello Cucinelli suit, shirt, pocket square, and shoes. He completed his look with a boutonnière matching Ayesha's bouquet.
Steph had a vision for the dress, and it was beautifully created. Sherri McMullen styled the couple, and from the look in Ayesha's eyes, you can tell she is thoroughly smitten by her man.
For the wedding vow renewal ceremony, Ayesha and Steph stepped in front of a gorgeous floral arch, one that housed the officiant: their daughter, Riley, while their second daughter Ryan and son Canon walked Ayesha through the grass of their backyard.
The couple ended the day by wining, dining, and dancing in their yard. Ayesha, who posted the images, took to her captions to say that this was a moment she would never forget.
ON WEIGHT LOSS AND MOTHERHOOD
On being a mother, Ayesha revealed that even though she loves her kids, she always put her marriage and husband first. She says that it is normal to want to put the kids first.
But ultimately, only a good relationship will provide a healthy atmosphere for kids. She wants people to realize that this is not about being selfish but about setting a strong foundation.
Last year, she revealed that she had lost 35 pounds amid the pandemic and went on to share the healthy foods that helped her stay in shape.
Also, by making fitness a part of her lifestyle, she feels happier and has attained mental clarity. She doesn't snack a lot, tries to eat healthily, but also indulges from time to time.
Please fill in your e-mail so we can share with you our top stories!