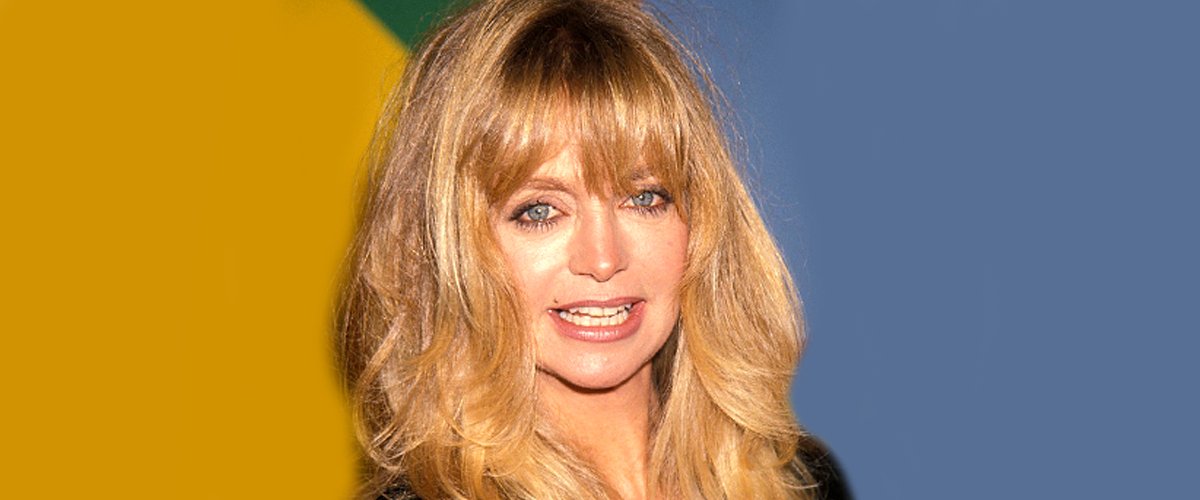 Getty Images
Goldie Hawn's Serial Infidelity Ruined Marriage With Bill Hudson – Story of Abandoned Husband

Everyone may know Goldie Hawn from her seemingly happily-ever-after partnership with Kurt Russell. What many do not realize, however, is that her first marriage crumbled due to her infidelity.
Goldie Hawn, known for her roles in the NBC sketch comedy program "Rowan & Martin's Laugh-In," has also made a name for herself in the film industry, with movies such as "Wild Cats" and "The Christmas Chronicles."
Between 1976 and 1982, the actress was married to Bill Hudson, a marriage that came only a month after she got divorced from her first husband, Gus Trikonis.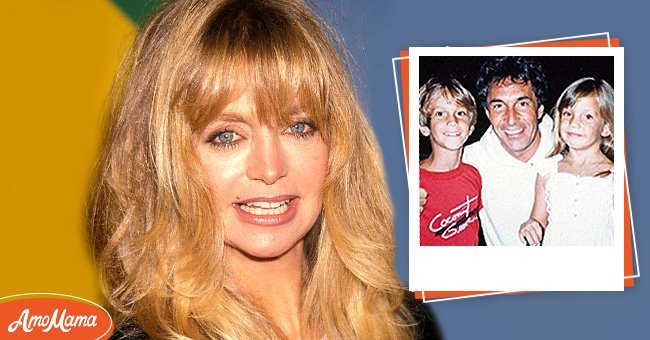 Goldie Hawn Inset: Bill Hudson with Kate and Oliver when they were younger | Source: Getty Images
Hudson and Hawn first met in 1975. Hudson was in a band, The Hudson Brothers, with his brothers Mark and Brett, and they would often tour with David Cassidy and The Osmonds and even had their TV show.
Hawn, already a huge star, was pocketing more than a million dollars for her roles in the comedies "Shampoo," "The Sugarland Express," and "There's a Girl in my Soup."
Their first-ever meeting was on a flight to Los Angeles from New York. Hawn was in first-class while Hudson was with his brothers in economy. It was Brett who insisted that he talk to Hawn.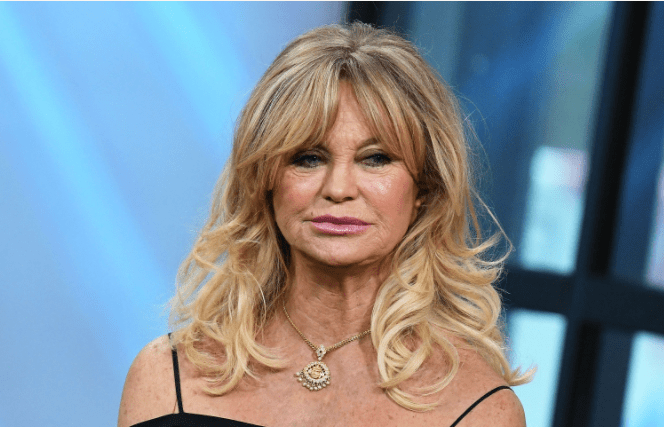 Actress Goldie Hawn | Source: Getty Images
She was outstanding, and her circle of friends included Candice Bergen and Ali MacGraw. Hudson was smitten with her. Theirs was an instant connection, and later that evening, they went out for dinner.
During the dinner, Hawn began speaking to a gentleman and his date at the next table, and Hudson would later be shocked when Hawn nonchalantly told him that the gentleman, Gus, was her husband.
While that should've been the first red flag, Hudson was too taken with the blonde to see it. All he wanted was to make Hollywood's favorite ditzy blonde his wife.
In hindsight, nothing could surpass the joy that Hudson felt the day he married the beautiful Hawn. He was wedding the most famous and gorgeous woman he'd ever known.
The day, to him, was something straight out of a movie, and he refers to it as the perfect day and night. He recalls of the special day:
'I was consumed with love. I didn't think life could get any better. I had just married the woman I loved and I felt like the luckiest guy on Earth."
However, what Goldie said to him next shattered his belief in true love and would become the first of many bombshells that Hawn would drop on him in the course of their four-year marriage.
Hawn asked Hudson if he was sure they had done the right thing and went on to tell him that she wanted an open marriage, a statement that shook Hudson to the core.
At the time of their wedding, Hawn was already pregnant with the couple's first child Oliver, and three years into their marriage, the couple had their second baby, Kate.
HAWN'S INFIDELITY
Hudson recalls how Hawn's dad was trying to warn him of his daughter's infidelity by telling him that Hawn needed a different man for each of her moods. He was, however, too in love at the time to see it.
During her marriage to Hudson, Hawn carried on with numerous affairs, one of which would become her long-life relationship with Kurt Rusell. And even though they've been together for close to four decades, the two never really got married.
Hudson believes that her desire to stay in an open relationship may be the most significant factor in Hawn and Rusell's choice to remain unmarried even after all these years.
In his book, "2 Versions: The Other Side of Fame and Family," Hudson reveals that Hawn once confided in him that she could never imagine having only one partner for life.
Despite knowing about her numerous affairs, Hudson stayed, believing that what they had between them was so special it would change her, but that was only wishful thinking.
In 1980, Goldie was once again in another affair, for the umpteenth time, with a co-actor, and her complete disregard for Hudson's feelings eventually took a toll on him.
[Hudson] also wants to meet his grandkids so badly.
KURT RUSSELL AND HUDSON'S KIDS OPINION OF HIM
That year, Hudson made the decision to leave. He finally walked out of the marriage, leaving his two kids behind. Three years after Hudson walked out, she was dating Kurt Russell.
From the onset, Hawn made Kate and Oliver refer to Russell as "Pa," completely overlooking the fact that it was her own mistakes that led to them losing their biological father. She refers to Russell as her "loyal protector."
Russell took over the role of dad, and for years, Hawn continued to drag Hudson's name in the mud, insisting that he abandoned his young family, reports that Hudson repudiates completely.
In numerous interviews, Kate has come forward to praise Russell for being a father to her and Oliver while at the same time berating Hudson for allegedly "walking out" on them.
Hudson describes one of his most painful life moments being the time when his children started referring to Russell as their father, without knowing the genesis of his estrangement to their mother, Hawn.
Yet, Kate and Oliver are adamant that they are not, under whatever circumstances, looking to mend fences with their decades-long estranged biological father.
According to Hello Magazine, Oliver also spoke on his relationship with Hudson in the "Daddy Issues" podcast with Joe Buck saying:
"My dad bailed on me, so I haven't had that sort of closure I guess."
Hudson says that Hawn, in a bid to seek drama, which he says she thrives on, sold a terrible story to his children, making him look like the big bad wolf that should be avoided by whatever means.
Kate, being close to her mother, believed the narrative and has never wanted to hear Hudson's side of the story. He says their story has carried a lot of weight in the Hollywood circles and consequently ruined his reputation.
All he wishes in his book is for the family to put all the drama behind them and settle their differences once and for all. He also wants to meet his grandkids so badly.
Please fill in your e-mail so we can share with you our top stories!