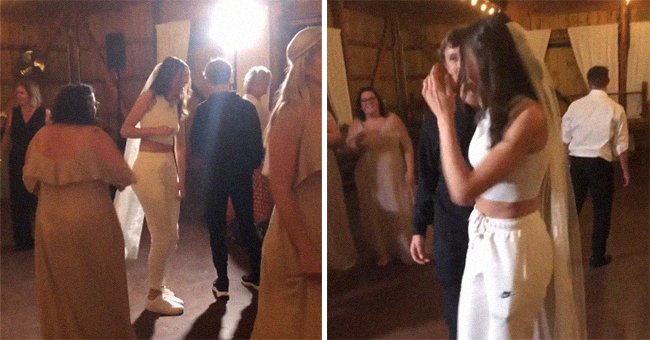 instagram.com/wildwoodfilms
Newlyweds Spark Heated Debate over Their Choice of Wedding Finery

A newlywed couple's decision to change into comfortable clothing for their wedding reception has drawn a lot of online attention. Netizens are divided, and many feel strongly about their opinions.
The day of the wedding can be tiring for brides and grooms. The stress and tight schedule can take a toll on couples, and often they can't wait to get out of their formal clothing. One pair recently took this desire a step further at their reception party.
According to wedding protocol, there is an expectation that the bride and groom will remain in their glitzy outfits for the entire day. White bridal gowns and three-piece suits are typical. However, not all newlyweds stick to the customs.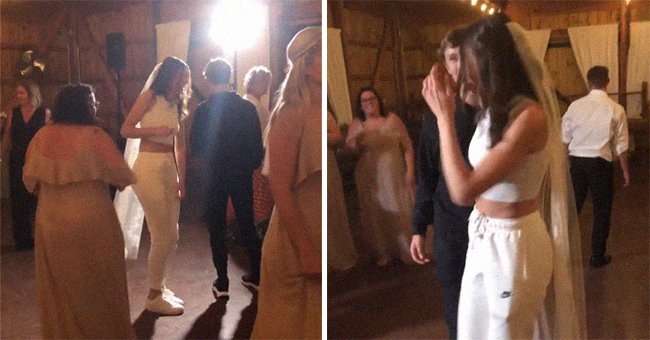 Newlyweds dance in casual tracksuits at their wedding reception | Photo: Instagram/wildwoodfilms
THE CASUAL WEDDING OUTFITS
A couple chose their comfort above formalities. Wedding videographer Sarah Gonzalez who works for Wildwood Films, showed users special footage from a unique couple. Her post on Instagram featured the bride in sweat pants and trainers.
She did have on her veil, and the attire was white, but those were the only bridal aspects of her casual outfit. Her partner, on the other hand, opted for a head-to-toe black sweatsuit. @wildwoodfilms lauded the couple for their bold choices.
STARTING A NEW TREND
The page wrote: "I love when couples ... find unique and fun ways to show their personalities on their wedding day and start new trends of their own." However, this trend was not met with praise from everyone.
Many netizens were not impressed by their casual style. One user sarcastically said that if they spent thousands of dollars on a wedding dress, they would wear it until they die. Another added that casual attire would be their "worst nightmare."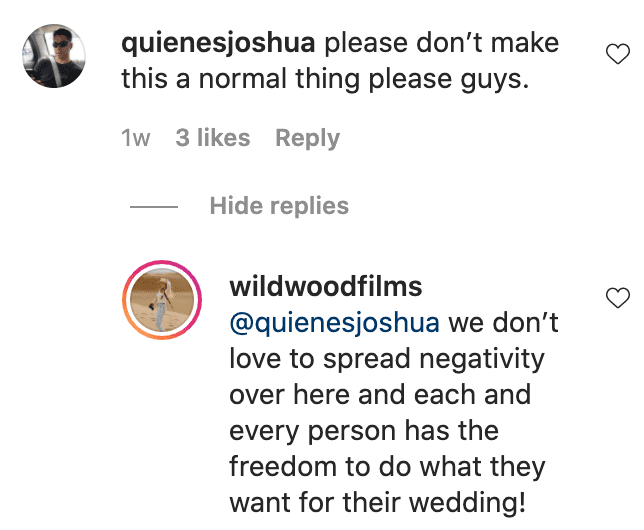 Netizens react to a bride and groom who decided to wear casual attire to their wedding reception | Photo: Instagram/wildwoodfilms
THE ONLINE REACTION
The netizen expressed that she had been dreaming about her bridal princess moment for a long time. Many agreed with her. Another said: "It's a no for me ... All your guests are in fancy clothes but here you are in sweats. It's inconsiderate to me."
Despite the backlash, many hoped the trend would continue. People adored the couple's choice, and many said they were "slaying it." One user expressed: "Yep, let's normalize wearing whatever we want at weddings."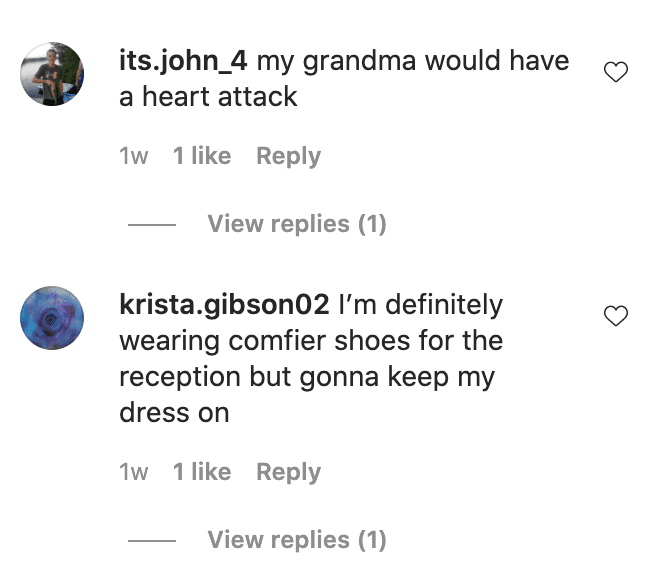 Users comment on a bride and groom who changed into sweatsuits for their wedding reception | Photo: Instagram/wildwoodfilms
THE COSTS INVOLVED
Users also pointed out the costs involved with weddings. Someone stated that expensive dresses were overrated and encouraged more people to opt for alternative dress codes. People who were paying for their own big days adored this idea.
A user wrote: "If I'm paying for the whole thing, I'm going to be comfy enough to enjoy it." Regardless of the online reaction, the couple was thrilled. The bride commented on the post and said: "It was the BEST. Thank you for capturing it so well!!"
Please fill in your e-mail so we can share with you our top stories!