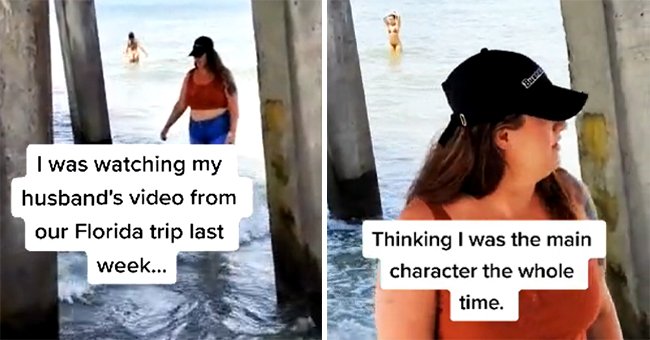 tiktok.com/thicctok5280
Woman Watches Video from Her Vacation Again and Discovers Her Husband's Naughty Attitude

A woman who returned home after vacationing in Florida made quite a discovery after re-watching her holiday clip. As it turned out, her husband had recorded something else in the background while filming her in the 34-second video.
Vacations are meant for unwinding and recharging ourselves, but sometimes, they can be full of surprises and unexpected outcomes. Similar events unfolded for this woman when she decided to cherish the memories from her sweet holiday.
The woman, who is a resident of Denver, took a trip to Florida with her husband and was enjoying herself at the beach. She shared the video on the popular social media application TikTok, and so far, the clip has garnered 3.2 million views.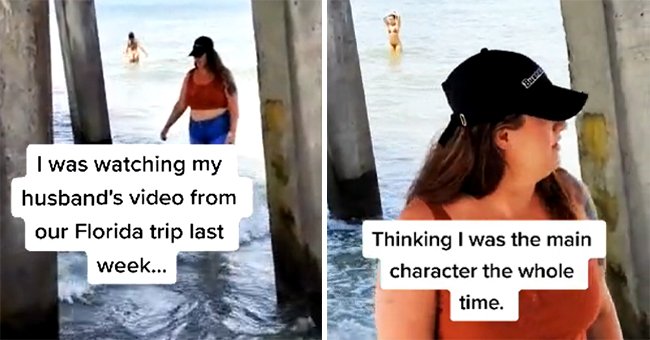 The TikToker shared a 34-second video of her Florida vacation captured by her husband. | Photo: tiktok.com/thicctok5280
In the video, she can be seen posing for her husband, standing underneath a large pier as he captures her different poses. The TikTok star @thicctok5280 then begins to walk through the water as her husband slowly zooms in. She can be heard in the video, saying:
"I was watching my husband's video from our Florida trip last week."
With candid expressions, she continues to move closer to the camera with Bazzi's "Paradise" playing in the background, giving a few poses to her other half. In the video clip shared on TikTok, she can be seen fixing her swimsuit as she poses for a picture.
But to her astonishment, she didn't happen to be the "main character" in the video. As soon as the woman moves out of the camera's focus, her husband doesn't stop filming. In the video, the TikToker says:
"I figured I'd give him a few poses thinking I was the main character the whole time...until I saw who he was really recording (sic)."
He continues to capture the woman standing way behind her in the water, clad in a revealing bikini. According to the information shared in the TikTok video, the woman doesn't realize this until she returns home and re-watches the video.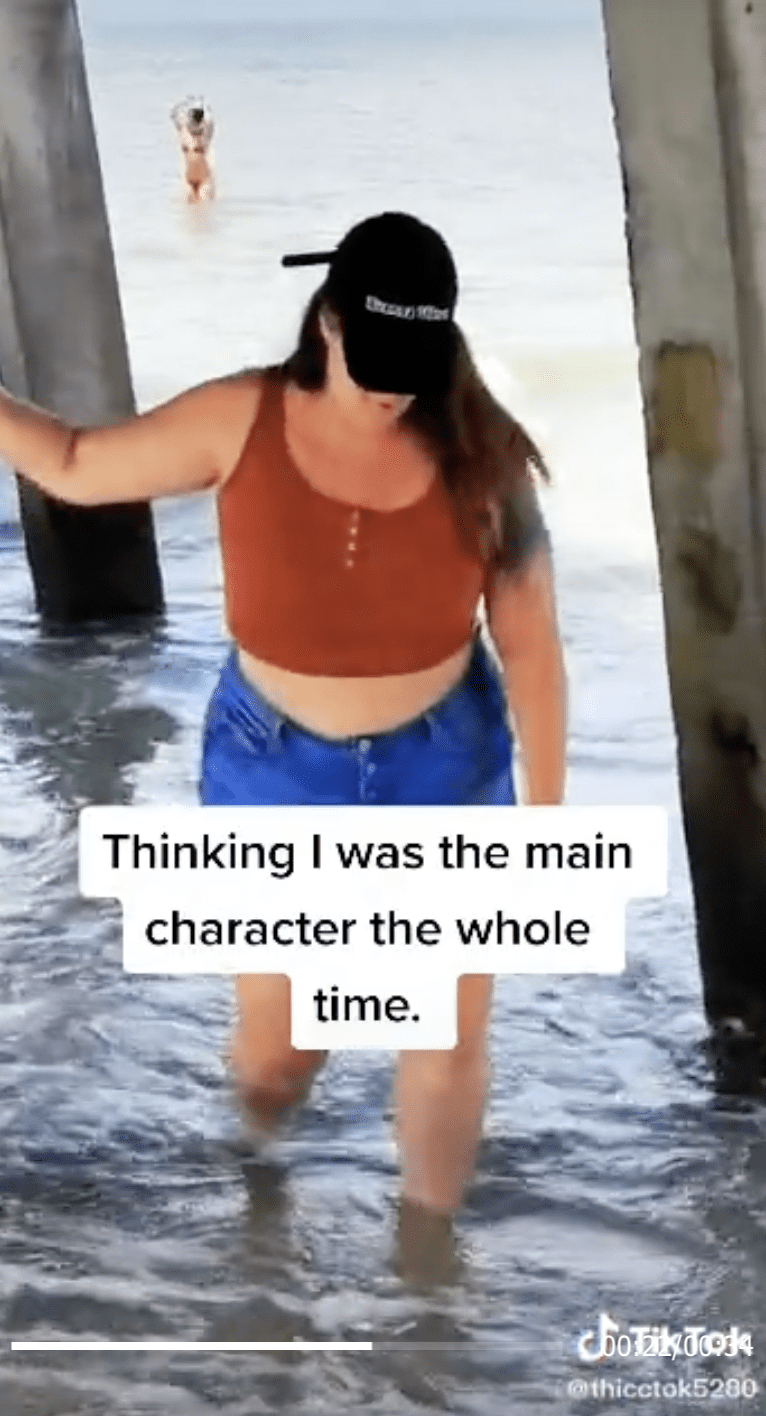 The TikToker shared how she was wrong about being the main character in the video. | Photo: tiktok.com/thicctok5280
The TikTok star's husband can be heard uttering "it's a video" in the clip, following which he tries to zoom in on the woman wearing a bikini even when his wife is out of the frame.
While the TikToker has now disabled comments on the video, several people were quick to share their responses earlier, the majority of which warned her to be careful of her husband. Some even suggested she file for a divorce.
One netizen was shocked at the husband's behavior and said: "He's literally recording a girl without her permission like obviously he definitely hurt your feelings. But you don't think that's even weird?"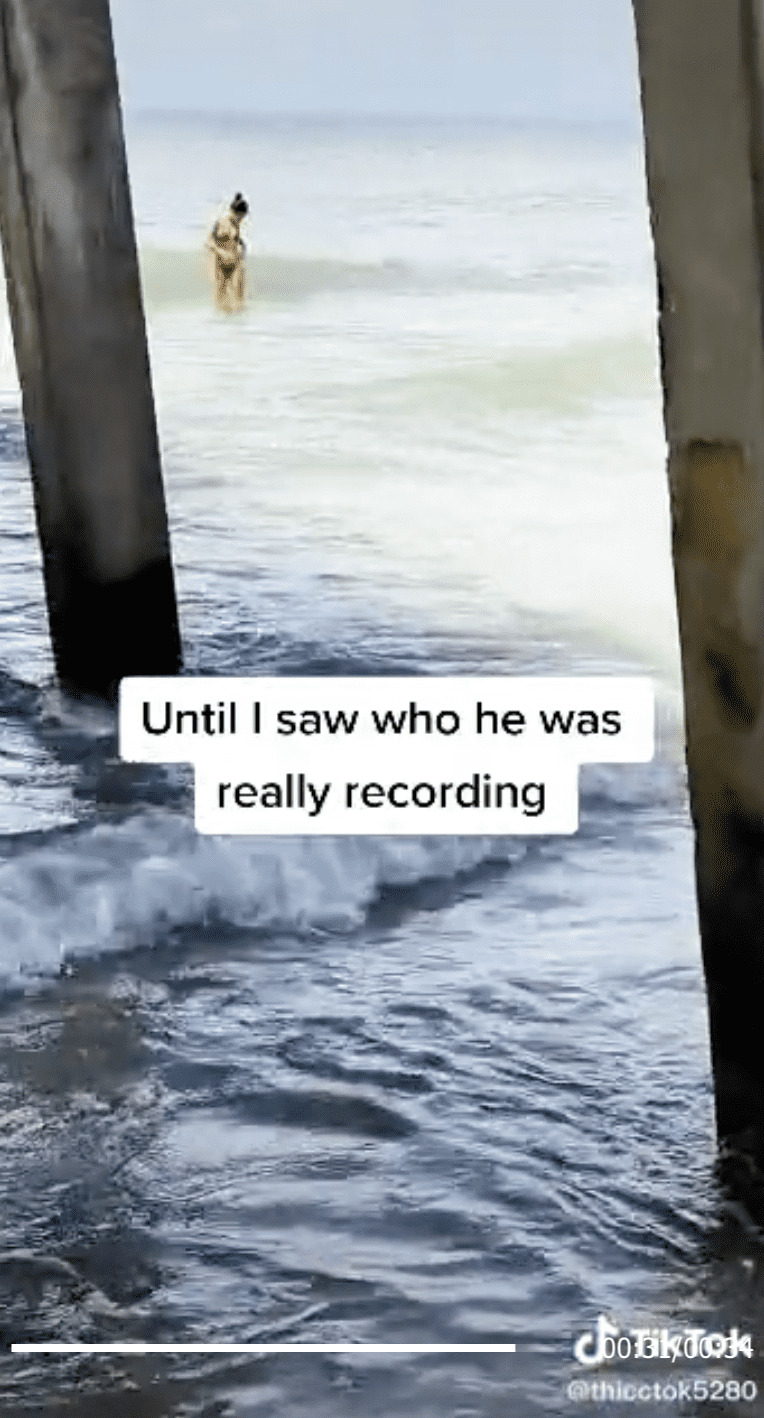 The TikToker shared a video of her husband zooming in on a bikini-clad woman while filming her. | Photo: tiktok.com/thicctok5280
Another user shared they were offended at their partner after watching the video and added: "Girl. I'm mad at my husband now, and he didn't even do anything." A third respondent quickly added: "I'm fine with my other half 'looking,' but documenting will break my heart."
However, the TikToker soon revealed that it was a joke and her husband loves her very much. Despite her clarification, some people were still doubtful of her husband's true intentions.
Please fill in your e-mail so we can share with you our top stories!