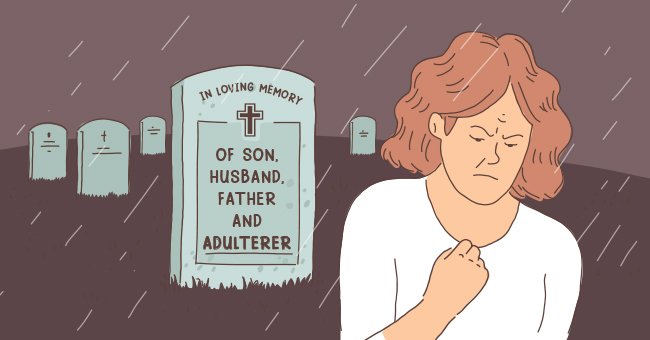 Widow Carved 'Adulterer' into Cheating Husband's Gravestone – His New Family Is Outraged

A woman found out that her husband was cheating on her with his coworker. Upon inquiry, she discovered that his coworker was also married. The news came to her as a shock, but this wasn't it. Her cheating husband was planning to flee the country with the new woman.
A cheating spouse is the last thing anyone would wish to have. Not only is this unacceptable for the partner, but it is also illegal by law in many parts of the US and several other countries around the world. You can go to jail for having an extramarital affair.
What happens when your cheating spouse dies? Do you forgive them or hold grudges against them for the rest of your life? It's not easy to pardon your cheating partner no matter what happens. A Redditor opened up about his deceased father cheating on his mother.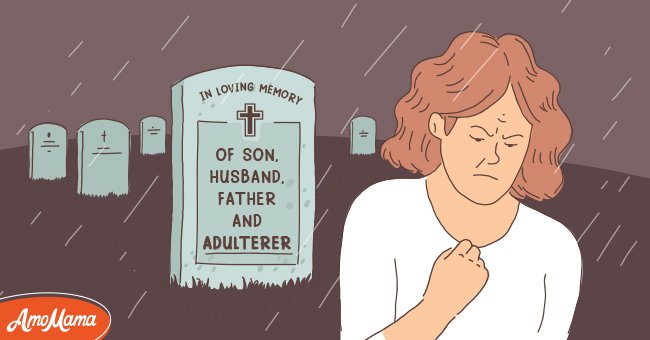 Source: Amomama
A BITTER MARRIAGE
A Reddit user, One-Poetry9190, shared that his parents had a very bitter married life because his father had an extramarital affair with his married coworker. They had been seeing each other for a long time, and now the other lady was pregnant with their child.
The OP (Original Poster) revealed that his father planned to leave the country with his girlfriend to start a new life. He wasn't ashamed of his extramarital affair, and neither did he feel guilty about cheating on his wife. He was looking forward to a happy life with the new woman.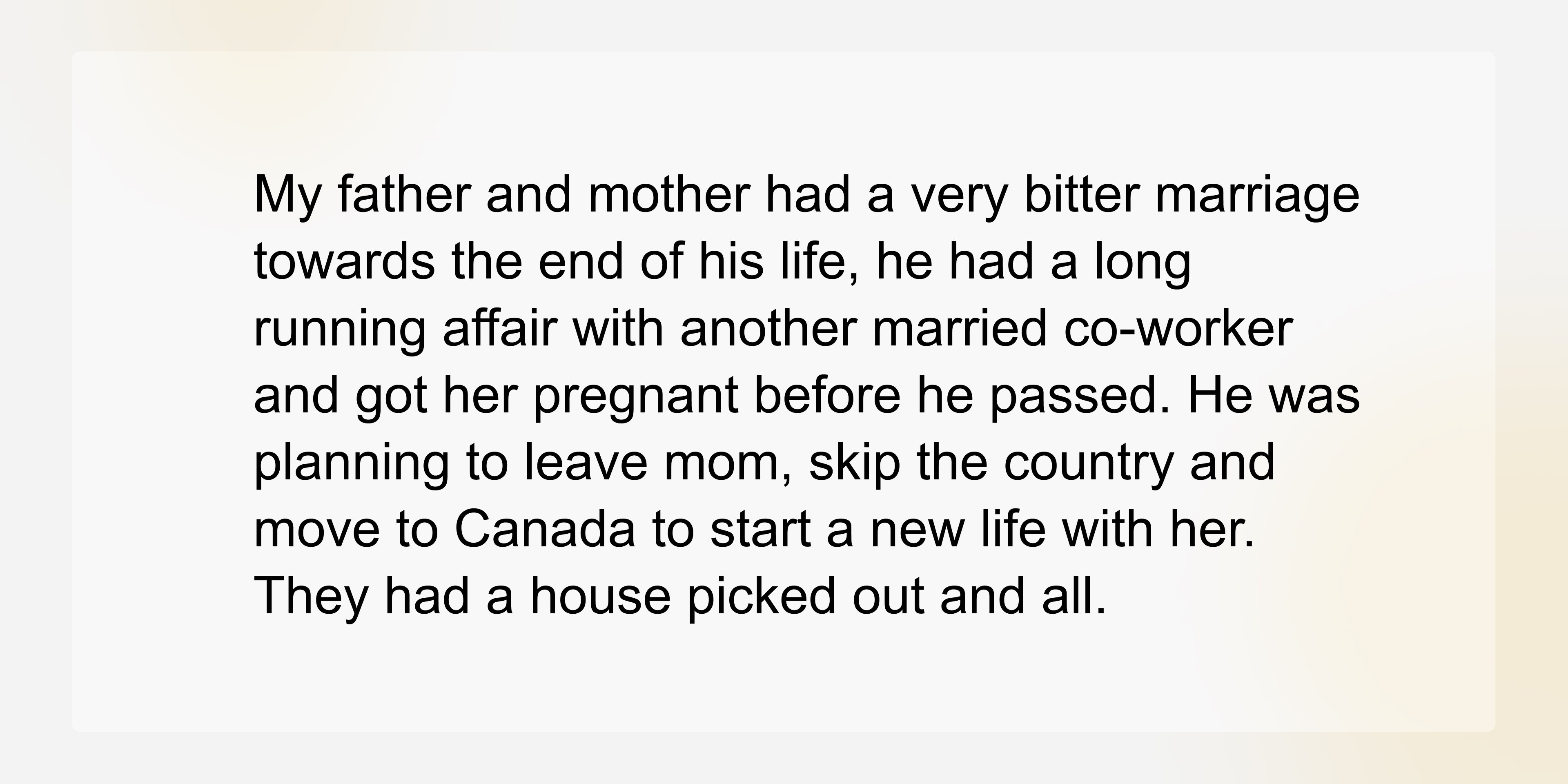 Source: Reddit
FATHER DIED OF A HEART ATTACK
The OP's father had left their house and started living with his girlfriend. Neither did he divorce his wife and nor was he legally separated in the eyes of the court. Not getting divorced turned out to be beneficial for the OP's mother after the man passed away.
The OP's father died of a heart attack while he was at his girlfriend's house. He was still married to the OP's mother, which meant his estate would go to his wife if he didn't leave a will behind. Some states allow the spouse to take over the entire estate after a person dies, while others give some part of it to the children.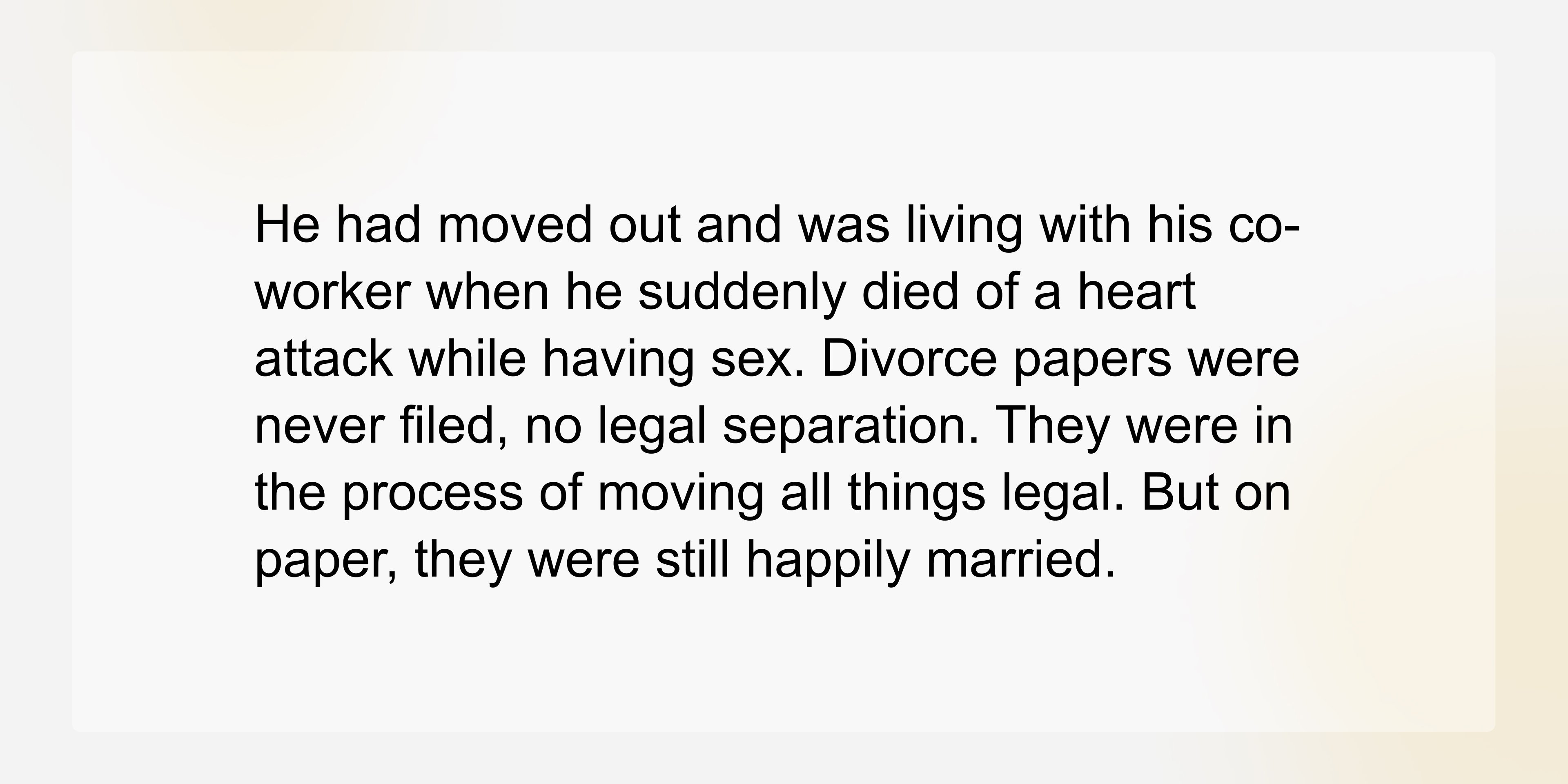 Source: Reddit
After hearing about his father's demise, the OP returned to his mother's house and helped with the estate paperwork. They expected to receive everything from the man's estate since he wasn't married to the other woman. A Redditor commented:
"Also, while going through estate papers and talking to lawyers, ask about what rights the side piece will have in claiming the money for her kid, since it was your dad's kid too. Just so you're all prepared."
Could the other woman claim money once she gave birth to her child? According to law, minor children cannot receive their share of inheritance until they turn 18. Till then, the court decides who keeps the minor child's money, and that person is not necessarily the child's parent.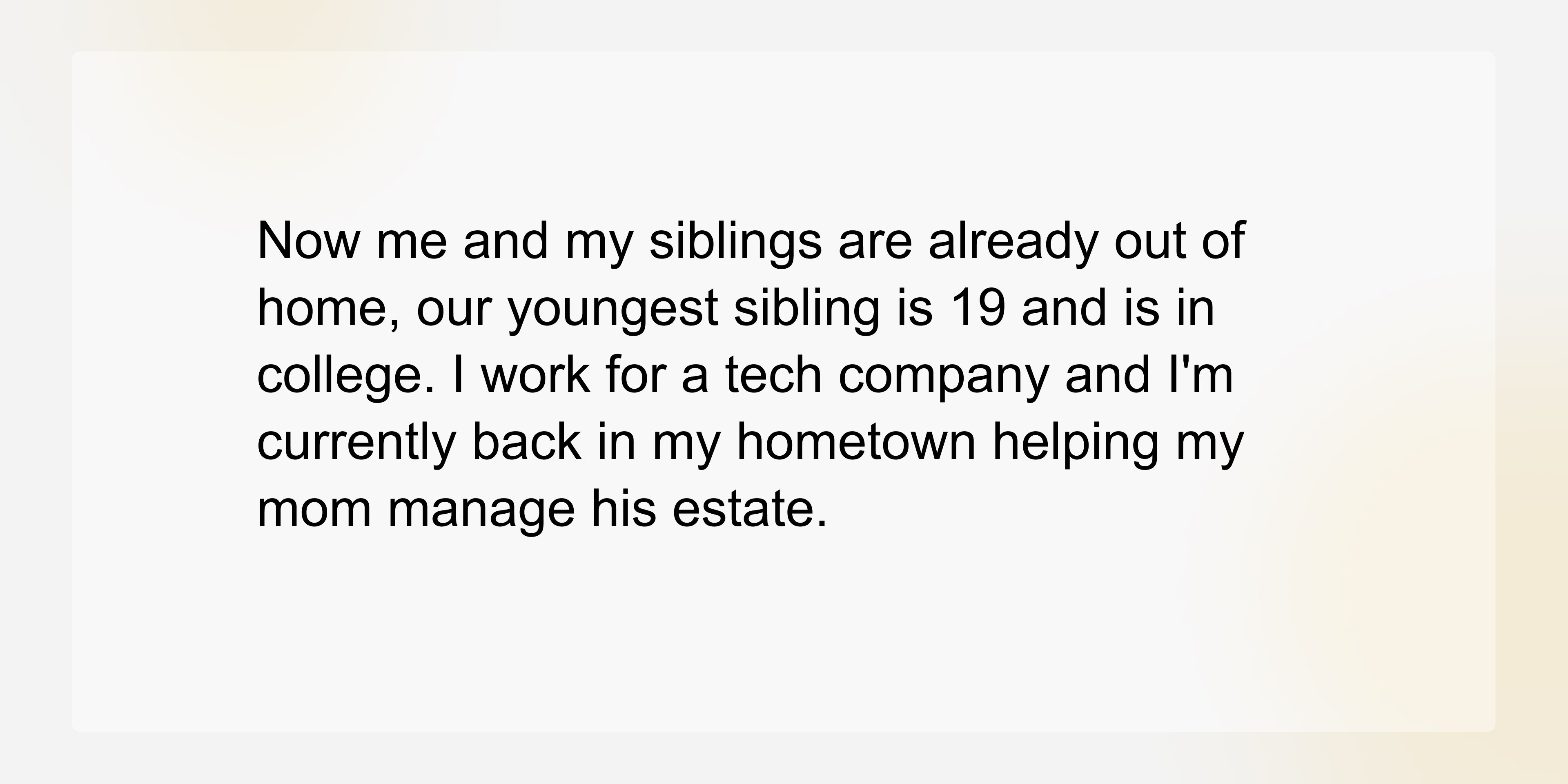 Source: Reddit
THE GRAVESTONE
The Redditor's mother was upset about her husband cheating on her, so she decided to do something to take revenge. She got the word "Adulterer" engraved on his gravestone to show the world what kind of a person he was. Other users were surprised after reading the post, and one of them commented:
"Your mom is the mvp I love her"
Her mother's savage move was a reaction to what the man did to her while he was alive. He left her for another woman, and no spouse wants to be treated like that. Other Redditors supported her move, and one of them asked her to burn his clothes as well.

Source: Reddit
SHOULD THE OP CHANGE THE GRAVESTONE?
While the online community supported the woman's move, her husband's girlfriend and relatives did not like it. They reached out to the OP and asked him to replace the gravestone, but he refused. He also updated the post with what's happening in their lives recently:
"Side piece is currently 9 months pregnant, about to pop anyday. My mom has lawyered up and since my dad died intestate, according to our state laws everything goes to mom. Mom won't leave anything for side piece. She is going to leave it for us once she passes."
Should the OP change the gravestone, considering that so many people are angry at him? He thinks what's written on the headstone is accurate, and there is no need to change it. What do you think?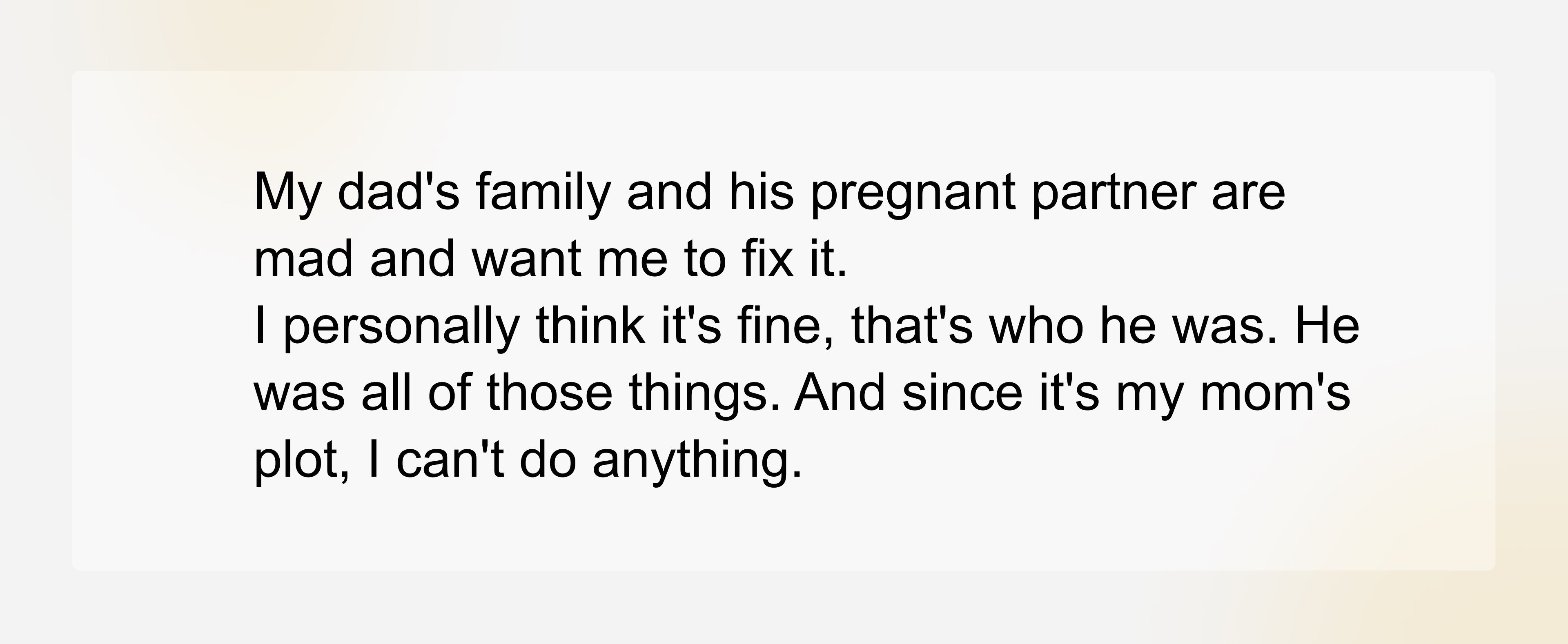 Source: Reddit
WHY DO PEOPLE CHEAT ON THEIR SPOUSES?
According to a survey, 22% of men have been in an extramarital affair. In comparison, only 14% of women have done the same despite the majority of the population regarding infidelity as something highly unacceptable. Research tells that men and women have different motivations to cheat on their spouses.
Men usually cheat because of a lack of physical intimacy with their spouses. If their spouse turns down sex and their physical needs aren't satisfied, they feel unloved and search for other women who can please them.
On the other hand, women have different motivations. Most women cheat on their spouses because they don't have an emotional connection with them. Women crave attention from their husbands and want to be appreciated. If they are ignored, they look for men who can satisfy their emotional needs.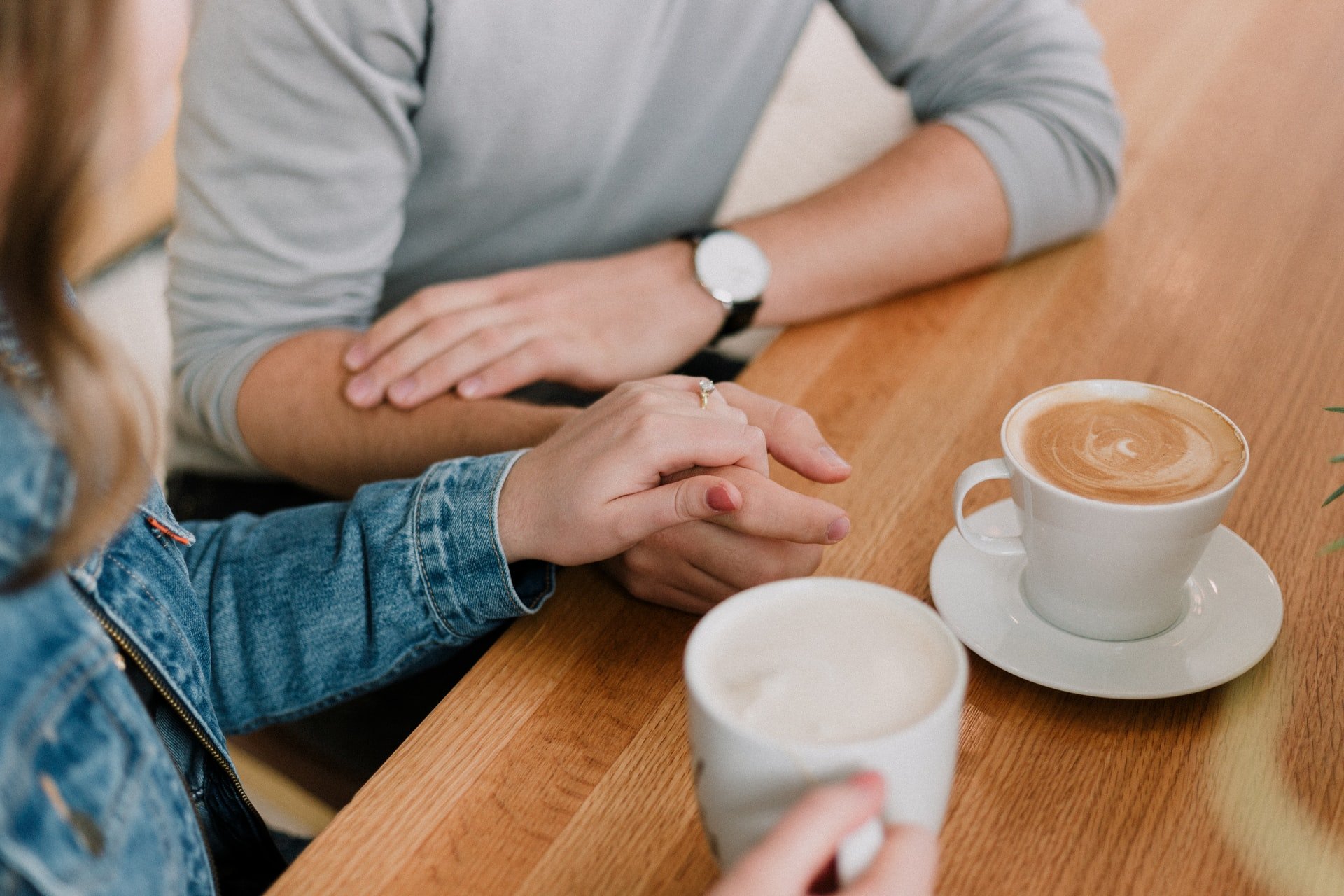 Man and woman holding hands | Source: Unsplash
Some people also cheat because they don't find their partners attractive anymore. You may have heard stories of men cheating on their wives with girls almost half their age. They want to prove that they can still charm another person as they used to when they were young.
If someone has seen their parent cheat on the other, they are also likely to follow in their footsteps. According to research, children exposed to infidelity are more likely to cheat on their spouses than kids who weren't exposed to it.
Psychological issues and mental disorders are also risk factors when it comes to cheating on one's spouse. If a couple is compatible and has no communication barriers, they are most likely to remain faithful to one another.
What do you think? Why do people cheat on their spouses? We'd love to know your thoughts on this article. If you liked this one, you might want to read about the man who asked his wife to get his name tattooed on her, and she refused.
Please fill in your e-mail so we can share with you our top stories!