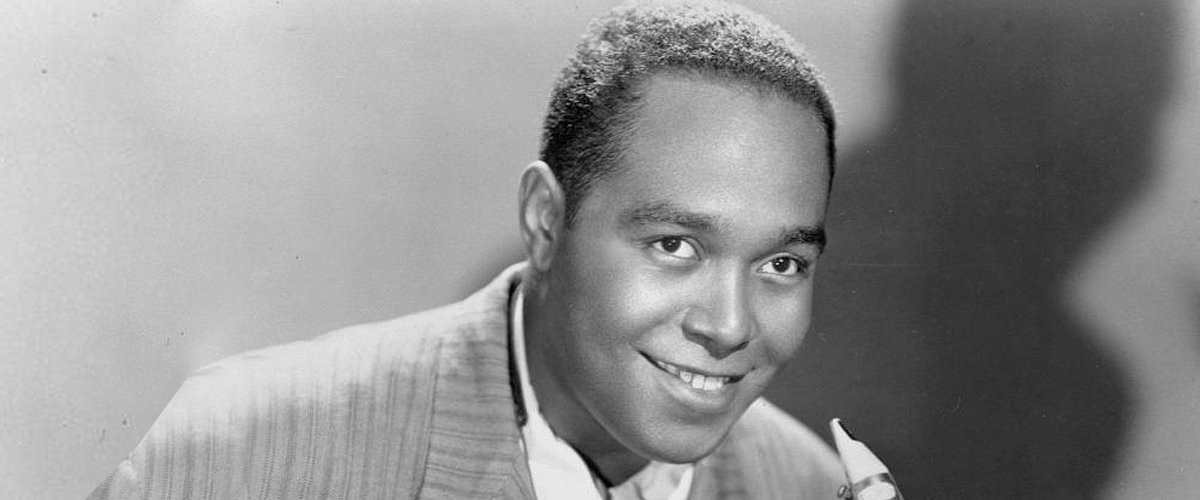 Getty Images
Charlie Parker Tried to Take His Life Twice after Daughter's Death in 1954 - Inside His Life
Charlie Parker was a highly influential jazz saxophonist and was highly influential in the development of bebop. However, he was addicted to heroin and attempted suicide twice following his daughter's death.
The death of a loved one can be very difficult to take. Some persons might find it difficult to deal with such losses and end up harming themselves.
Such was the case of late jazz musician Charlie Parker, who tried taking his own life after his daughter's death. Find out about the musician's tragic life, his career, marriages, his death at 34, and his legacy.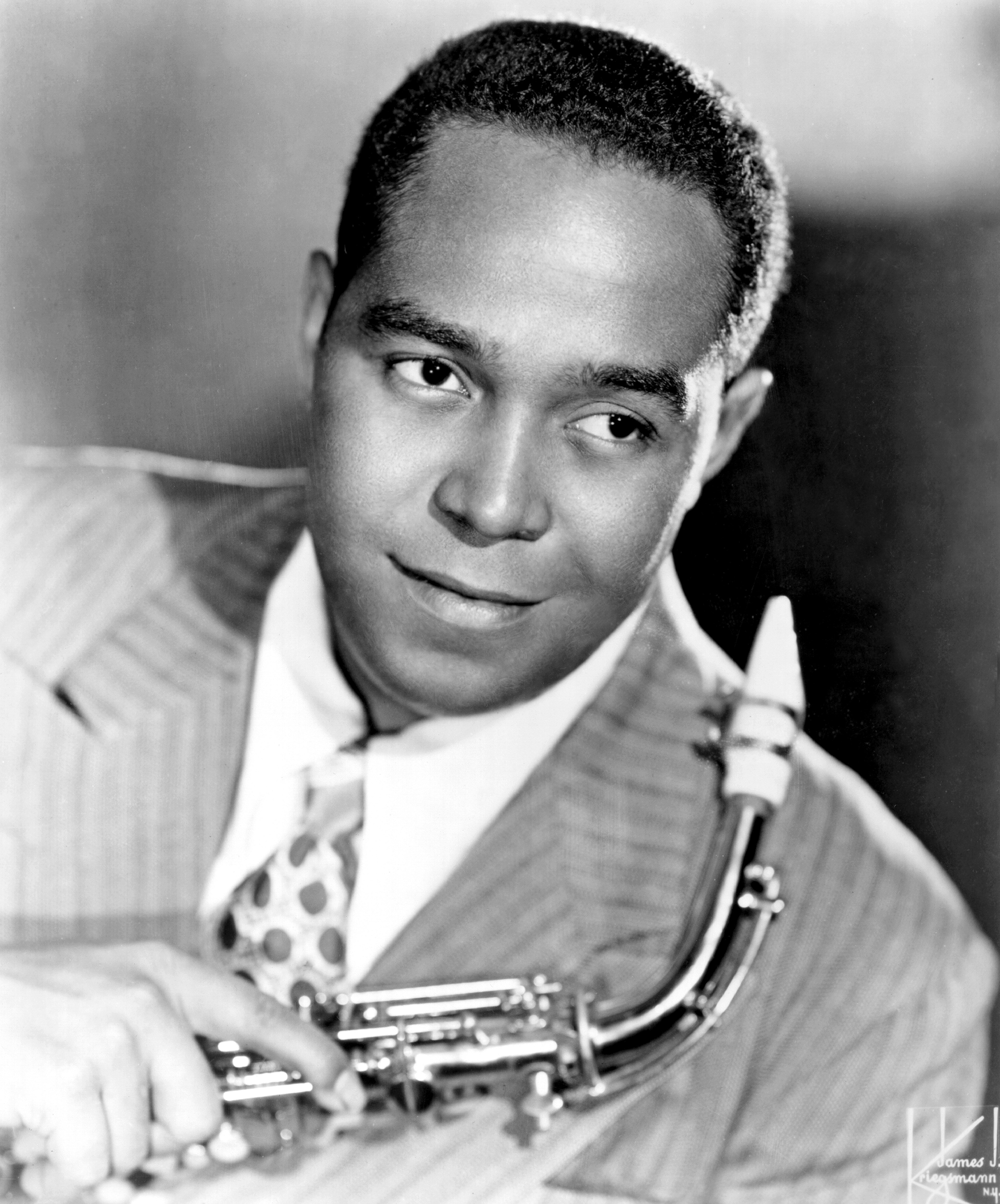 Jazz Musician Charlie Parker poses with his saxophone in the Kriegsmann Studios in New York, circa 1946. | Photo: Getty Images
CHARLIE'S EARLY LIFE
The iconic musician was born on August 29, 1920, as Charles Christopher Parker Jr. His birthplace is Kansas City, Kansas. His father was Charles Parker, an African-American stage entertainer, while his mother, Addie Parker, was a maid-charwoman of Native American heritage.
Charlie did not have much of a childhood. His father often went drinking and spent his time in nightclubs. Charles and Addie separated four years after their son's birth, but they later reconciled before splitting finally in 1932.
After their final split, Addie started working late nights as a custodian and taking in boarders to fend for herself. Hence, Charlie was left to wander the streets. He hung out in alleyways behind nightclubs and played music late into the night. He also encountered drugs at an early age.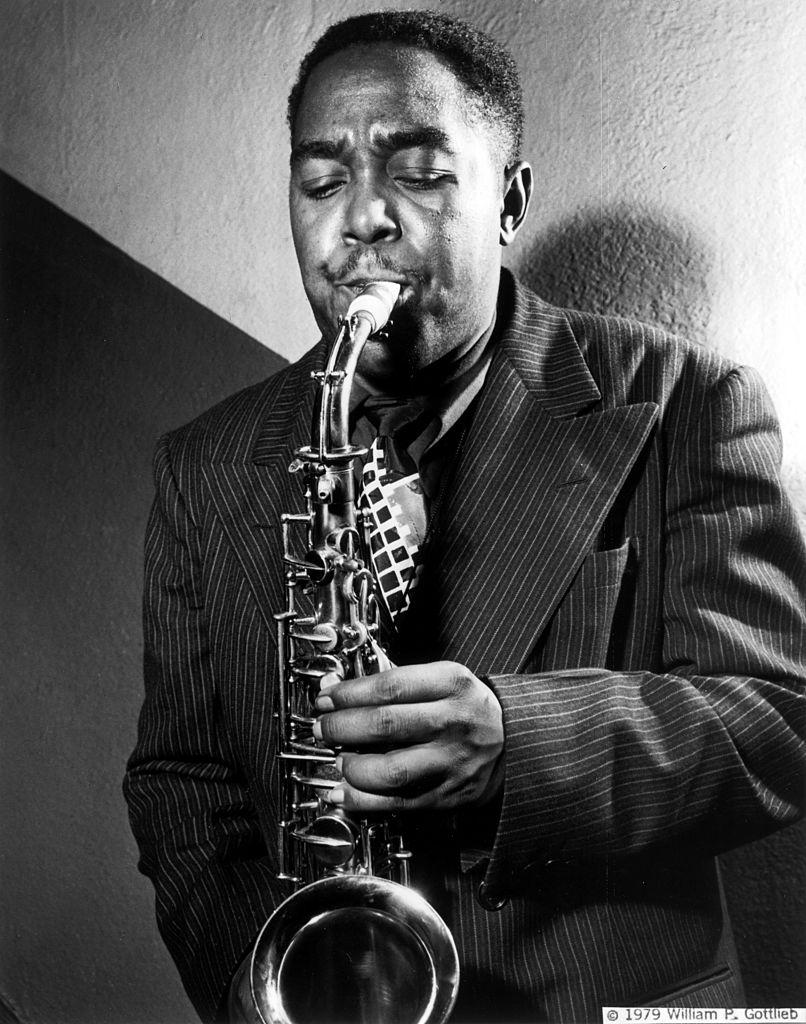 American Jazz musician Charlie Parker as he plays saxophone in New York, circa 1940. | Photo: Getty Images
Kansas City was a city that loved music, so the young Charlie discovered his musical talents by taking lessons at public schools. In his teenage years, he played the baritone horn for his school band.
At 15, he discovered his passion for the alto saxophone, and it became his instrument of choice. His mom had given him a saxophone years earlier following her separation from his dad to cheer him up.
As a high school student, Charlie played with bands on the local scene and loved playing the sax so much that he decided to drop out of school in 1935 to pursue a full-time musical career.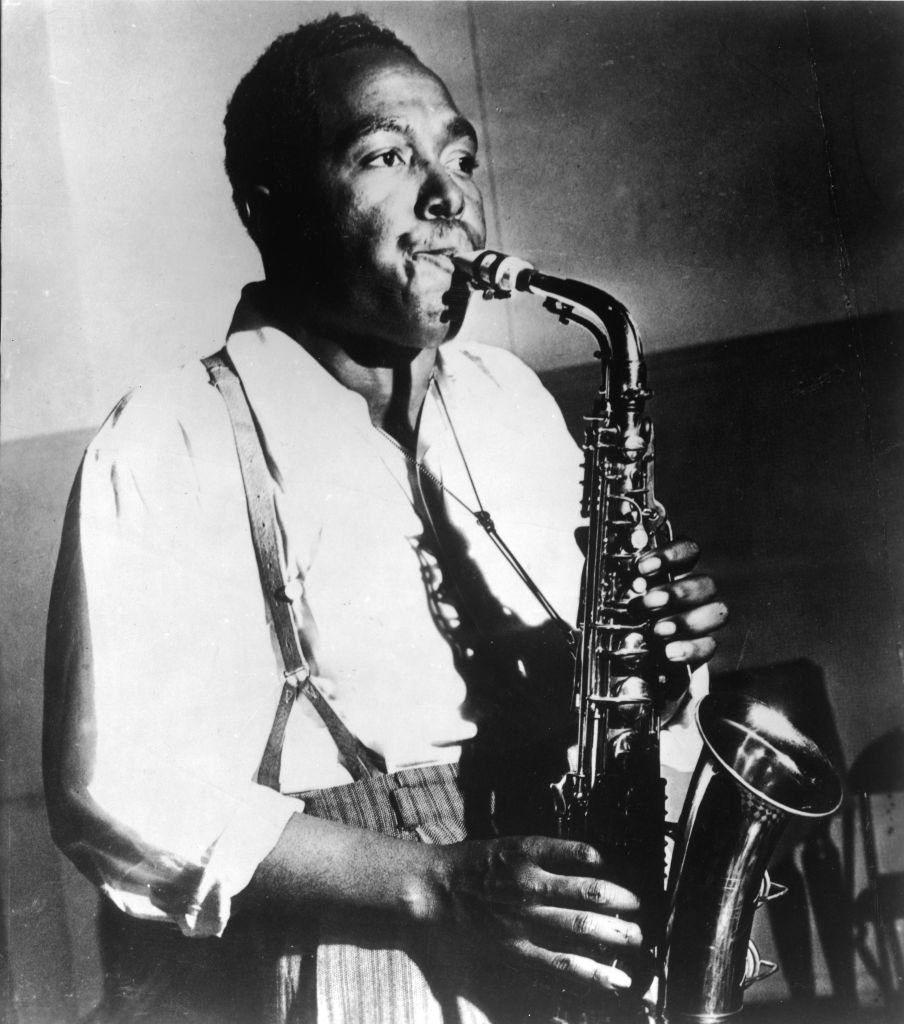 American jazz saxophonist Charlie Parker performs on stage, circa 1940. | Photo: Getty Images
CHARLIE'S EARLY MUSICAL CAREER
Charlie played in the Kansas City, Missouri nightclub scene from when he was 15 to 19. He played with local jazz and blues bands like Buster "Professor" Smith's band and pianist Jay McShann's band.
In 1939, Charlie went to New York City and stayed there for nearly a year. While there, he worked as a professional musician and for pleasure.
After staying in New York, he performed regularly at a Chicago club before returning to the Big Apple permanently. To sustain himself, he washed dishes for a while before getting his big break.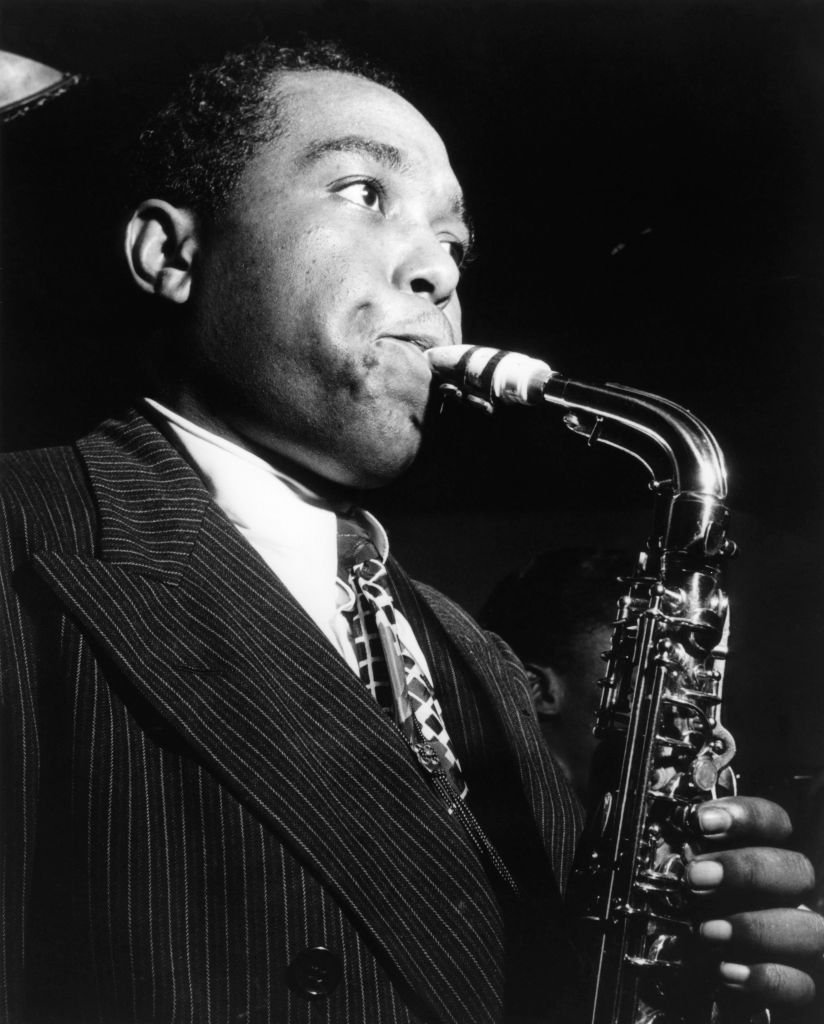 Portrait photo of Charlie Parker playing a saxophone circa 1940. | Photo: Getty Images
CHARLIE'S MUSICAL SUCCESS
While Charlie was working in New York, he met Biddy Fleet, a guitarist. Their encounter turned out to be a successful one and led to the creation of something new. While they were playing music together, Charlie discovered a signature technique.
His new discovery involved playing a chord's higher intervals for the melody and then making changes to back them up accordingly.
Later in the year of Charlie's new discovery, he went back to Kansas City for his dad's burial. After the funeral, he joined Harlan Leonard's Rockets and remained in Missouri for five months.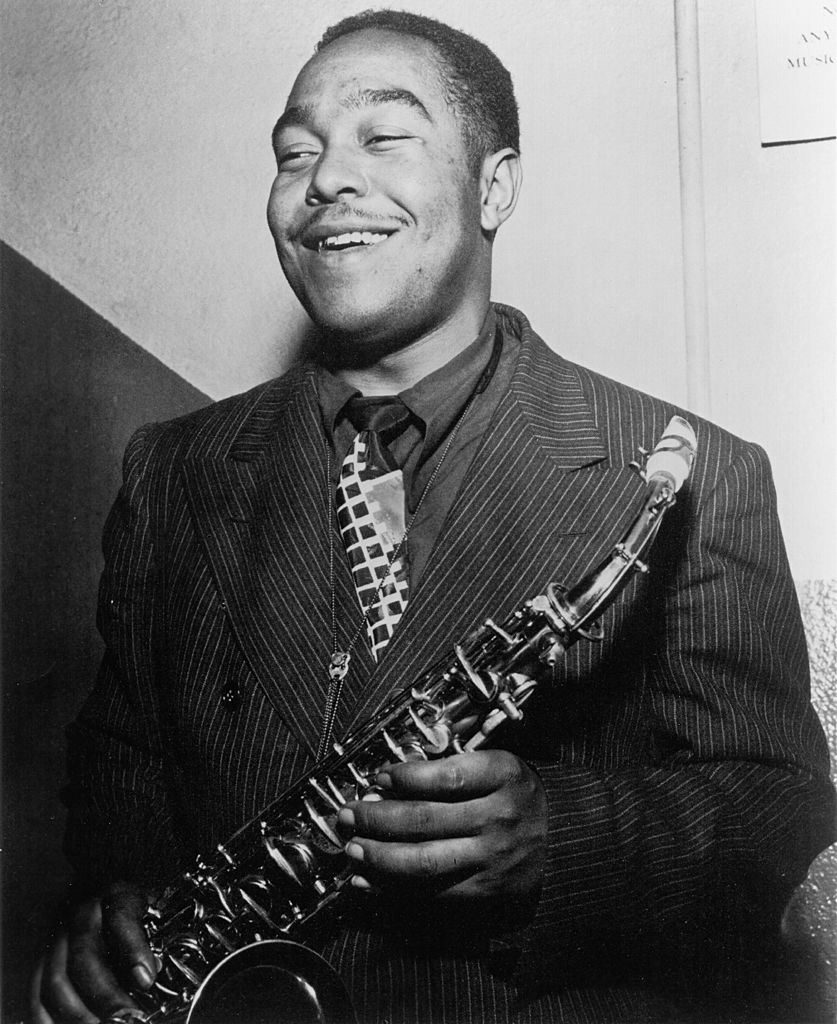 Portrait photo of Charlie Parker with a saxophone circa 1940. | Photo: Getty Images
Charlie went back to New York City and teamed up with Jay McShann's band, with whom he made his first recording in 1940. He and McShann's band remained together for four years.
In those years, he had the opportunity to perform solo on their recordings. Also, Charlie earned his famous nickname, "Bird," a shortened form of "Yardbird."
Tales have it that he was given the nickname either because he was free as a bird or for accidentally hitting a chicken known as a yardbird while driving on tour with the band.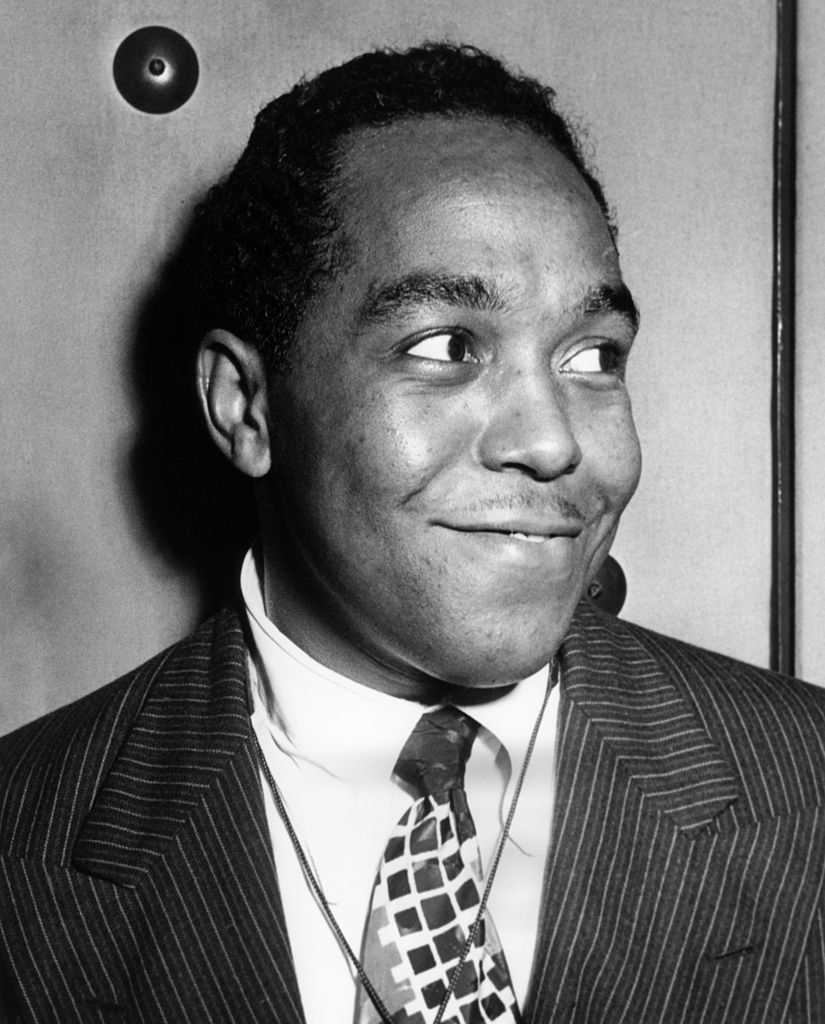 Portrait of Charlie Parker smiling circa 1940. | Photo: Getty Images
HOW CHARLIE CREATED BEBOP
While Charlie was performing with McShann's band in Harlem in 1942, two burgeoning jass musicians, Dizzy Gillespie and Thelonious Monk, watched his performance and were impressed by his performance.
Later in 1942, Charlie agreed to an eight-month gig with Earl Hines. Two years after, he joined the Billy Eckstine band. By 1945, Charlie had reached a level of musical maturity.
Charlie found it hard to deal with his daughter's death and tried to take his own life twice in 1954.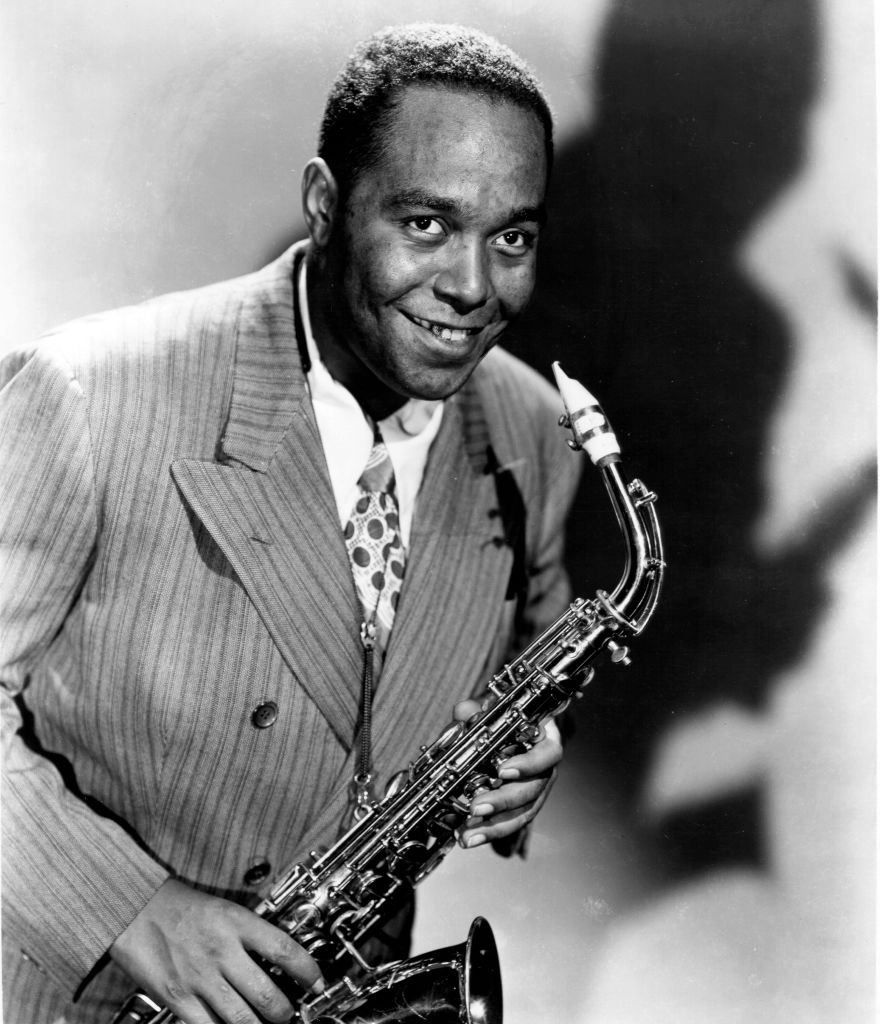 Charlie Parker poses for a portrait in the studio circa 1945. | Photo: Getty Images
Then, he was the leader of his own musical group while playing with Dizzy Gillespie. At the end of 1945, Charlie and Gillespie started a six-week nightclub tour in Hollywood.
Both musicians invented a previously unknown style of jazz called bop or bebop. Charlie stayed in Los Angeles after the tour ended and continued to perform there until the summer of 1946.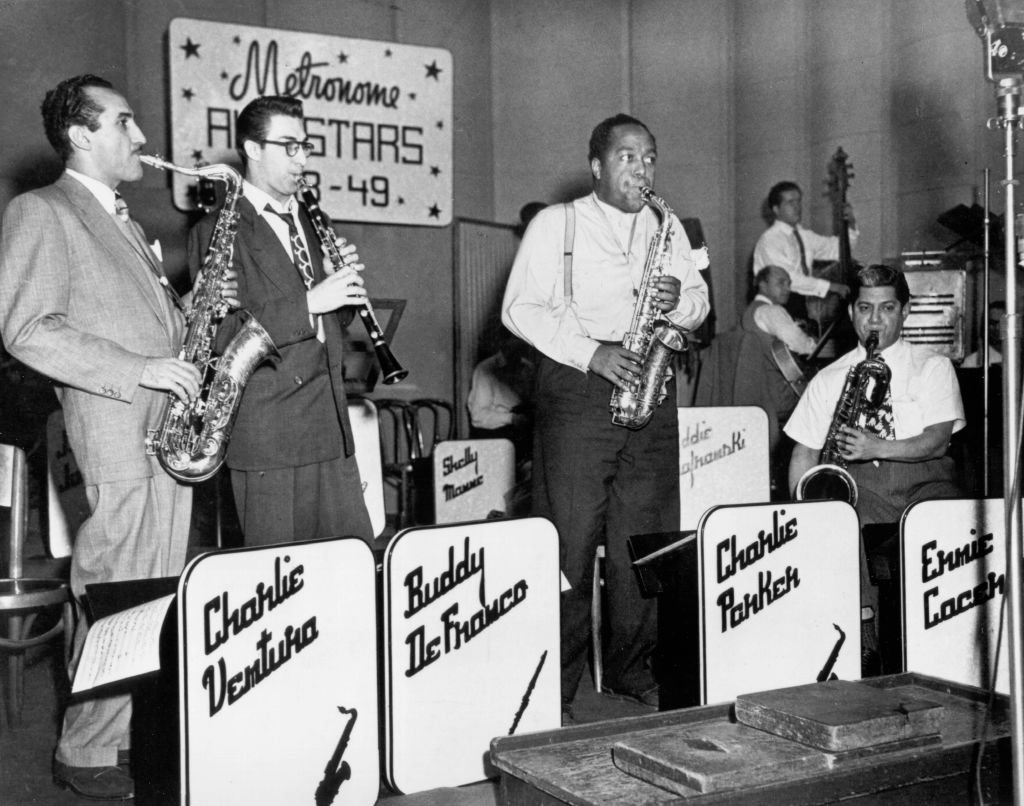 Charlie Parker performing with the Metronome All Stars, circa 1949. | Photo: Getty Images
He was hospitalized for a period after which he returned to New York in 1947. In New York, he formed a quintet and performed some of his most popular songs like "Cool Blues" with his group.
From 1947 to 1951, Charlie performed in groups or as a solo artist at several venues, including radio stations and nightclubs. He was signed to different record labels like Dial, Savoy Records, and Mercury.
In 1949, he debuted in Europe when he played at the Paris International Jazz Festival. In 1950, he visited Scandinavia. Charlie had the Birdland Club in New York named after him and made his final public appearance there in March 1955, one week before his death.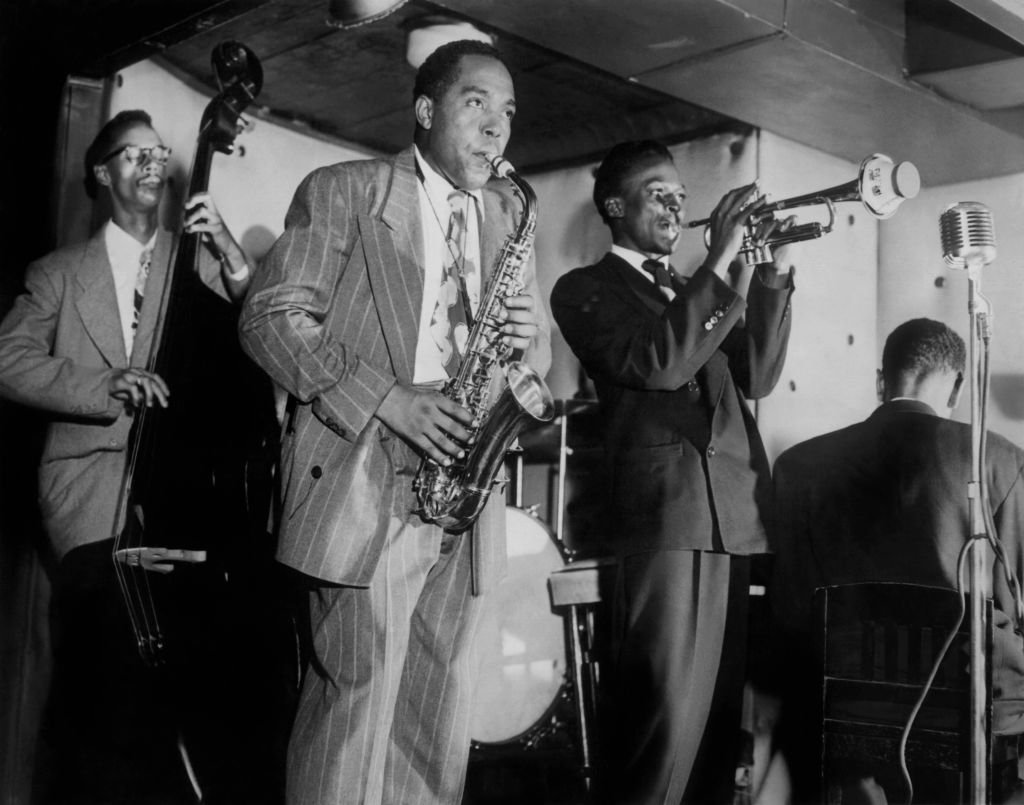 The Charlie Parker Quintet perform at the Three Deuces in New York circa 1947. | Photo: Getty Images
CHARLIE'S HEROIN ADDICTION
Charlie battled with heroin addiction, alcoholism, and mental illness throughout his adult life. He was known to work tirelessly on his craft and practiced his saxophone night and day.
However, he was often fueled by Benzedrine and was a speed and heroin user till his death. In his book, "Bop Apocalypse," Martin Torgoff suggested Charlie's heroin addiction helped to make him a musical genius.
If indeed Charlie's heroin addiction aided his musical greatness, it also hampered his health and ultimately led to his death.
In late 1946, the musician suffered a nervous breakdown while performing in Los Angeles and was taken to a mental hospital afterward. Charlie's drug use also inhibited his marriages and relationships.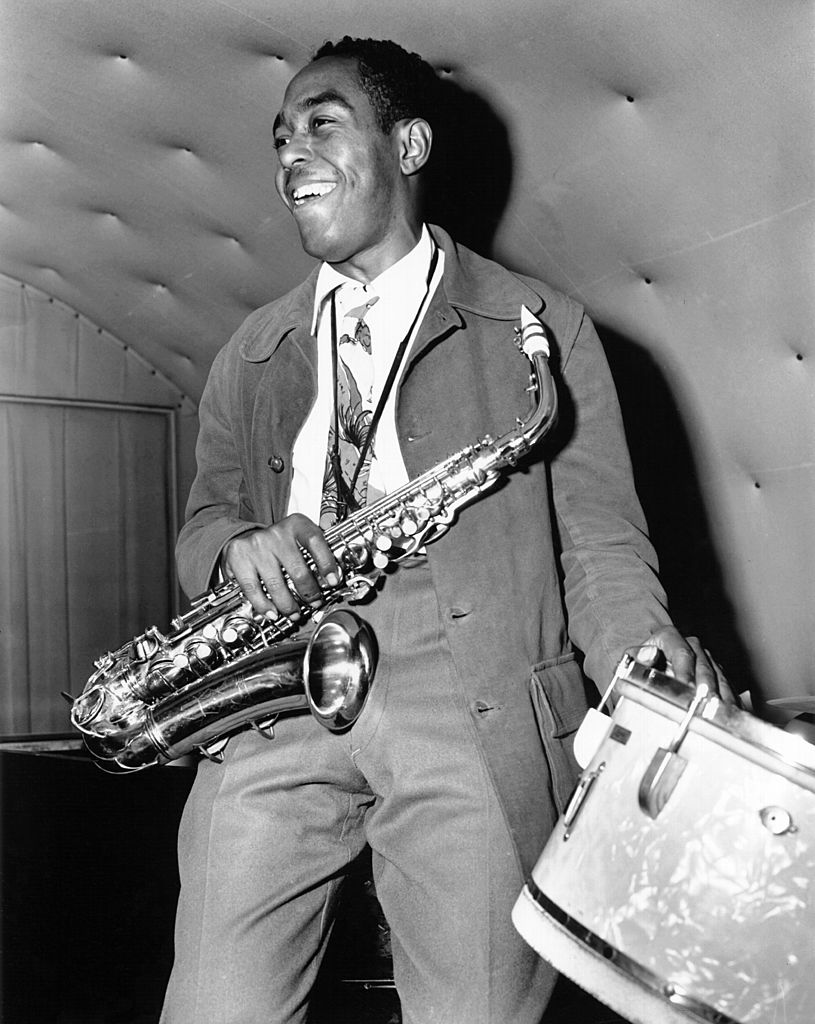 Photo of Charlie Parker smiling holding his saxophone circa 1945. | Photo: Getty Images
CHARLIE'S MARRIAGES
Charlie's struggle with heroin addiction took its toll on his relationships. In 1936, he married for the first time to Rebecca Ruffin. At the time of their marriage, he was already abusing drugs and alcohol.
Charlie and Ruffin shared two children but divorced three years after tying the knot. In 1942, the saxophonist married for the second time to Geraldine Scott. His marriage with Scott was blighted, causing him to turn to heroin as an escape. It did not take long for him to leave Scott.
In 1948, Charlie was newly cleansed from drug use and married Doris Snyder. However, their union fell apart after he returned to using drugs. After their divorce in 1950, his drug use worsened. Snyder, however, died of respiratory failure in January 2000. She was 77.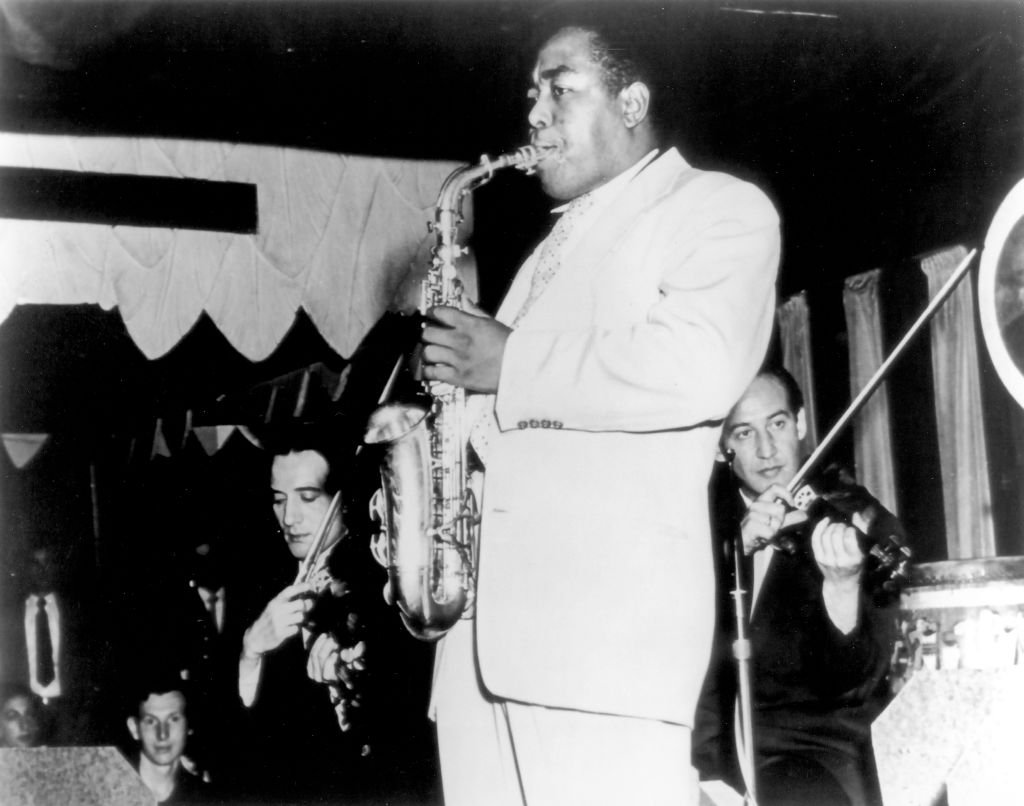 American jazz saxophonist Charlie Parker performing, with a string section, New York City, 1949. | Photo: Getty Images
Charlie met Chan Parker (nee Richardson) in the early 1950s. After they started a relationship, she took his last name and gave birth to his two children, a daughter named Pree and a son named Baird.
Chan recounted the harrowing details of her life with Charlie in her remarkable memoir, "My Life in E-flat." In March 1954, Chan and Charlie's daughter, Pree, who was born with a heart defect and cystic fibrosis, died at two and a half years old.
Julie Macdonald, a sculptor, described Charlie's reaction after hearing about Pree's death. She said he drank heavily and sent multiple increasingly desperate telegrams to Chan.
In his fourth telegram, he told her he would be with her as soon as he could. He then poured another scotch down the toilet, gave out his remaining supply of heroin before heading to the airport.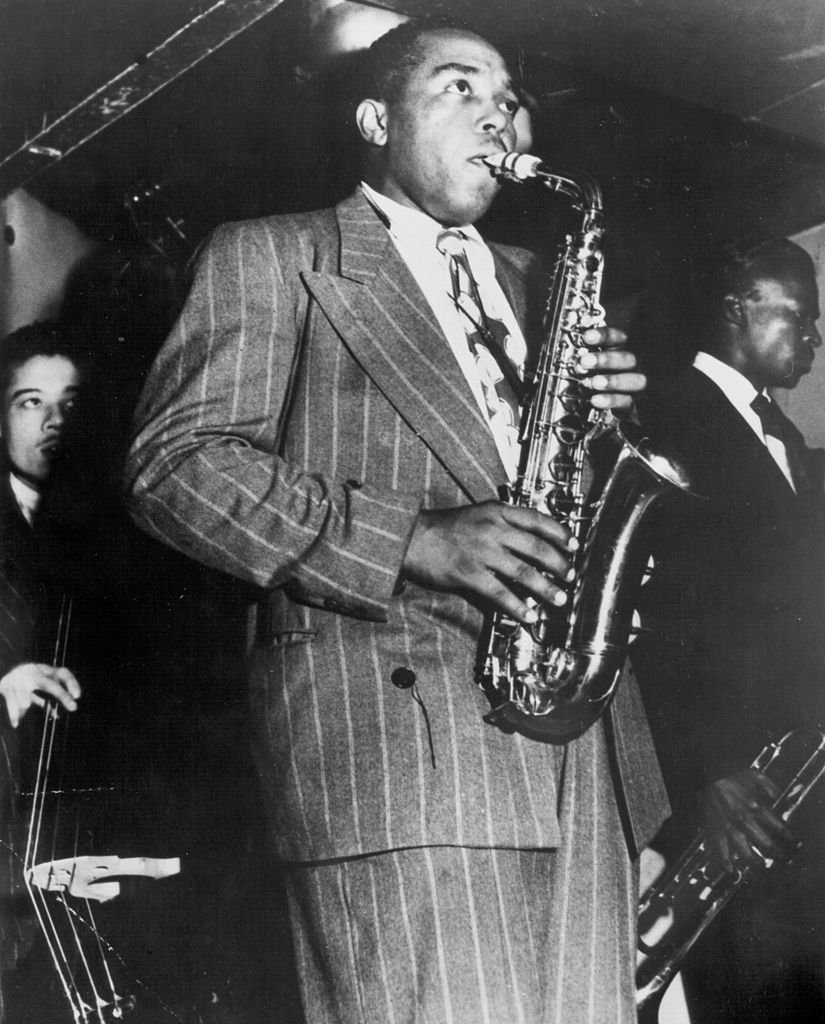 Portrait photo of Charlie Parker playing his saxophone circa 1940. | Photo: Getty Images
Charlie found it hard to deal with his daughter's death and tried to take his own life twice in 1954 by drinking iodine. Although he survived both suicide attempts, he never fully recovered as he slipped into deeper physical and mental health troubles.
His reputation was damaged beyond repair as club owners did not allow him to play. In 1955, he visited his friend, Baroness Pannonica de Koenigswarter, where he suffered an ulcer attack.
Charlie refused to visit the hospital and died on March 12, 1955, in Koenigswarter's home in New York City. The cause of his death was given as lobar pneumonia and the devastating effects of long-term drug abuse.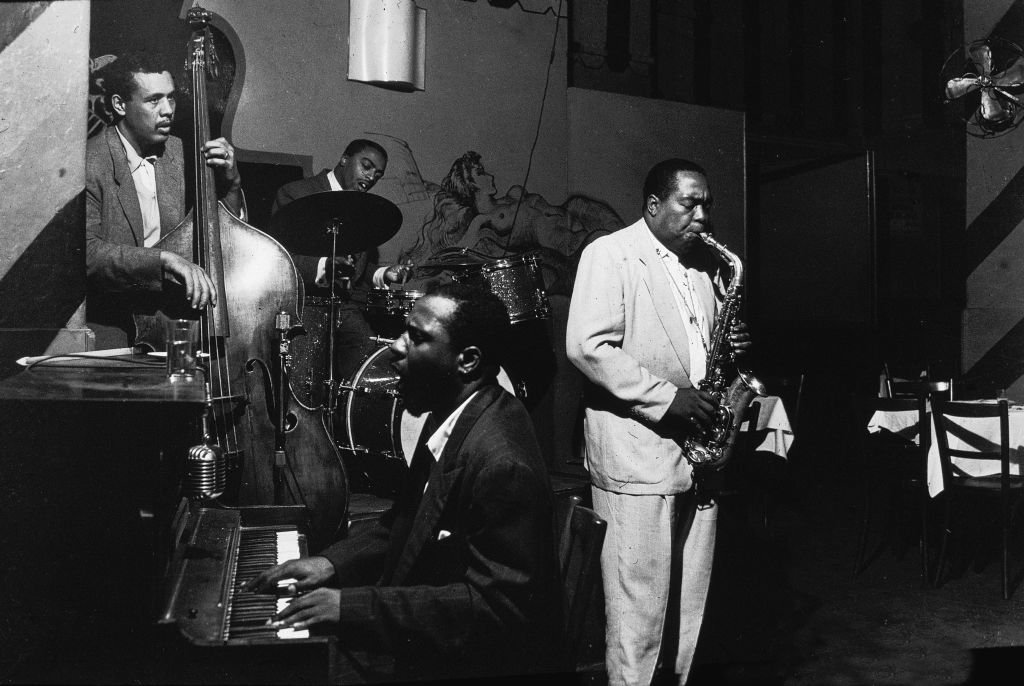 Jazz Saxophonist Charlie Parker performs at the Open Door, New York on September 13, 1953. | Photo: Getty Images
After Charlie's death, Chan remarried to Phil Woods in 1957. Woods was also a jazz alto saxophone player. However, their marriage ended in divorce.
Chan brought Clint Eastwood the idea for his 1988 film "Bird," which was a biography of her late husband. Eastwood directed the movie while Chan was his consultant.
For several years, Chan and several parties also slugged it out in court over Charlie's estate and reportedly settled out of court. She died of cancer in January 2000, aged 74.
The National Suicide Prevention Lifeline is 1-800-273-8255. Other international suicide helplines can be found at befrienders.org.
Please fill in your e-mail so we can share with you our top stories!
news.AmoMama.com does not support or promote any kind of violence, self-harm, or abusive behavior. We raise awareness about these issues to help potential victims seek professional counseling and prevent anyone from getting hurt. news.AmoMama.com speaks out against the above mentioned and news.AmoMama.com advocates for a healthy discussion about the instances of violence, abuse, sexual misconduct, animal cruelty, abuse etc. that benefits the victims. We also encourage everyone to report any crime incident they witness as soon as possible.