Getty Images
Inside the True Story of Serena and Venus Williams' Father 'King Richard'
Tennis legends Venus and Serena Williams owe their on-the-court escapades to their father and mentor, King Richard. He singlehandedly groomed his daughters into the champions the world came to know, pushing them to tennis stardom.
The history of the legendary Williams' sisters is incomplete without mentioning their dad, Richard Williams. Aside from dominating the tennis world for decades, Venus and Serena Williams have imparted the entire sports realm in several ways.
These breakthroughs have immortalized the sisters as the two most influential women in sports. Here is all we need to know about the brains behind the molding of the sisters, from toddlers toying with rackets in their strollers to the greatest tennis players of all time.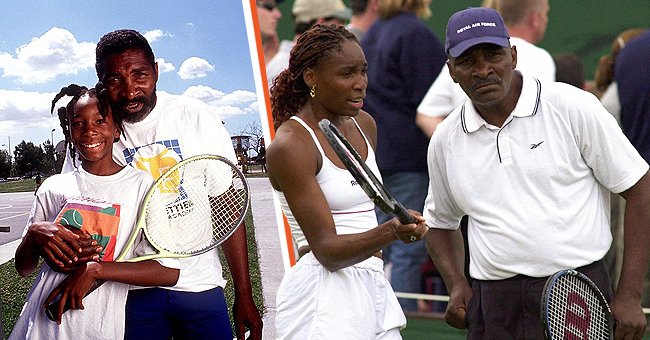 Venus Williams with Richard Williams, at Compton, California on June 5, 1991 [left]. Venus Williams and her father Richard Williams discuss during a training session on July 1, 2000 [right] | Photo: Getty Images
MEET KING RICHARD
Richard Williams is an American tennis coach and the father of tennis champions Venus and Serena Williams. He was born in Shreveport, Louisiana in 1942, but eventually moved to California, where he kicked off his daughters' careers.
He has several biological kids from his numerous marriages, but Venus and Serena remain his protégé set to carry on his legacy.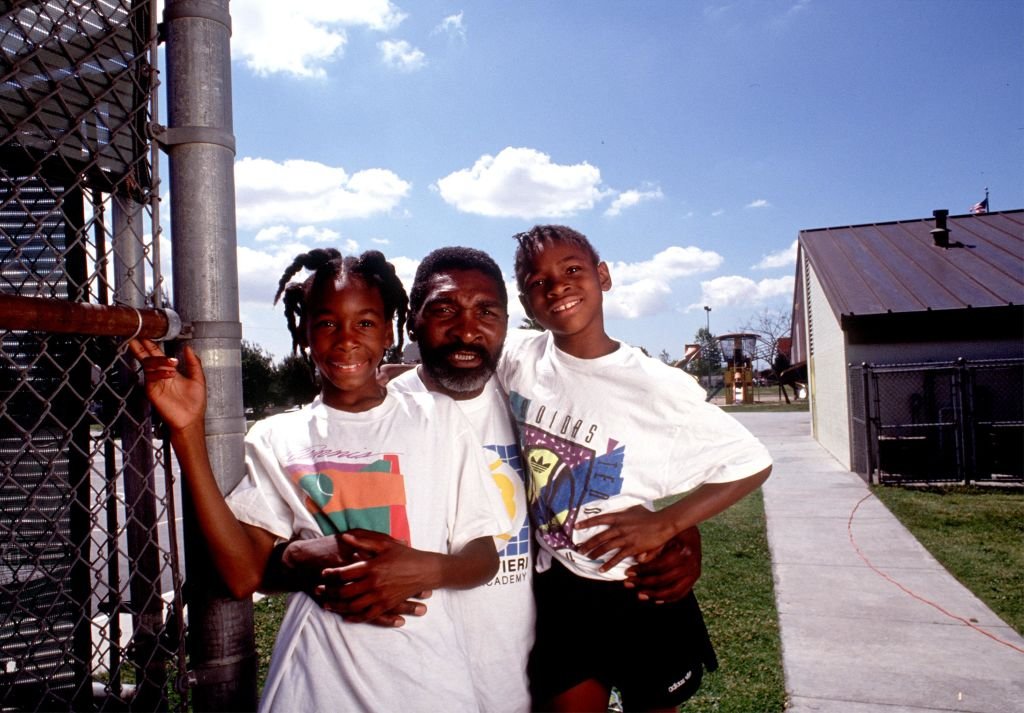 Richard Williams, with his daughters Venus, and Serena in Compton, CA circa 1991 | Photo: Getty Images
The seventy-nine-year-old shares the two sports legends with his ex-wife Oracene Price, who stood by him while grooming Venus and Serena into the best versions of themselves.
Details of his life and the making of his daughters are depicted in the 2021 movie, "King Richard," starring Will Smith.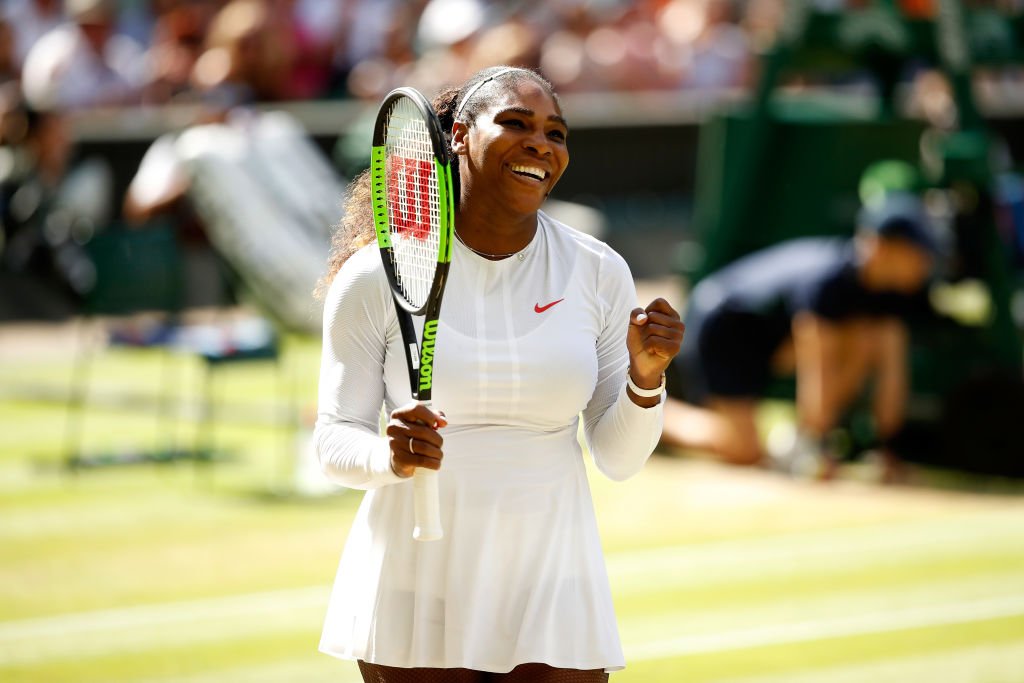 Serena Williams at the 2018 Wimbledon in England in July 2018. | Photo: Getty Images
GETTING HOOKED ON THE GAME
Richard was not always into the game of tennis, nor did he dream of birthing two world champions. That changed one fateful day when the father sat in his Long Beach, California living room surfing through channels.
He came across a broadcast of the French Open, and the prize money of $40,000 offered to the winner caught his attention. That piqued his interest, spurring his determination to produce a future champ from his household.
THE RISE OF LEGENDS
The tennis coach, who was at the time married to Oracene, began learning the game alongside his wife to gather enough skills to pass down to their offsprings.
At first, he attempted to train his stepchildren from Oracene's previous marriage but had no luck with them. He realized his only hope of fulfilling his yearnings was grooming his biological daughters from the cradle.
Locals recall seeing Venus and Serena as toddlers, happily playing with their rackets as they sat in their strollers watching their parents practice tennis in the courts.
Once his older daughter, Venus, turned four, Richard knew it was time to strike. He offered the toddler her first real tennis lesson, and she became hooked on the game.
Her sister, Serena, then three, who always tagged along for the lessons, also developed an interest in the game, begging her parents to let her play. Thus, King Richard began training the world's best tennis champions.
THE GRUELLING PHASE
The sisters' growth in tennis did not come without sacrifices. From a young age, the duo began practicing overtime, spending unending hours in the courts that stretched into the wee hours of the night.
Richard made them return 500 volleys sometimes to prove themselves worthy of an evening rest. Eventually, the family moved to Compton, where practicing tennis became even harder.
Drugs and violence prevailed in the neighborhood, making it tough to secure the gang-controlled tennis courts for training sessions.
This led Richard to have several altercations with the local mob, breaking his ribs, several teeth and sustaining other bodily injuries in the process while his girls watched on helplessly.
In his 2014 memoir, Richard revealed it took two years of enduring the demoralizing attacks before the gangsters warmed up to him.
Those grueling years almost destroyed his body and spirit, but the determined father kept pushing, keeping his eyes on the prize.
BREAKING LIMITATIONS
After training with their dad into their teenage years, Venus and Serena moved with their family to Florida, where they began training full-time.
Tennis coach Rick Macci recruited them into the Palm Beach area to receive more professional training. They spent their free time training in the dilapidated local tennis courts, pushing themselves to extremes.
Despite handing them to professionals, their dad was always on-hand to bring out the best in them even under the direst of conditions.
Richard trained his daughters to run faster and bend lower by using bad balls during practice and blatantly refusing to use new balls. He also scattered broken beer bottles at the back of the court to make the training session as tough as it gets.
LIVING THE DREAM
After years of training, the Williams sisters were finally ready to grace the world with their groundbreaking prowess.
First, Venus went professional at the age of fourteen, moving through the junior ranks. A year later, Serena followed suit and has since remained at the top of their game.
But with their stardom came media backlash, racial onslaughts, and professional bullying. At that point, Richard knew he needed to relinquish his coaching hat and take on a new one as his daughters' advocate.
STANDING UP FOR THE GIRLS
In 1994, a reporter tried to downplay the confidence of the then-fourteen-year-old Venus Wiliams, who was just getting accustomed to life as a pro tennis player.
The tennis pro and the reporter were discussing an upcoming match deemed particularly challenging. In confidence, and with a smile on her face, Venus affirmed she could beat her challenger.
The white reporter seemed flustered as he wondered why she seemed so confident. The teenager began defending herself, saying she believed it. However, her dad quickly interrupted with an unexpected outburst, voicing:
"You've got to understand that you're dealing with the image of a 14-year-old child. And this child is gonna be out there playing when your old [expletive] and me are gonna be in the grave."
The retort left the reporter at a loss, while Venus understood at that point that her dad would always have her back.
WAS TENNIS THE BEST PATH?
While Richard and his daughters have achieved their tennis goals, becoming world-renowned champions, the proud father could not help questioning the path he chose for his daughters.
In a 2014 interview, the 79-year-old, now the proud dad of the two greatest tennis players, revealed he never wanted his youngest son, Dylan, to play tennis or any sports.
He admitted that although his daughters became the millionaires he anticipated, he would never have let them become athletes if he knew the things he knew now. To him, tennis could only avail an athlete of limited wealth but could never make them billionaires.
Hence, he was set to carve a different path for Dylan, one that would make him wealthy enough to pay every single player on the planet.
Seeing as the making of Venus and Serena began with a simple belief, there is no doubt Richard would achieve his set goals for his son.
Please fill in your e-mail so we can share with you our top stories!