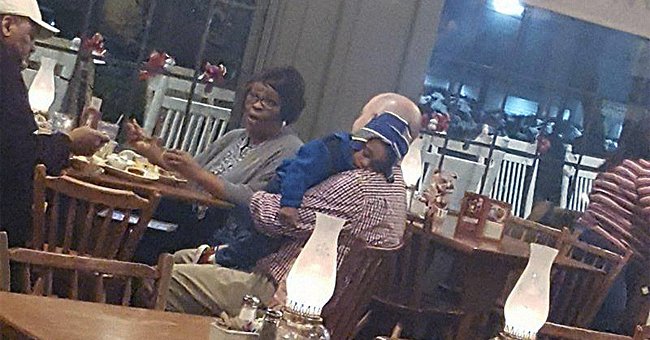 facebook.com/lovewhatreallymatters
Server Can't Hold His Tears on Seeing Restaurant Manager Carrying a Stranger's Child
A father of two and manager at Cracker Barrel went viral for his empathy and act of kindness towards two customers.
Cracker Barrel is among the restaurants travelers dine in to take a break, refuel, and rest while enjoying a simple home-cooked meal.
However, traveling with children can make this timeout quite tricky as they need to be cared for and given attention. Such was the experience of a couple who stopped over at the restaurant.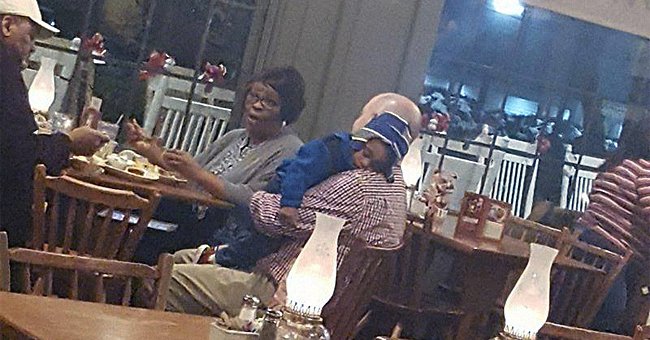 A manager at Cracker Barrel holds a couple's grandson so they could eat properly. | Source: facebook.com/lovewhatreallymatters
THE MANAGER'S KINDNESS
The older couple had their grandchild all wrapped up in a coat and hat while fast asleep. As such, they had to hold him while attempting to eat properly.
Cracker Barrel's manager, Doug, saw the struggle and decided to go the extra mile for them. As a father-of-two, Doug knew the feeling of balancing eating and tending to a child quite well.
He walked towards the guests and politely offered to hold the child while they enjoyed the food. The couple were undoubtedly grateful for the help and quickly ate the excellent food.

Screenshot of comments on a viral Facebook post. | Source: facebook.com/lovewhatreallymatters
Meanwhile, an employee witnessed his manager's act of kindness and shared about the incident on Facebook. He wrote on the post:
"This brought tears! Definitely a wonderful man and great daddy -- he has twins! You don't see such kindness very often, anymore!"
It seems Doug is not the only boss who has been a great example to his employees as well as touched the lives of those around him.
A LEADER'S SACRIFICE
Like Doug, Gravity Payments CEO Dan Price went the extra mile to help the people around him, specifically his own employees. After learning that one of them worked another job at McDonald's to make ends meet, he decided to take action internally.
Since then, his company has nearly tripled in size, with the employees nearly twice its original number.
Price slashed his salary by $1 million and used the allocation to increase his staff's salary to at least $70,000. While his decision affected his employees positively, the change also influenced his lifestyle.
Price sold his second home and started using up personal savings for expenses. Other business leaders questioned his bold move thinking his company would go bankrupt, but instead, it flourished.
Since then, his company has nearly tripled in size, with the employees nearly twice its original number. His talent retention has also increased with the turnover rate cut in half. Price said:
"Zero big companies are following suit because the system values having the highest return with the lowest risk and the lowest amount of work."
Price and Doug have definitely set the standards high for being good leaders. Hopefully, their stories can inspire others to do the same.
Please fill in your e-mail so we can share with you our top stories!