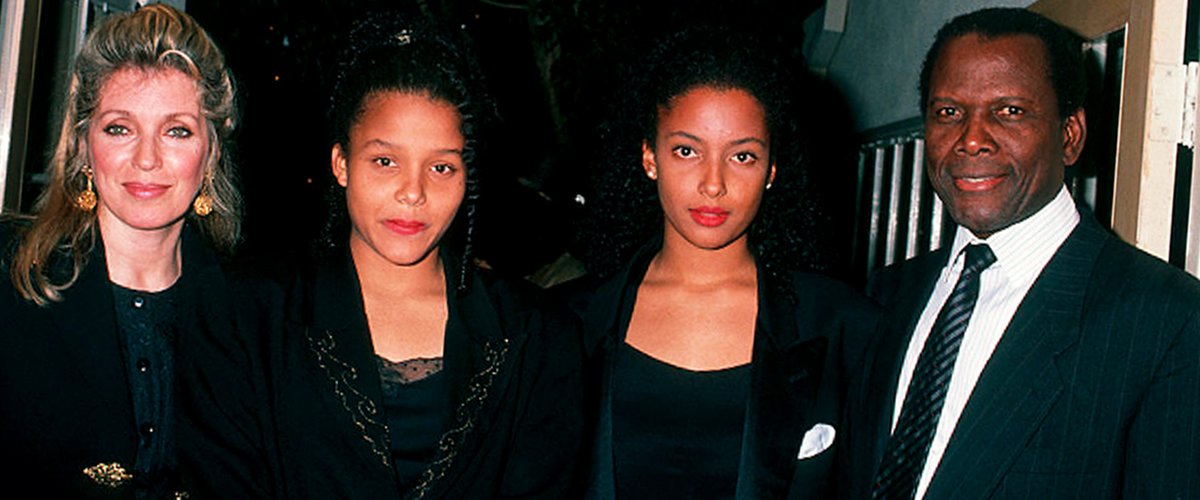 Getty Images
Sidney Poitier Once Gave up a High-Paying Role While on the Brink of Poverty

Sidney Poitier is a legend. Growing up, when racial segregation was rife, he paved his path to success and, against the odds, rose above abject poverty to become the first black man to win an Academy Award for Best Actor.
Sydney Poitier spent his formative years in Cat Island in the Bahamas. His early childhood was laden with extreme poverty, and his country people made do without electricity or running water.
But his resolve to beat his deploring circumstances saw him leave home for Florida at 15. He would rise above his adversities to become an inspiration to many people today, including the elite, such as Oprah Winfrey.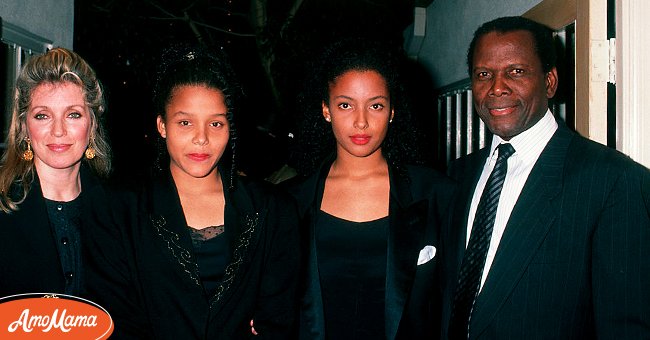 Joanna Shimkus, daughters and Sidney Poitier during 1989 United Negro College Fund Awards in Los Angeles, California, United States. | Source: Getty Images
Growing up on the small Island, Pointier disclosed to Oprah that there were about 1000 residents, all black, save for two whites. As a result, prejudice against the black community was an alien concept to him.
When he touched down in Florida, he was not prepared for the culture shock that was about to hit him. He soon discovered that away from the enfolds of his small intimate island, the values out in Florida were different.
As a black man, you could not shop where the whites shopped or even go to the same school as white children. The law also dictated that he could not work or live in specific neighborhoods.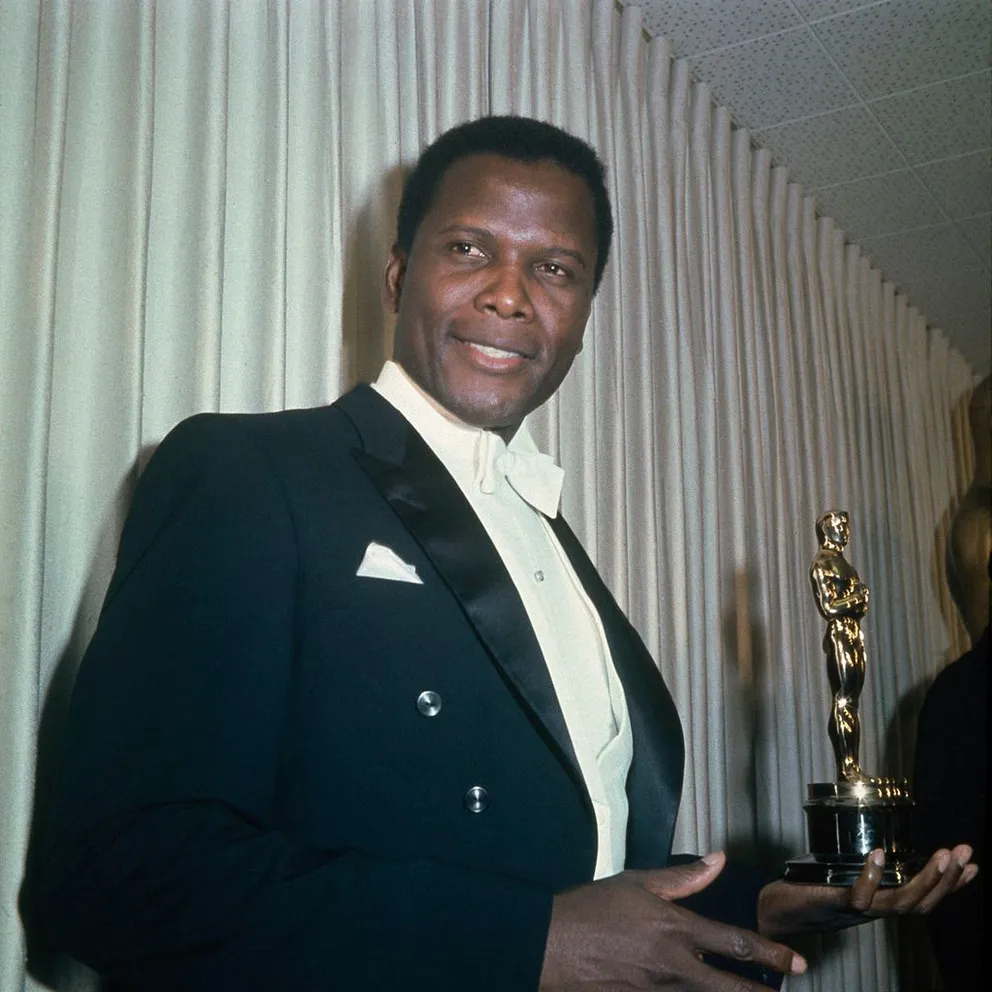 Sidney Poitier holding his Academy Award circa the 1960s | Source: Getty Images
See, growing up, he was never valued or undervalued for his skin color, but in Florida, the world had suddenly taken an ugly turn. He found himself compelled by the law to get off the sidewalk so someone else could pass.
After a few months in Florida, he found his way to New York, arriving with a pittance of only 3 dollars. And soon as he touched down, he answered an ad for American Negro Theatre.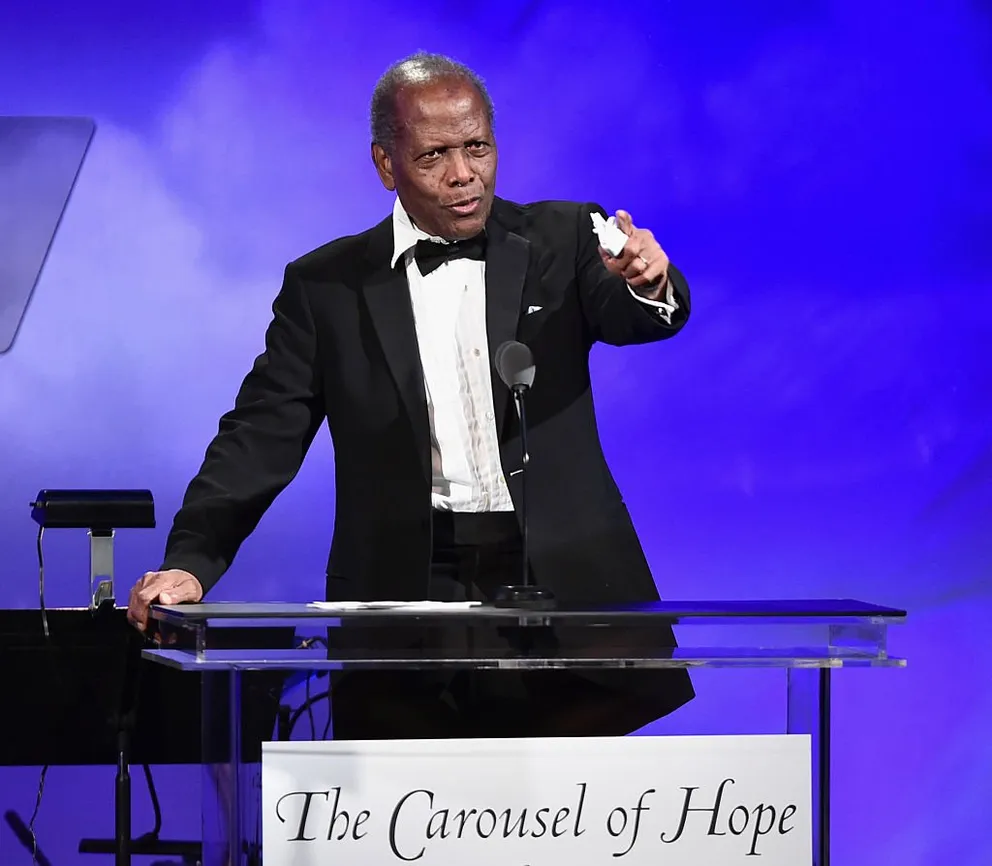 Sidney Poitier speaks onstage during the 2016 Carousel Of Hope Ball at The Beverly Hilton Hotel on October 8, 2016. | Photo: Getty Images
His first attempt as an actor was immediately turned down after he fumbled his lines. The director humiliatingly dismissed him, saying:
"Stop wasting your time—get a job as a dishwasher!"
Poitier was devastated when he got turned down, but he was not ready to give up yet. He took up a string of dishwashing jobs to stay afloat, and a waiter at one of his workplaces helped him read newspapers every night.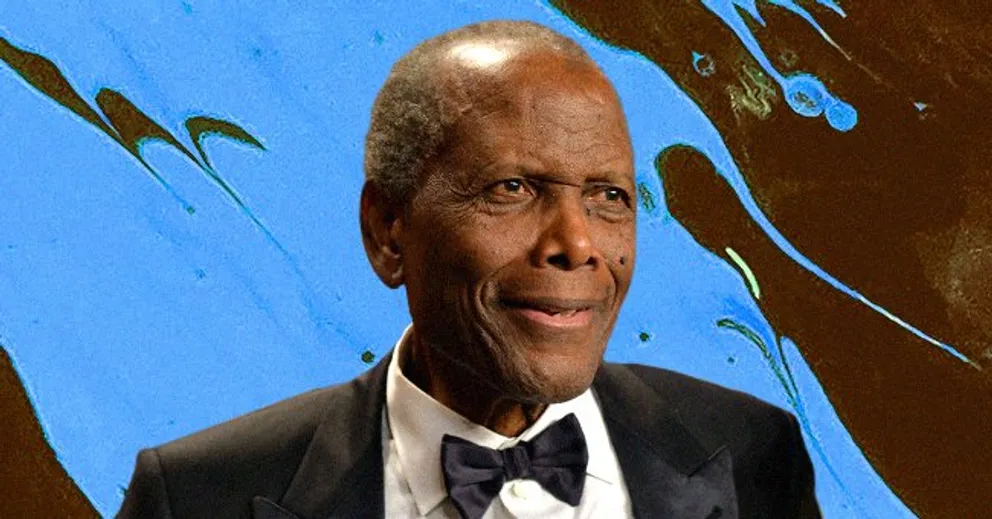 Portrait photo of Sidney Poitier. | Photo: Getty Images
It took to months and months of imitating American newscasters to help Poitier lose his accent. He also got to join some acting classes in return for doing menial jobs.
As soon as he was confident he had grasped the basics of acting, Poitier returned to the American Negro Theatre and landed his first significant role in " Days of Our Youth." Soon after, he featured in the Broadway production "Lysistrata."
POITIER TURNS DOWN A LUCRATIVE ROLE
As a new actor, and given his humble background, many would assume that Poitier would take just any role to help him move forward and make the much-needed money.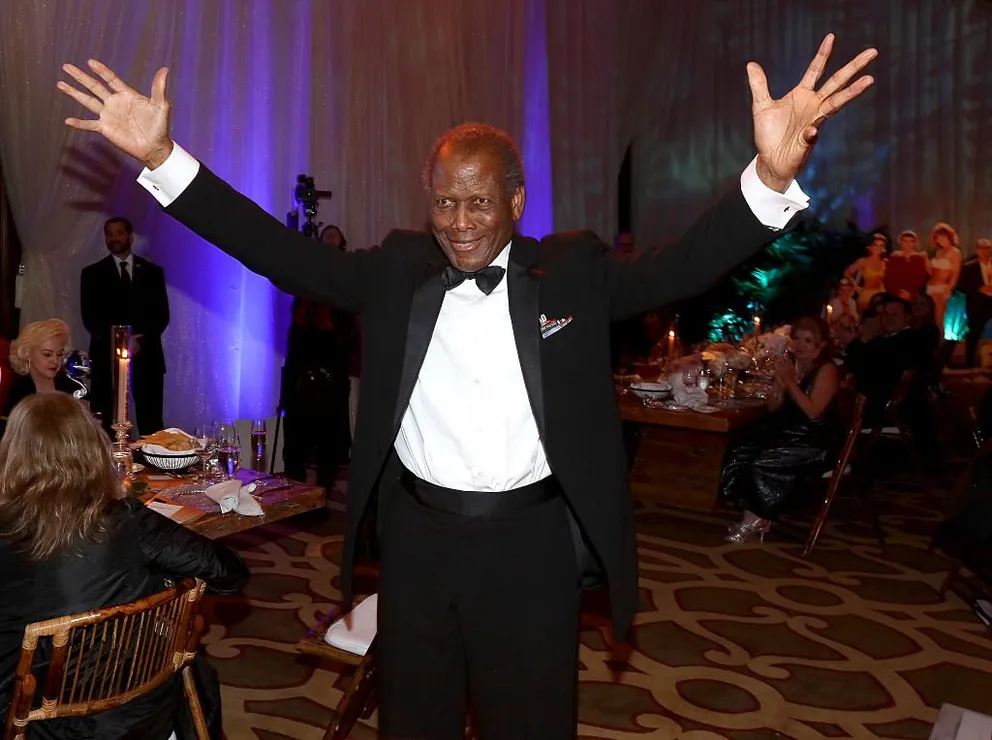 Actor Sidney Poitier attends the Brigitte and Bobby Sherman Children's Foundation's 6th Annual Christmas Gala and Fundraiser at Montage Beverly Hills on December 19, 2015. | Photo: Getty Images
Except that was not the kind of person that Poitier was. He would never compromise his values for a few bucks. And that is how he turned down a role that required him to trade off his values, even though he needed the money badly.
In his memoir "The Measure of a Man," Poitier tells the story of how, just as soon as he started acting, he landed the role of a janitor at a gambling casino, which he says he had no problem with.
The project's synopsis focussed on a murder victim with ties with the company the character worked for. Those aware of the murder thought that the janitor knew the details.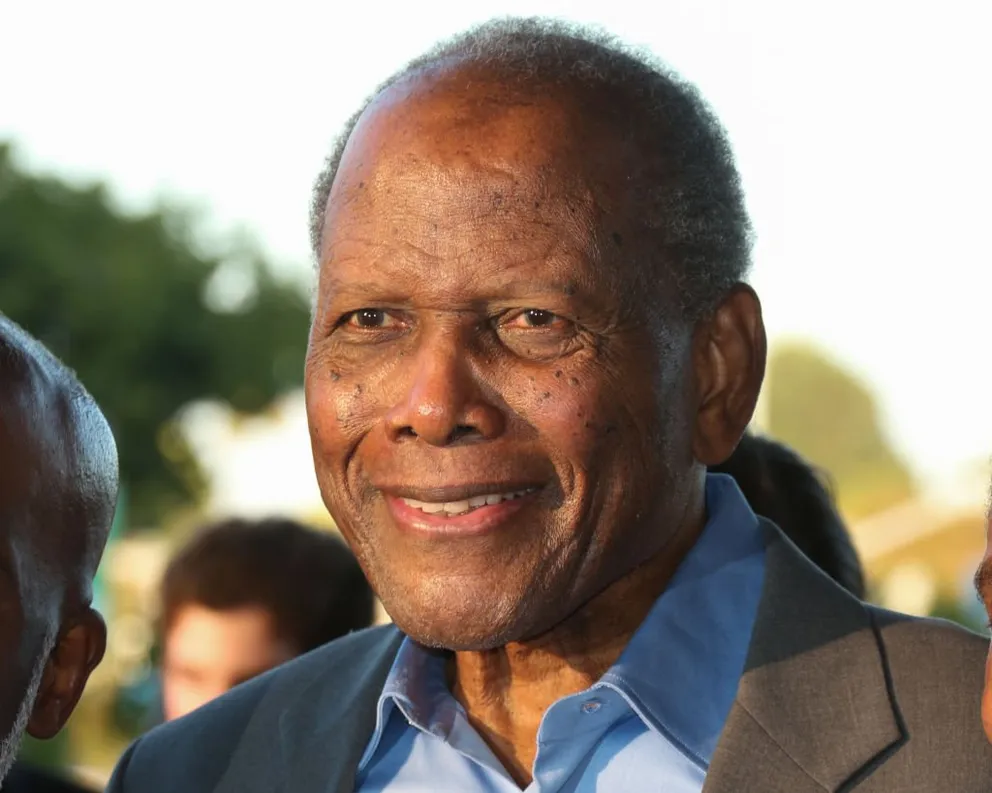 Actor Sidney Poitier attends the opening night of "Born For This" at The Broad Stage on July 20, 2017. | Photo: Getty Images
The culprits then went to the janitor, telling him how essential it was of him not to speak out concerning the death. To show him who was in control, they went ahead and killed his daughter, disposing of her body on his lawn.
Even though the script insinuated that the janitor was devastated by the heinous act on his daughter, the text denied his character a voice. He was supposed to remain quiet about the happenings.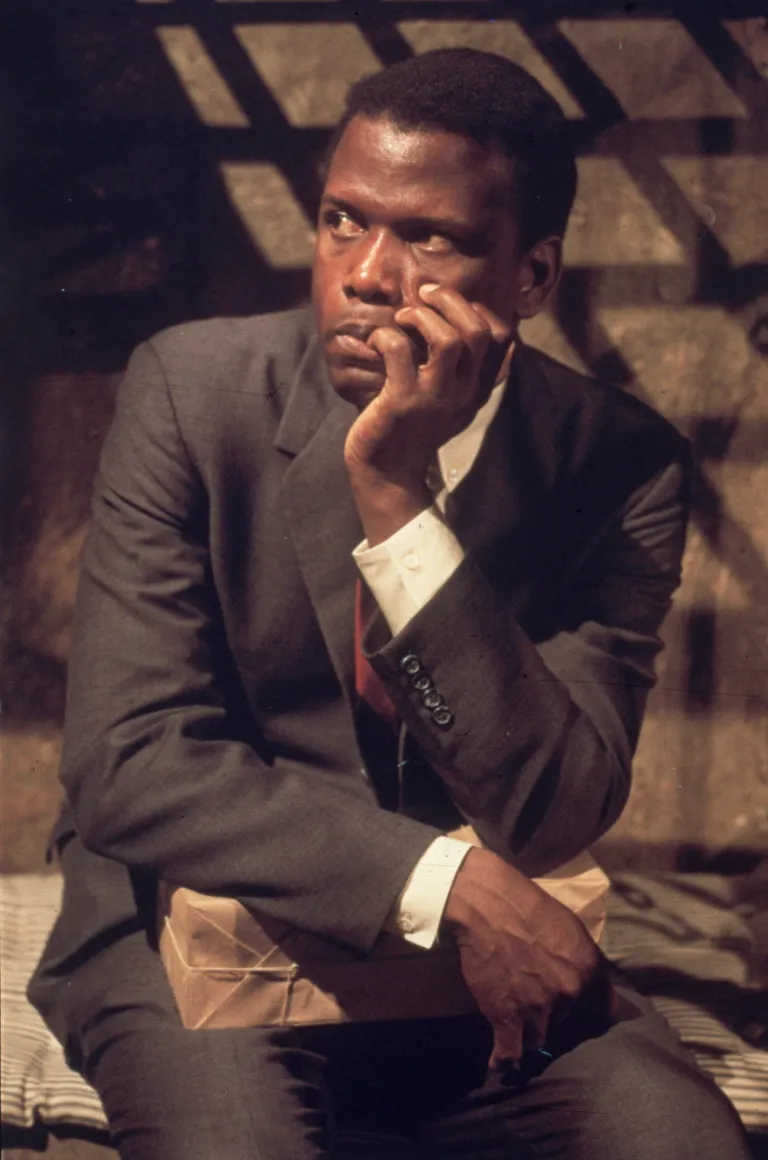 Sidney Poitier photographed while filming "In the Heat of the Night" in 1967. | Photo: Getty Images
Poitier says he couldn't bring himself to play the part. When he told his agent, Marty Baum, that he was passing on the role, his agent could not understand why. All he could ask was:
"Why can't you play it? There's nothing derogatory about it in racial terms."
The "Magic Town" co-director says he did not want to explain it to Baum because he would not have understood. Note that he was turning down a role offering to pay him an astounding 750 dollars a week.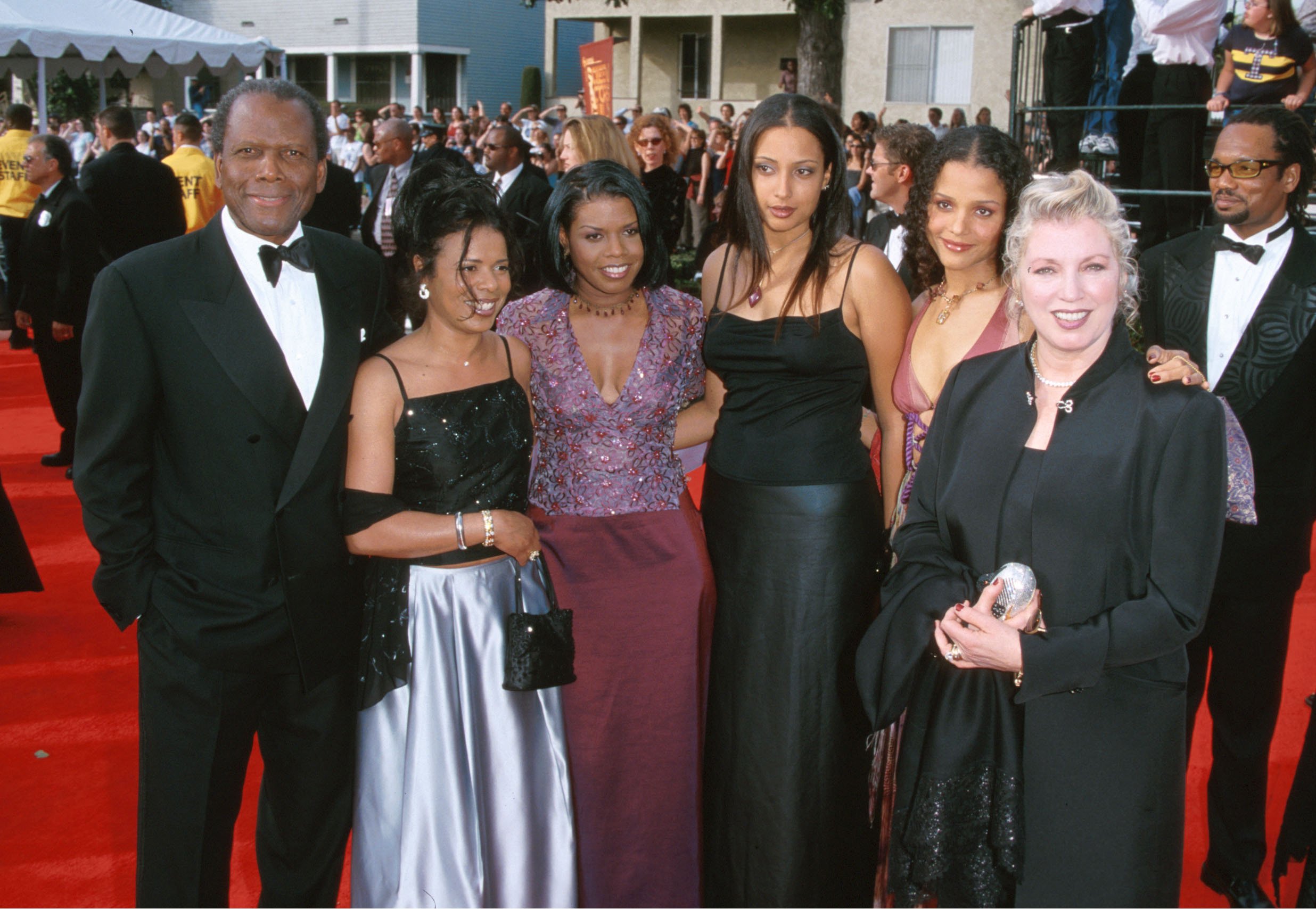 Sidney Poitier & Family during The 6th Annual Screen Actors Guild Awards at Shrine Auditorium in Los Angeles, California, United States. | Source: Getty Images
At the time, his wife was pregnant with their daughter Pam, and the Beth Israel Hospital, where she was set to deliver, was asking them for 75 dollars to cover the expenses. Having turned down the janitor role, Poitier had not a cent to his name.
He resolved to borrow money against his furniture to cover the hospital bills. His wife, aware of Poitier's nature, understood where he stood and supported his values.
And yet, that would be just one of the several roles he would decline. He declared that he had joined the industry to make points to his family and himself and not for fortune or fame.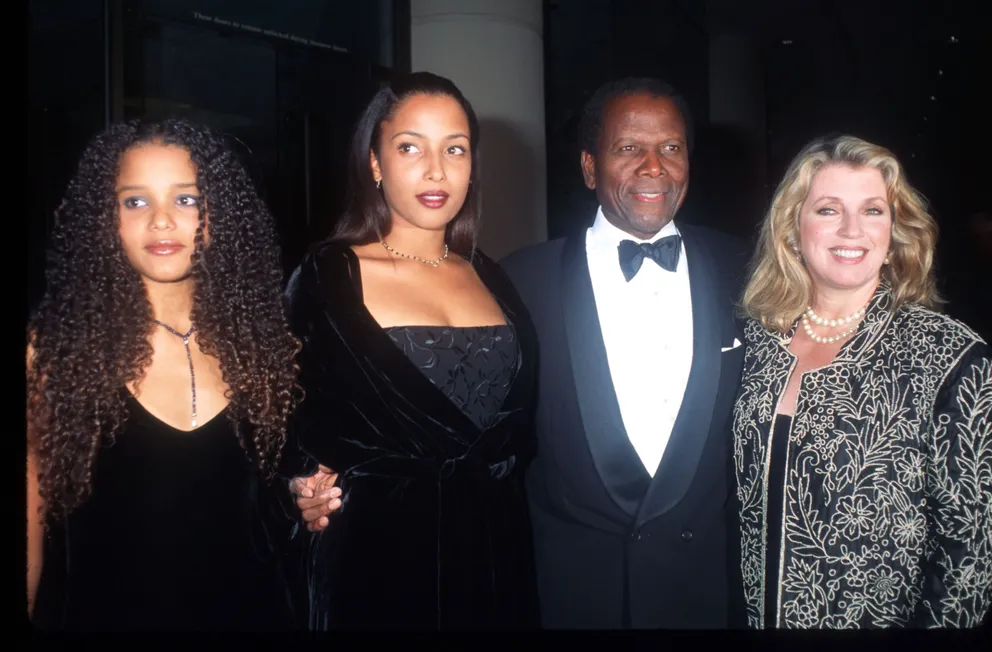 Sidney Poitier, his wife Joanna Shimkus, and their two children Anika and Sidney circa the 1990s | Source: Getty Images
Poitier defeated many negativities to become the man that changed the black man's history in Hollywood. He featured in movies such as "Lilies of the Field,″" "In the Heat of the Night," To Sir, With Love," and "The Blackboard Jungle," among many others.
In addition to acting, he became a director, working on hit films such as" Buck and the Preacher," "Magic Town," and "Roxie Hart." Soon after releasing "The Jackle," the Hollywood icon spoke to AP News, saying he would be slowing down on his film action, adding:
"I don't want to keep busy at filming. I'd rather keep busy with living."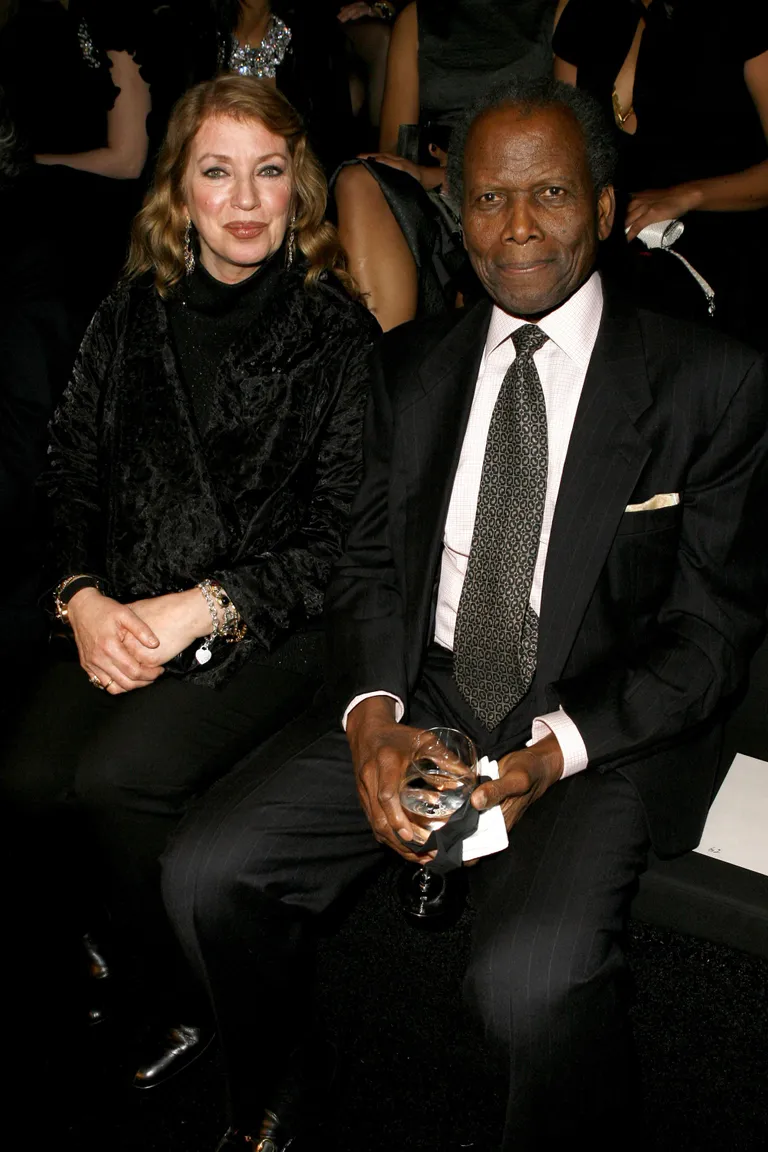 Sidney Poitier and Joanna Shimkus during Giorgio Armani Prive in Los Angeles | Source: Getty Images
Poitier turned 94 years old in February. Today, he is referred to as the trailblazer actor who changed Hollywood. He has to his name numerous awards, including the "Kennedy Center Honors," SAG," NAACP Image Awards," and "BAFTA."
He also has under his belt the envied "Presidential Medal of Freedom," "Golden Globes," Grammy's," and of course an "Oscar," among many others.
Poitier is also the doting father to six daughters. Four — Beverly, Pamela, Sherri, and Gina — from his marriage to his first wife Juanita Hardy and two — Anika and Sydney Tamiia — with his second wife, Joanna Shimkus.
Please fill in your e-mail so we can share with you our top stories!