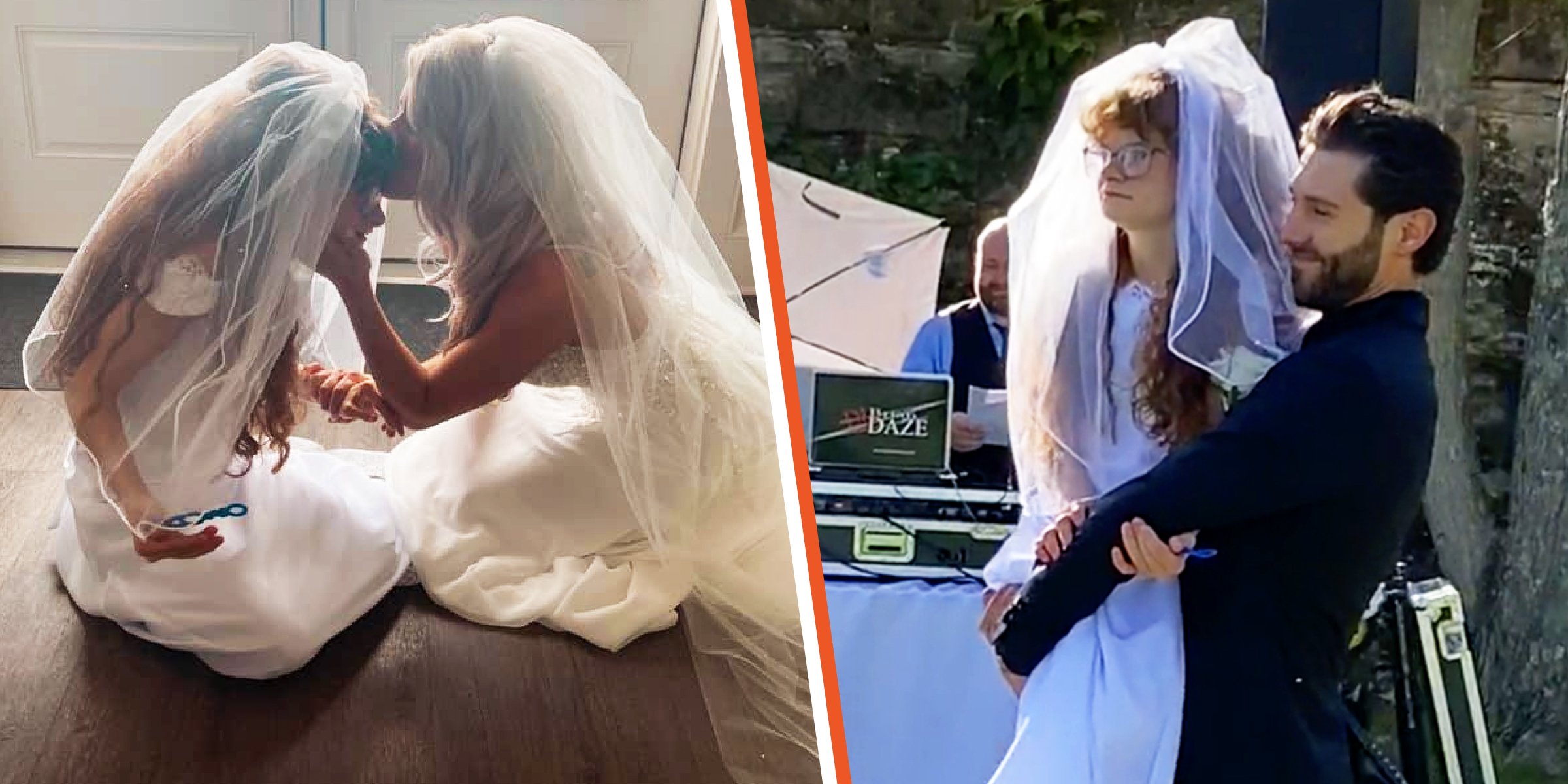 Macy and Morgan Watkins | Brian Altier and Macy Watkins | Source: tiktok.com/morganmwatkins | facebook.com/Morgan Altier
Groom Carries Bride's Twin Sister Down the Aisle So She Can Also Feel like a Bride
When a woman decided to marry the love of her life, she knew her twin sister's involvement in her wedding was a no-brainer. Since childhood, the sisters had been inseparable, and when the bride discussed this with the groom, he was thrilled to make it happen.
Morgan Watkins from Marysville, Ohio, had always felt incredibly close to her twin sister, Macy Watkins. They shared a unique connection that only became more profound with time. From being womb partners to growing up together, the siblings had forged an iron-strong bond over the years.
When people saw the twins, they couldn't help but notice striking differences: despite being of the same age, Morgan appeared to be in her 20s, while Macy had a thin stature which made her look younger.
Truly Special
When Macy was an infant, the doctors told her parents that she was disabled, although they failed to give a proper diagnosis. With the passage of time, her loved ones came to terms with it and embraced her for being her beautiful and extraordinary self.
On October 1, 2021, Morgan and Macy donned stunning white gowns and experienced the purity of love and affection in a way they would never forget.
Meeting Her Future Husband & Telling Him about Macy
Even when they were little girls, Morgan and Macy couldn't do without each other and were not only siblings but also best friends. Morgan loved doing everything with her twin, who she wholeheartedly loved and adored, and there was no way she would ever compromise their lovely relationship.
In 2015, Morgan was in her teens when she crossed paths with Brian Altier. One thing led to the other, and the two began enjoying each other's company. After entering into a relationship and realizing their feelings for one another, the question of making things official became inevitable.
A Package Deal
Finally, after being together for six years, Morgan and Brian decided to tie the knot and spend the rest of their mortal lives together and in love. While preparing for her big day, the bride knew she couldn't move forward without having Macy beside her.
It was pertinent that her twin sister was an integral part of her special day because they had always been a "package deal." However, Morgan wasn't sure how to make Macy feel important, special, and loved on what was supposed to be her wedding day.
Her Twin Sister's Involvement
After much thought, she came up with a brilliant idea and discussed it with her then-fiancé. Fortunately, he loved the plan and decided to help Morgan implement it. Everything fell perfectly into place, and the couple was able to pull things off in the best possible way. A part of the caption from their online wedding invitation read:
"As such, today isn't just about Morgan walking down the [aisle] - it's also about sharing the experience, an opportunity that would not be afforded otherwise, while walking into the next chapter of her life with her twin."
The Sweetest Gesture
On October 1, 2021, Morgan and Macy donned stunning white gowns and experienced the purity of love and affection in a way they would never forget. In an incredibly heart-melting moment, the handsome groom looked dapper as he lifted his sister-in-law in his arms and carried her to the altar.
The momentous occasion was captured on camera as a delighted Brian held Macy in his arms and walked down a flight of stairs, gently making his way through the wedding venue packed with guests who couldn't stop applauding him for his sweet gesture. Of the special moment, Brian recalled:
"I just kind of told her I was like, 'Mace, look, all of these people are here to see you.' And then that's when you see her sit up and she's just kind of, like, taking it all in."
The Doting Bride Shared the Moment on TikTok
Morgan noted that she wanted her future partner to know how much she loved Macy and that she would always be a part of her life. Not only did she appreciate Brian's compassionate move, but she couldn't be prouder of having chosen a thoughtful and understanding husband like him.
Although Macy and Morgan had always been an inseparable duo, seeing them welcome Brian and become a fantastic trio was a pleasing sight. The doting bride also shared the lovely moment her groom carried her twin down the aisle on TikTok, where it racked up millions of views, shares, and comments.
Love for the Groom
As of December 23, 2022, the viral TikTok clip has garnered 74.8 million views, 9.1 million reactions, 35.7k shares, and 36.4k comments. The 36-second video drove the virtual social arena into a frenzy and was well-received by netizens far and wide, who couldn't stop gushing praise:
"Ladies and gentlemen, this is what a REAL gentleman looks like 👏."

— (@jamiii_lex) October 5, 2021
"What a sweetheart! Definitely a keeper! You are also a selfless person. May God bless you all.🥰🥰"

— (@chuchasiqueiros) December 23, 2021
"That's sisterly love. Sharing your day, and what an outstanding husband you have.🥰"

— (@amanda_lewis72) October 5, 2021
Indeed, Morgan is fortunate to have a caring and kind husband like Brian, and we hope they continue to grow and prosper in love.
If you enjoyed reading this story, click here to read another one about a younger brother who asked his sister with Down syndrome to be the maid of honor at his wedding.
Please fill in your e-mail so we can share with you our top stories!