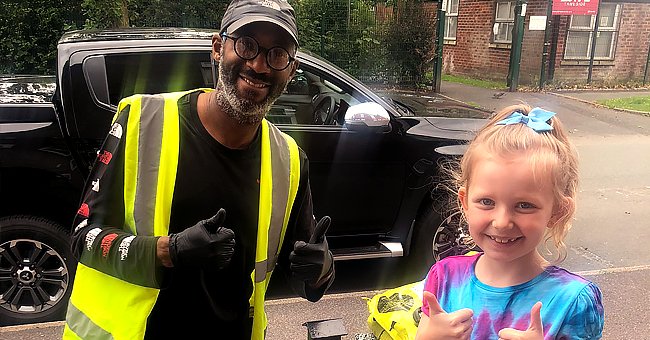 twitter.com/mummybear1903
Girl, 8, Learns Sign Language to Give a Surprise 'Good Day' to Her Deaf Delivery Driver

An adorable little girl from Greater Manchester, England, is making waves on the internet after giving a delivery man a wonderful surprise that made his day. The heartwarming video is melting hearts on the internet.
8-year-old Tallulah taught the world a special lesson on kindness and empathy after going the extra mile to communicate with her hearing-impaired delivery guy.
The Ashton-Under-Lyne girl, who developed an unlikely friendship with the delivery man over the years, decided to surprise him with a heartfelt "good day" greeting.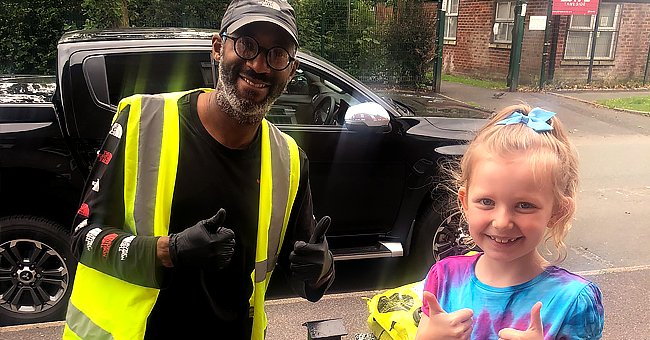 A picture of delivery driver, Tim Joseph, and Tallulah | Photo: twitter.com/mummybear1903
The man, Tim Joseph, was the neighborhood delivery driver who dropped off parcels twice a week and always stopped by to exchange warm farewells with his little friend.
Despite their communication barriers, Tallulah always found a means of expressing her gratitude to Joseph. During the lockdown, the girl drew him a thank you rainbow, which he proudly displays on his truck to date.
As their friendship deepened, Tallulah sought more effective means of communicating with him, eventually deciding to learn sign language.
That accomplished, she proceeded to give her friend the big surprise, which was recorded by her parents. A clip from the sweet moment showed Tallulah telling the driver, "Have a good day," in sign language.
Joseph was taken aback with a wave of emotion as he proceeded to show her the signs for "Good morning, have a good day."
She was quick to catch that, with an infectious smile plastered on her face. Tallulah's mom, Amy Roberts, shared the clip on Twitter, which has since garnered over 24 million views. She captioned:
"We see him 1 or 2 times a week. Start of lockdown, Tallulah drew him a #thankyou. He still has it proudly on show in his van. They have built up quite a friendship over these last few weeks."
In another tweet, Roberts revealed Joseph was overwhelmed with emotions over the beautiful comments pouring in from netizens. He also admitted that the immense show of love made him shed tears of joy. Speaking to BBC news, Joseph said:
"I was very happy, and then I showed Tallulah how to sign, 'good morning, have a good day," and then she signed it perfectly, and it made my day."
While he admittedly found happiness and fulfillment in Tallulah's touching gesture, he hoped the video would inspire more people to learn sign language, put smiles on more faces, and bring more people together.
Please fill in your e-mail so we can share with you our top stories!