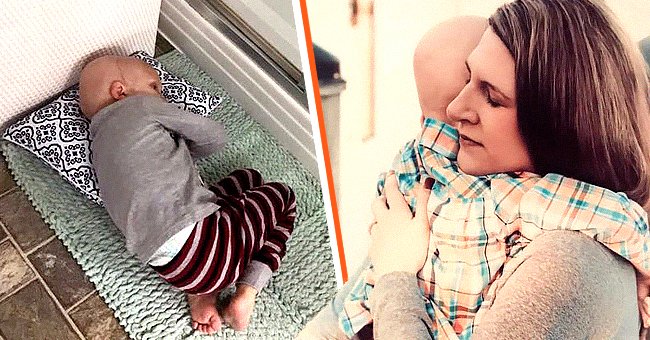 facebook.com/nolanscully
'I'll Just Go to Heaven and Play:' Mother Shares Promise Her Son Made Days before Dying of Cancer
A heartbroken mom took to social media to recount the last days of her late son's inspiring life as he battled a rare form of cancer. The heart-wrenching account has inspired many to share their own sad losses.
Ruth Scully felt her heart tear apart after watching her son, Nolan, slowly lose his battle with cancer. Two months after his passing, the heartbroken mom shared his story on Facebook in hopes of letting the world know what a beautiful soul he was.
THE HEARTBREAKING LOSS
The Maryland woman felt her world tear apart when her son was diagnosed with Metastatic Alveolar Rhabdomyosarcoma, a rare form of soft tissue cancer, in November 2015.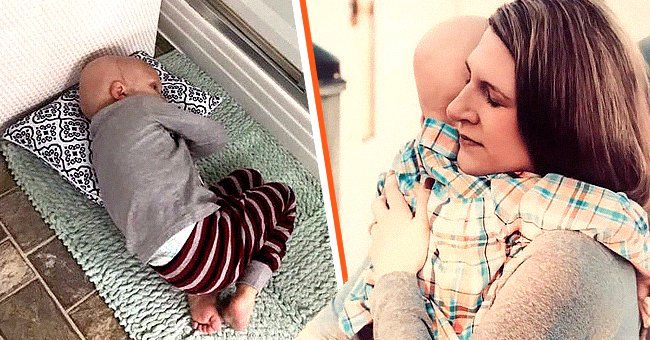 A picture of Ruth Scully and her son Nolan | Photo: facebook.com/nolanscully
For two years, she struggled to keep him alive, but it soon became apparent his chances were slim. Following his passing in February 2017, the mom decided to write about his agonizing last days and how his heart was filled with pure love.
She recalled the last time she took him to the hospital, admitting they could feel things had become more complicated. The oncologist soon broke it to her that Nolan had developed large tumors compressing his bronchial tube and heart after an open-heart surgery.
She also revealed the cancer was untreatable as his body had developed resistance to all the previous treatment options. Ruth knew then that all she could do was keep her son comfortable as he deteriorated.
THE MOMENT OF RECKONING
Following her conversation with the doctor, the woman approached her son to have their hardest and most heartbreaking conversation. During their discussion, the four-year-old admitted breathing hurt and that he was in a lot of pain.
His eyes only lit up when his mom painstakingly informed him he did not have to keep fighting. Ruth became more horrified when she learned her little angel had been trying to fight all along just for her.
After relieving him of the burden, the woman reassured her boy that she had a mandate to keep him safe. However, the only way she could keep doing so was in heaven. With apprehension, the youngster made her a memorable promise, saying:
"So I'll just go to heaven and play until you get there! You'll come right?"
Ruth replied in the affirmative, and the dying boy thanked his mom excitedly. After that soulful talk, Nolan spent the next few days resting and sleeping, with his Hospice, IV medications, and medical team on hand.
MAKING EVERY MOMENT COUNT
One of the hardest moments was having to sign a "Do Not Resuscitate" order for her son. Determined to make their last moments count, Nolan's family prepared a van to take him back home.
However, the little boy declined, insisting he wanted to remain at the hospital. Mother and son spent that day in each other's company, making memories together.
By 9 pm, Ruth asked her son's permission to have a bath. The boy agreed, promising to keep staring in her direction until she was done.
Exiting the bathroom minutes later, she found her boy unconscious, surrounded by medical experts all watching her with tear-filled eyes. She was told Nolan fell into a deep sleep the moment she shut the bathroom door.
ONE LAST MIRACLE
Ruth sprang to her son's side immediately and palmed his cheeks. As soon as she did, Nolan, who had been unresponsive, opened his eyes, smiled at his mom, and said:
"I love you, mommy."
With that, he shut his eyes for the last duration, ending his four inspiring years on earth. Describing her son's life, the woman said:
"He brought communities together, different occupations, made a difference in people's lives all over the world. He was a warrior who died with dignity and love to the last second."
REMEMBERING A HERO
Even after death, Nolan remained an avenue to bring people together, foster love, and inspire millions. His story attracted millions of likes, comments, and reshares, building a social media community united in the war against cancer.
Several netizens flooded the comment section with their similarly heartbreaking tales of losing a loved one to cancer or other deadly ailments.
Many admitted they battled such conditions and found inspiration to keep pushing and remain brave in the face of their impending demise after reading Nolan's story.
A GoFundMe page was created to help foot the youngster's medical bills and support his memorial. In another Facebook Post, Ruth opened up about how difficult it was for the family to ring in their first Christmas without Nolan's presence.
She also admitted her son's loss was no easier months down the line. According to her, the grief she felt was accompanied by burning anger that worsened as the holidays got closer.
Please fill in your e-mail so we can share with you our top stories!
The information in this article is not intended or implied to be a substitute for professional medical advice, diagnosis or treatment. All content, including text, and images contained on news.AmoMama.com, or available through news.AmoMama.com is for general information purposes only. news.AmoMama.com does not take responsibility for any action taken as a result of reading this article. Before undertaking any course of treatment please consult with your healthcare provider.